Apple Music And The Joy Of 'Always On'
There's something weirdly novel, even soothing about winding through an internet workday in 2015 to a communal soundtrack.
Yesterday, a chunk of the planet — or at least a statistically significant hunk of insufferable, iPhone-toting early adopters in 100 countries — spent hour upon hour listening to the same thing: Apple's newly launched brand-new, global, WORLDWIDE. ALWAYS ON. Beats 1 streaming radio station. It was a massive shared experience, implemented on a global scale. It felt a little bit like watching the moon landing (every generation gets the moon landing it deserves). Or at least a small-market Super Bowl.
Although we were separated by some 3,000 miles, my co-workers and I were all tuned in to the Beats 1 station. Within minutes, about seven of us were listening to Eminem's 2000 hit "The Real Slim Shady" and ganging up on a younger co-worker for not knowing who human '90s time capsule Tom Green was. We were listening to live radio on the 'net and having fun. It was weird. And we were hardly alone.
In fact, we were the opposite of alone.
The sheer breadth — if you discount the 375,238 times Apple's DJs played Pharrell's new single, "Freedom" — of music played during Beats 1's first six hours was disorienting enough that, despite constant, CONSTANT reminders, I almost overlooked the best feature of Apple's bold experiment: We were all in this together, for as long as we wanted to be. WORLD. WIDE. ALWAYS. ON.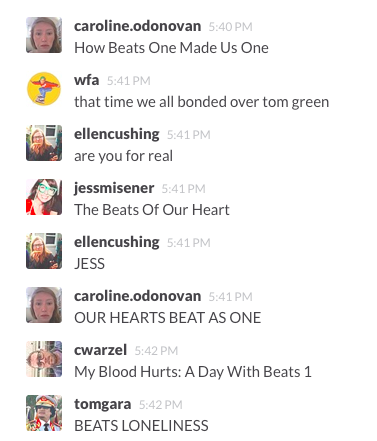 While the shared experience of radio — or the internet's ability to get people talking about a common event — is hardly a new feature, there's something weirdly novel, even soothing about winding through an internet workday in 2015 to a communal soundtrack. The lives of computer-bound humans today are often structured around fractured group experiences. Social networks, group texts, work chats, and email chains are all at their best when they tap into and feed off of something that's happening Right Now. The internet at large is a shared experience machine, and its killer feature is the feeling of inclusion.
Yet that feeling of shared experience has rarely extended to music in the internet era. Plenty have tried with varying success, like Turntable.fm, Shoutcast, and even Twitter, but never at scale and never by simply just straight-up replicating terrestrial radio's format. We all spend our days reading, watching, and reacting to varying versions of the same news and events, a strangely universal experience set to hundreds of millions of soundtracks. There has been no "Beatles on The Ed Sullivan Show" moment.
Again, this all seems obvious, but the effect took me and my co-workers by surprise yesterday. It wasn't until we retraced our chat transcript that we realized that, over the course of six hours, we had been talking for the better part of a day about music — the same music. Rather unwittingly, we'd spent a day complaining, making jokes about, critiquing, and praising the music as it piped simultaneously into our heads and, all the while, revealing bits of personal information and our personalities to each other. It was weird. And kinda fun.
And the thing is, it wasn't just us. It was everyone. A new song would come on, and Twitter would light up. The DJ would chatter and Twitter would groan. We even began to have the shared experience of our shared experience. Or at least the shared observation of it.
In other words, we're hardly alone here, which, when you think about it, is entirely the point. And a beautiful thing.