Listen To Wikipedia Make Music In Real-Time
Enjoy the strange, ethereal sounds of one of the world's most powerful information networks.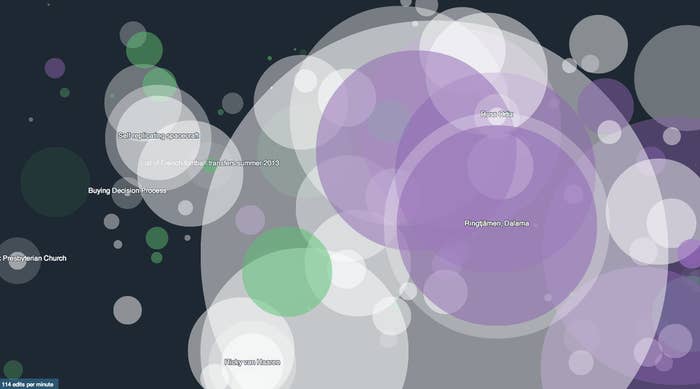 Back in May, Hatnote's Stephen LaPorte and Mahmoud Hashemi created an interesting, real-time visualization of unregistered Wikipedia edits, giving us a peek at the sheer scope of the site's dedicated users community. Their newest project takes it a step further, setting the edits to music and creating a zen-like soundtrack to the Wikipedia's constant and chaotic revision process.
A little more from the creators:
Bells are additions, strings are subtractions. There's something reassuring about knowing that every user makes a noise, every edit has a voice in the roar. (Green circles are anonymous edits and purple circles are bots. White circles are brought to you by Registered Users Like You.)
Unlike Hatnote's first visualization, "Listen to Wikipedia" tracks both unregistered/anonymous user edits as well as edits from user-driven bots, making it much more active than the original map. You can toggle and filter the edits by language to fit the soundtrack to your tastes. We wrote this post to the peculiar, dulcet tones of edit wars in every available language and highly recommend it.