LinkedIn Finally Tries To Fix Its Stalker Problem
After an extended campaign, LinkedIn delivers a quiet update. "It was the right thing to do," the company says.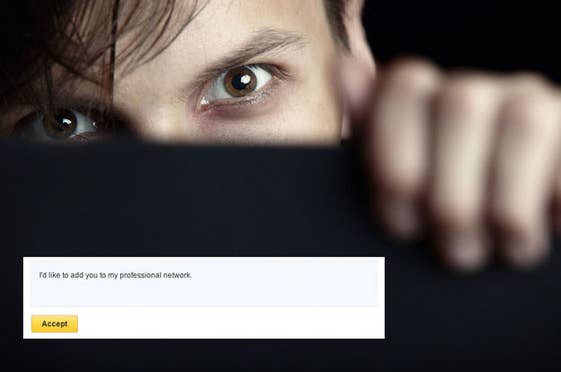 Yesterday evening, LinkedIn unveiled a long awaited "Member Blocking," which allows users to control privacy settings and keep users from interacting with and viewing individual profiles. The decision is the result of a months-long campaign to protect victims and prevent online stalking. Until yesterday, LinkedIn was the only major social network without a blocking feature. Paul Rockwell, LinkedIn's head of Trust and Safety, explained the rollout in a blog post on the site:
We know members have requested a blocking feature on LinkedIn. I come to you today to assure you that your concerns were heard loud and clear. We built this feature not only because it was a feature our members requested, but because we also knew it was the right thing to do. I'm pleased to share that we are rolling out a new Member Blocking feature today to all LinkedIn members.

While on the surface this may seem like a simple feature to develop, it was not. There were many different use cases to consider, products and features to integrate, as well as a user interface we had to create.
For Anna Rihtar, a victim of stalking on LinkedIn and the creator of the Change.org petition that spurred the social network to action, the decision is a victory, but an incremental one. "I applaud LinkedIn for making this initial step. To me, that is what it is — an initial step," she tells BuzzFeed. "I'm sure down the road there will need to be tweaks and more discussions may take place. We have come a long way to get here and we should be proud of our accomplishment."
LinkedIn, however, appears somewhat less eager to advertise the announcement. The blog post introducing "Member Blocking" does little to explain how to use the new feature, instead directing users to a link to a separate page on blocking. The post, meanwhile, focuses heavily on highlighting measures users can take outside of blocking, such as adjusting visibility settings.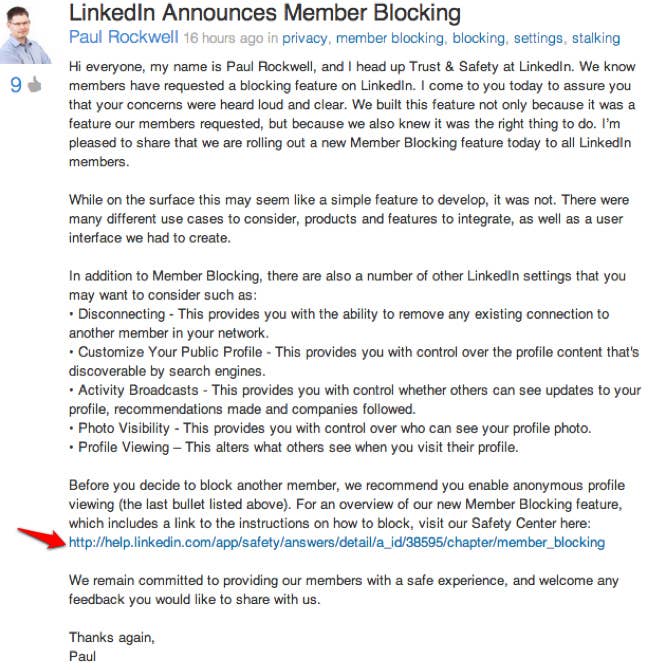 While Rithar is thankful for the change she speculates that LinkedIn might be playing down the feature so as not to encourage severing connections. "They really believe in being a completely open network — anyone can connect with anyone. And that idea is great in theory — but in this day and age, there are so many factors that need to be considered. User safety should be their number-one concern. If they can't see the importance in that, people will keep pushing back. This feature should be proudly displayed by LinkedIn — many users have been waiting a long time to get this," she says.