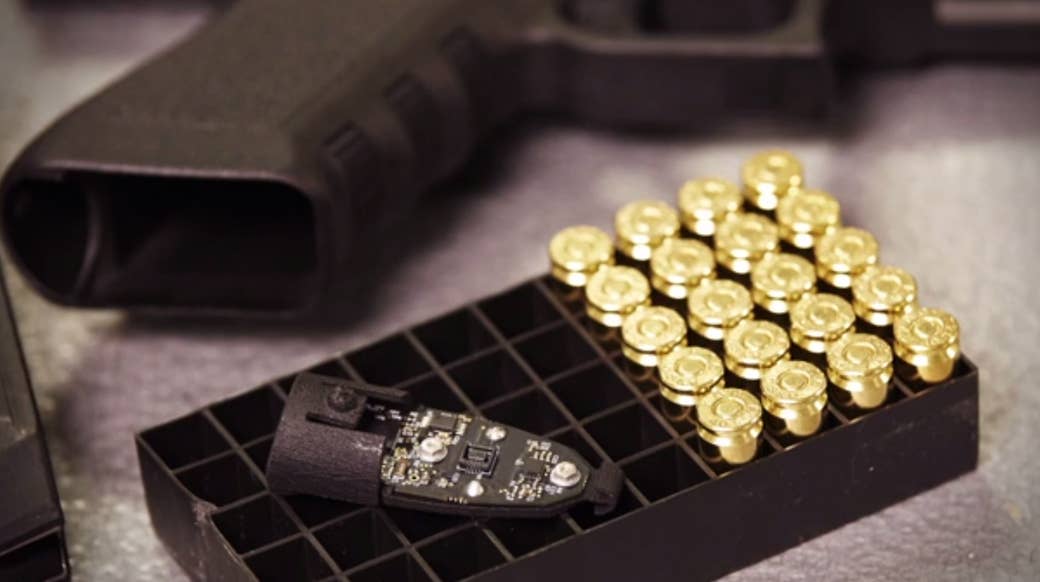 Around 3:30 p.m. on Feb. 26, 2013, Detective Sgt. Loran "Butch" Baker and Detective Elizabeth Butler pulled up to a house in the 800 block of North Branciforte Avenue in Santa Cruz, California. The pair, with almost 40 years of law enforcement experience between them, were investigating a possible assault when the subject opened fire on them without warning, killing both before they were able to request backup.

Days later, Santa Cruz County Sheriff Phil Wowak, then the ranking official at the devastated department (now recently retired), began investigating the tragedy, searching for ways it might have been prevented and a means of reducing backup response times. His search led him to the burgeoning field of the law enforcement Internet of Things and from there to a local firearm safety company called Yardarm.
Yardarm's product is simple: Unlike more expensive, experimental digital smart guns, Yardarm builds wireless sensors that fit in the butt of police firearms. It's not a smart gun, it's an add-on that makes guns smarter, and it's currently deployable. The sensors monitor weapon movement, registering both the unholstering and discharge of firearms to which they're attached. And they're able to securely communicate that data along geolocated coordinates to police dispatch almost instantaneously. Yardarm is a little like a Fitbit, but instead of steps, it tracks the potential use of deadly force.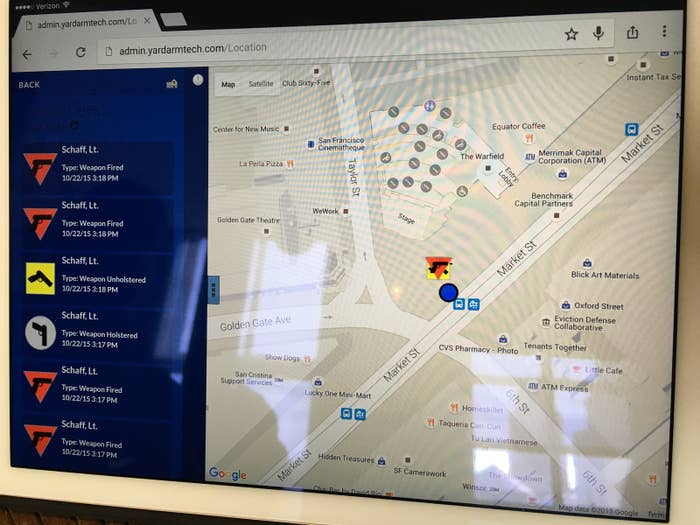 "I immediately recognized Yardarm as a piece of technology could evolve into an extremely important life-saving device. I think it'll be as important an item as a bulletproof vest," Wowak told BuzzFeed News. And he's not alone. Yardarm's sensors and dashboard are among a growing number of technologies ushering in a new, data-driven form of law enforcement that encompasses everything from body cameras to projectile surveillance tools like StarChase, which allows police cruisers to launch GPS trackers at vehicles in order to avoid high-speed chases.
Connected police tech isn't entirely new, but recent controversy over the use of deadly force in places like Ferguson, Charleston, and Cleveland has hastened its development, making clear the need for better monitoring of police action in the field. So far, the bulk of that attention — and budget — has been focused on body cameras. In May of this year, the Department of Justice launched a $20 million pilot program to supply body cameras to police departments across the country; it also earmarked $1 million in funding to monitor and study the camera's efficiency.
But body cameras are still a nascent technology, and their implementation is fraught with privacy worries and technical concerns. "Not all body cams are the same — there are the Cadillacs and the Walmart versions — and not all departments can necessarily afford them," Reginald Wilkinson, who chairs the Ohio Attorney General's Advisory Group on Law Enforcement Training, told BuzzFeed News. Cameras also vary widely in capability: Some record continuously but store footage only when an officer triggers them; others record only when activated. In some cases — particularly life-threatening situations when officers might have to make split-second decisions — a less sophisticated camera can fail to capture the entirety of an event, even if the officer wearing it remembers to use it.
Yardarm believes its sensors might be a solution to this problem. "We want to integrate with all the pre-existing tech," Yardarm's vice president, Jim Schaff, said. "We can customize our sensors so that as soon as an officer draws their weapon, the bodycam pre-record kicks in."
That's but one scenario; there are plenty of others. Yardarm's technology could, for example, transmit a link to a bodycam livestream to police department leadership anytime an officer fires their weapon. Attached to a heart rate monitor, it could transmit an alert to dispatch when an officer unholsters a weapon with an elevated heart rate. "Some departments and unions are concerned about using these tools to track every step, but we can customize them so that they're getting alerts only when a situation appears to be critical," Schaff said.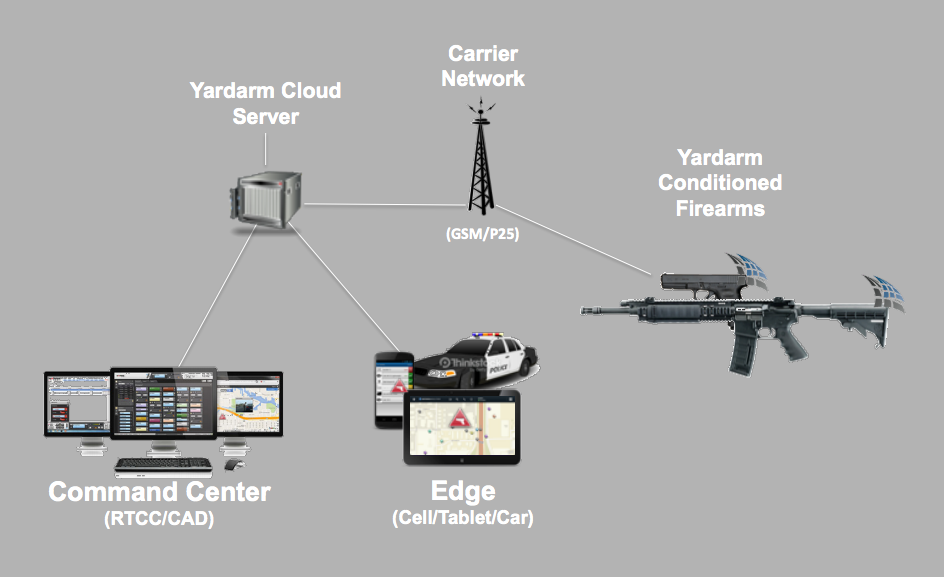 Currently Yardarm is in its final rounds of field tests, with an eye toward commercial launch early next year. Wowak and Santa Cruz's deputies were among the first to test the product, which they pitched to the officers and their unions as a way to keep a lean department safe. "We cover roughly 450 square miles and a population just shy of 300,000. On any shift we have no more than a dozen deputies covering that area, and at any time they can be surprised or walk into something that requires them to act without the time to call dispatch to give a location or ask for assistance," Wowak told BuzzFeed News.
"Our aha moment in the field was with foot chases, which can be so dangerous," Wowak explained. "We had one deputy using it and he saw an altercation and ran three blocks away from his vehicle. But when he drew his handgun, he popped up on our dashboard as a blinking light. When that deputy returned, he said, 'For me to know I'm going to have the ability to send help without describing or knowing my location, that's reassuring.'"
For taxpayers, technology like Yardarm promises greater oversight of police activity. Properly captured, detailed records of firearm unholstering and discharge can provide a clearer story of a weapon's use. "Anytime you add a black-and-white data set to any kind of event, you take away the ability for subjective review," Wowak says.
Perhaps more importantly, connected devices like Yardarm's could transform the way police officers are trained and vetted for field duty. "I think it might weed out officers who are going into this for the wrong reason," Wilkinson said. "For those officers who go out to do the right thing — that 95% of those who go out there — they'll embrace the oversight."
And while it's not hard to imagine heartening scenarios — an officer-in-training pulled aside for a conversation when reports show he unholsters his weapon more frequently than he should — law enforcement technology like Yardarm's will likely bring with it a host of new legal, procedural, and privacy concerns. Already there are differences of opinion over whether police body cam footage should be publicly accessible. In the end, tech like this is only as law-abiding and transparent as its officers and departments.
"The one-liner on this is that it's all going to change and fast," Wilkinson said. "But it's the wave of the future because it increases accountability. Every bullet issued to a law enforcement officer is supposed to be accounted for, in theory, at least. If there is a way to make that a certain reality, then I think we'll see more and more of it."