It Looks Like Anybody Can Order Google Glass Right Now
If you've got $1,500 to spare...

Google's Glass Explorer program, which used to be invite-only, appears to be open to anyone right now. A link that's floating around to the Glass store appears to be active. BuzzFeed tested it out and got all the way to the checkout. It seems all you need to purchase glass (besides the cash) is a Google account.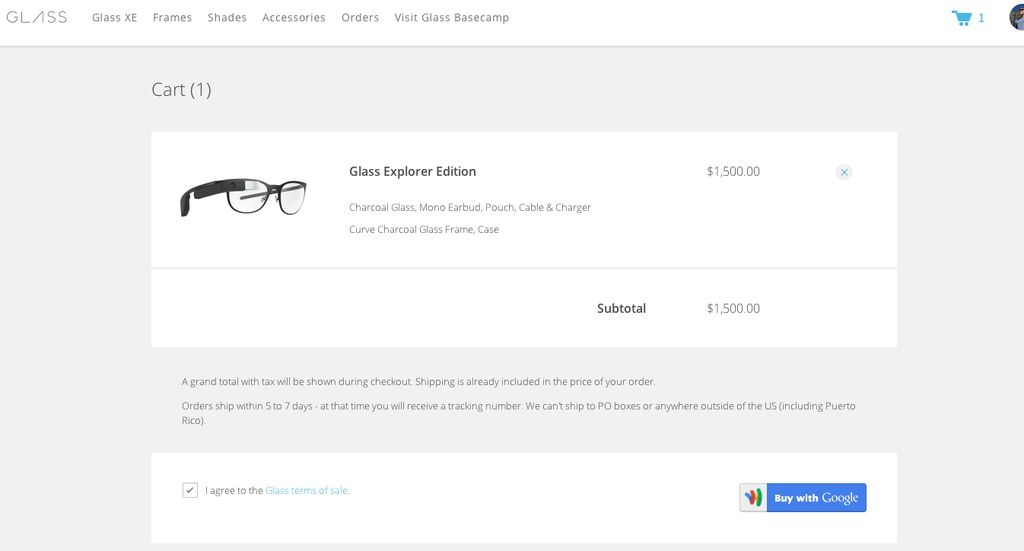 Of course, it'll still cost you a cool $1,500.
Last week, Glass had its first public sale, which was well-received, despite the negative press Glass has dealt with in recent weeks. Some are speculating the lowered restrictions on who can purchase Glass might mean the company is gearing up for a big public launch.
Update: Most colors seem to be sold out at this point and a Google Glass Spokesperson told BuzzFeed that the link will be shut down shortly. "This link was created to accommodate potential Explorers who were still in the pipeline from last week's sale. We're shutting it down shortly. As always, we will continue to experiment with ways to expand the Explorer program in the weeks and months ahead."