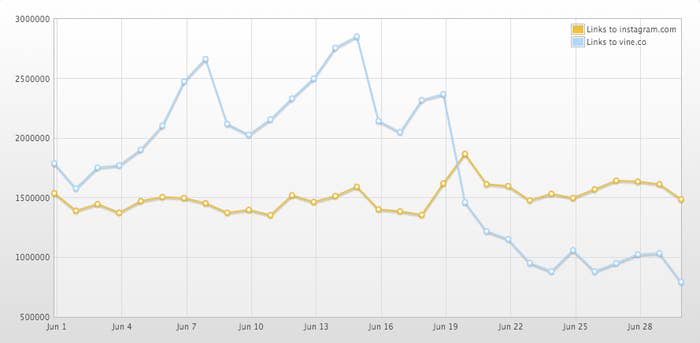 A lot of observations have been made and conclusions drawn about the fate of Vine from the chart above. Last week, CNBC first noted the rather alarming drop-off of Vine links shared on Twitter; at that point it wasn't so much a pattern, but a troubling indicator that a new and improved Instagram could cut off the recently hot Vine at the knees.
But just one week later, it's hard to look at this chart — where Vine's trend just isn't recovering — without the sinking feeling that Instagram has delivered a crushing, perhaps fatal, blow.
The Topsy numbers are staggering. June 19 — the day before Instagram Video's launch — vine.co link shares approached 2.4 million. Yesterday, shares were cut down to 794,824, just one-third of what they were only 11 days ago.
The most troubling relationship is the fairly steady rise of Instagram's shares next to Vine's far more drastic drop, which seem to suggest that users aren't necessarily flocking to Instagram, which they probably already use — they're simply forgetting about Vine. While Topsy's numbers may not tell the whole story, it's possible that, in the eyes of its users, Instagram video has simply rendered Vine redundant. Further proof that home-screen space is an increasingly precious commodity.
Update: Given all the attention the Topsy chart has received, the company put out a blog post clarifying the difference between its free service and Topsy Pro, which adds a somewhat different story to the Vine vs. Instagram narrative. Here's what Topsy says:
While both products show trends in social conversation, the free Topsy service provides just a subset of the analysis available in Topsy Pro... The free Topsy service generates trend charts using a sample of the most influential people and tweets. This allows users to see emerging trends among influencers in real time. Topsy Pro, on the other hand, counts all tweets and all people, both influential and less so. This allows users to discover and measure emerging trends, with exact counts of everything that's happening and has happened historically.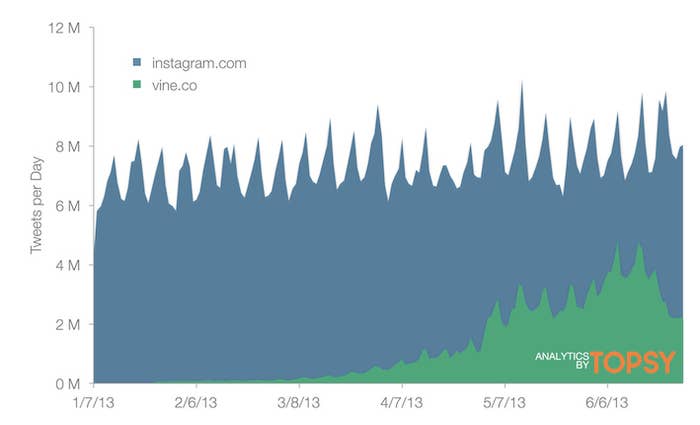 The full story, seems to support the original story to a degree, but with better context. Here we can see that while Vine experienced some solid growth over the last three months, it's always been well behind Instagram in terms of shares across Twitter. This makes sense given that Instagram is an older, far more established service.
The chart does, however, show a noticeable fluctuation in Vine shares in the latter half of June from over 4 million to about half of that at the end of the month, while Instagram shares seem to be be fluctuating much in the same way they have since January.
In all, the data suggests a different story from the complete and total collapse of Vine, but it also refutes the narrative from earlier this month that