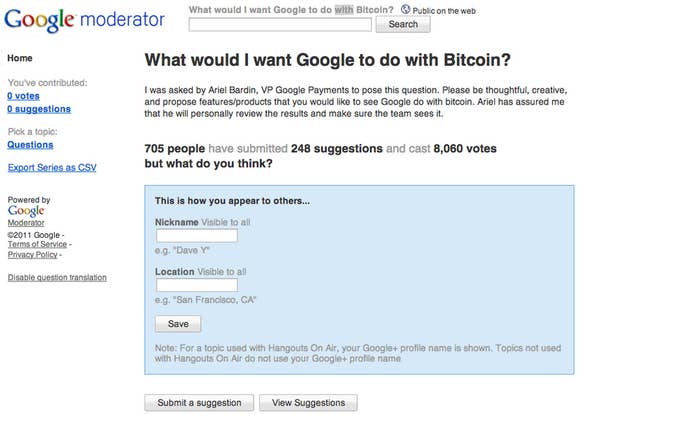 It seems Google is testing the Bitcoin waters.
Today, at the urging of Google Payments VP Ariel Bardin, Bitcoin enthusiast and Reddit user JasonBored created a Google Moderator page to ask users what they would want Google to do with Bitcoin.
According to the Redditor, who is an active participant on the site's r/bitcoin community, JasonBored contacted Google's Vic Gundotra as well as Google Wallet SVP, Sridhar Ramaswamy, about incorporating Bitcoin into Google Payments. According to screenshots provided by JasonBored, Ramaswamy said that Google is "working in the payments team to figure out how to incorporate bitcoin into our plans."

In a related thread, JasonBored posts that Bardin asked him to "facilitate a Google Moderator and pose the question," noting that Bardin would "personally review the results and pass it on."
So far the Google Moderator thread has 255 suggestions and 8,336 votes; most ask for Bitcoin incorporation into Google Wallet, while others are less helpful.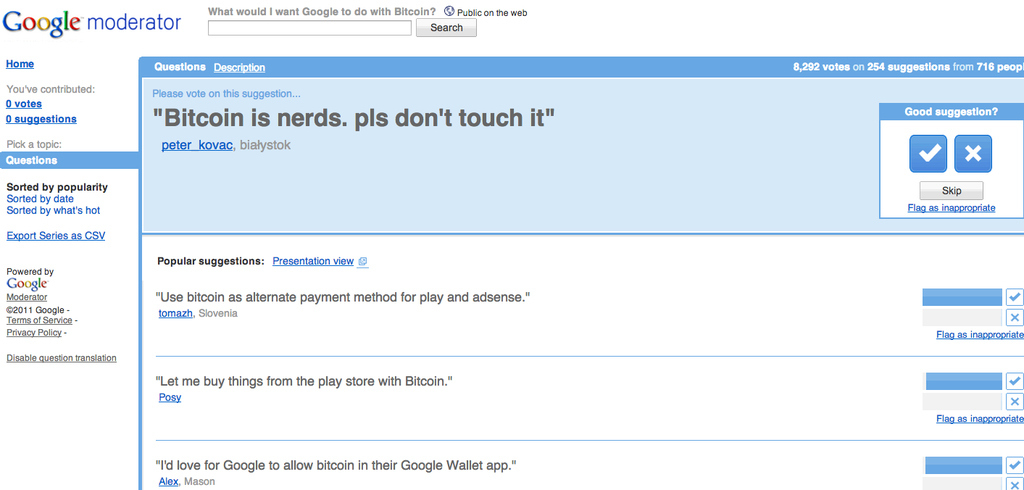 When asked about the Moderator page, a Google spokesperson told BuzzFeed the company has no current plans to incorporate the cryptocurrency. "As we continue to work on Google Wallet, we're grateful for a very wide range of suggestions. While we're keen to actively engage with Wallet users to help inform and shape the product, there's no change to our position: we have no current plans regarding Bitcoin," the spokesperson said via email.
There's been a good bit of speculation as to when Google will incorporate Bitcoin into its platforms. Google Ventures currently funds Ripple, a Bitcoin payment system, in part and some Google engineers, like Mike Hearn, have been outspoken proponents of the currency. Hearn's personal site lists him as working on the Bitcoin virtual currency system (separately from Google).
Back in September, A Google Shopping Express customer support staffer similarly told BitcoinEAST's Jonathon Waller the company was "looking into" the possibility of incorporating Bitcoin, a statement the company denied, noting "the customer support rep in this instance was mistaken."
While the series of emails seem to indicate Google is actively considering Bitcoin, there appears to be a bit of a disconnect between the company and avid supporters of communities like r/bitcoin. While JasonBored calls the acknowledgement from Google's brass "huge," it's really more of a hint. But certainly an interesting one.