In The Tech Trenches, The 2016 Campaign Is Well Under Way
Democrats are assembling a campaign software superpower, while Republicans are hard at work trying to poach talent in Silicon Valley.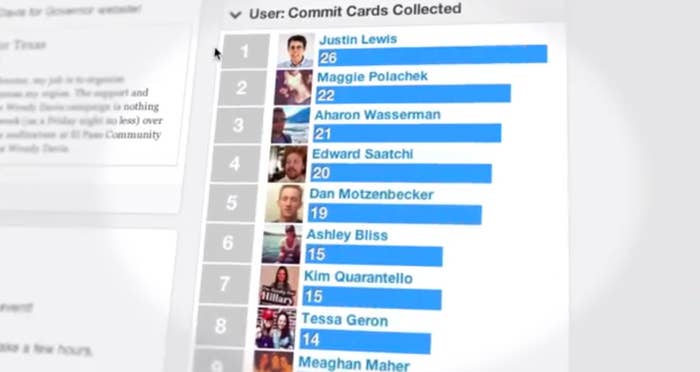 Campaigns come and go, but the battle for campaign-tech supremacy never ends. For the two parties' tech teams, 2016 is well under way.
With 2013's small batch of races just barely behind us, progressives are already working to guarantee their lead over Republicans, prying open the technology talent gap in time for the next presidential election.
Today, National Field, a software company led by three 2008 Obama staffers that builds online organizing networks and campaign data dashboards, announced its acquisition by NGP VAN, the largest progressive technology and data company in the country, to provide better internal tools, and data, for Democratic campaigns.
While National Field is hopeful that its integration with NGP VAN's massive stores of data from past campaigns, and its fundraising platforms, will give Democrats a meaningful leg up in the campaign-tech arms race, the company's CEO, Edward Saatchi, says the tech gap between Democrats and Republicans may be smaller than most people assume. This summer, the Republican National Committee hired Andy Barkett, a Facebook engineer, to become the party's chief technology officer. After the press thoroughly excoriated the Romney campaign's ORCA failure in the aftermath of the election, Republicans are focusing more than ever on the importance of a campaign-tech infrastructure. The party is actively recruiting talent within Silicon Valley, targeting employees of major internet companies. One source told BuzzFeed that Barkett has been rumored to have made "recruiting visits" to a number of Valley churches in recent months, looking for young parishioners in Facebook hoodies and Google T-shirts.
"I think the GOP decided to take a sober and serious look at what they're doing and are beginning to hire some smart people," Saatchi told BuzzFeed. "The big story out of 2012 was how crucial a role technology played in our side winning, and it's really important that we not rest on our laurels and continue making bold moves to maintain the advantage we have." In tech terms, this is a competition between platforms: large, integrated systems designed to be shared across the country, albeit within each party.
For National Field and NGP VAN, 2014's midterm races will serve as a "laboratory" for the technology behind the acquisition. The plan is to build stronger organizing infrastructures and work out the kinks to ensure a smooth transition in the 2016 presidential campaign. For Saatchi and National Field, that means a better, more integrated supporter data, and transferring and putting NGP VAN's backlogs of fundraising and volunteer archives into the hands of campaign volunteers in the field in real time. It also means better and more uniform analytics dashboards as well as a continued push to develop accessible mobile tech — apps — for volunteers.
More importantly, for Saatchi, 2016 is about keeping perspective about technology's ability to influence the outcome of an election, without getting mired in the more tedious aspects of social media. "The average volunteer is usually middle-aged and not that comfortable with technology. We need to keep that in mind," he said. "We want to make sure to keep a focus on the offline work. We're not trying to get more Facebook likes than the other guys, we want actual offline involvement."