The Story Behind The New Twitter Spam Epidemic
The spammer behind @CelebPhoneNo explains exactly how — and why — you're getting added to so many Twitter lists.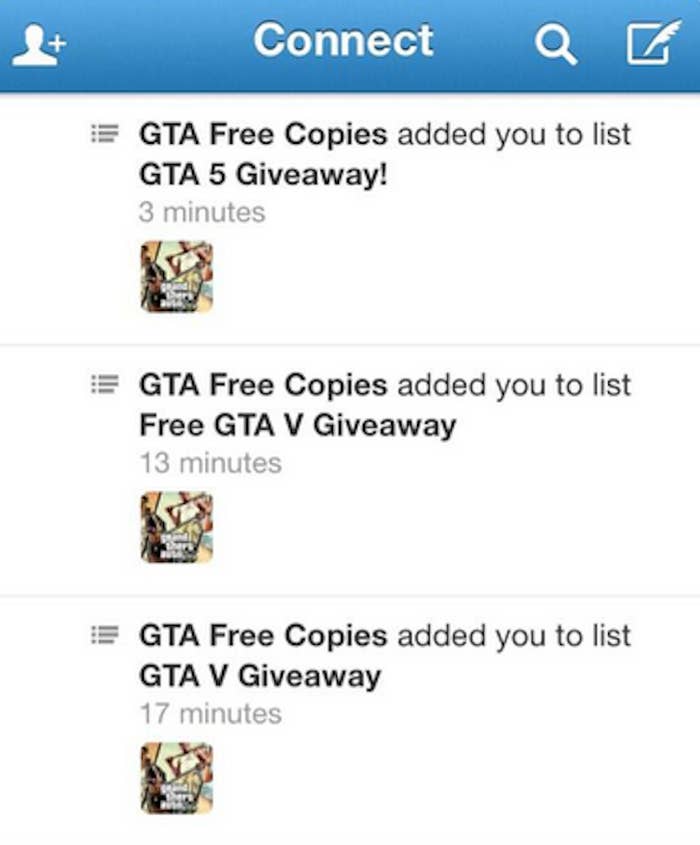 Over the past few days, Twitter users have been increasingly inundated by spammy Twitter lists . Today, BuzzFeed spoke with @CelebPhoneNo, the user who popularized this newest form of list spam, about how, for $9.99, anyone can become an aggressive Twitter list spammer.
It seems like Twitter list spam has totally taken off over the past few days? What's the reason for this?
@CelebPhoneNo: So I have been using this method for around two weeks now. You basically use a tool known as the "Twitter Keyword Tool," which was only recently developed, and I happened to stumble across it but it wasn't popular, but only recently I made a thread on two popular internet marketing forums on how to use the tool, and since then more and more people have been using it to get thousands of traffic daily.
Does this actually make money?
@CelebPhoneNo: The actual monetization comes from the traffic completing surveys and other various offers and then we get paid by advertisers.
Has it been working? Have you seen results? Do you think this is only going to grow in popularity?
@CelebPhoneNo: It doesn't perform as well as other methods in terms of EPC (earnings per click), but because you bring the traffic in large numbers this kind of compensates for it as other methods bring traffic in much smaller numbers. I have seen great results. Especially on Sundays, where more people are at their computers and liable to have time to complete offers. This will only grow in popularity but I sense Twitter will quite obviously patch it soon which is good as this method will saturate very quickly anyway as people will learn that the lists are spam.
Is this going to be the standard from now on?
@CelebPhoneNo: I still use other methods but this is the best at the moment and until it lasts I will continue to take advantage of it.
What are some of your other preferred methods?
@CelebPhoneNo: Other methods include SEO and YouTube Videos. SEO is the best as it puts you right at the top of search results for keywords relating to your niche and many peoples first protocol for searching is the likes of Google and other search engines. YouTube works also as you can offer your traffic "proof" of whatever it is you're trying to market which improves conversion rates. However, my niche, "Celebrity Phone Numbers," works best with social methods like Twitter and Facebook, but I have other niches that wouldn't work on Twitter but work great with SEO and/or YouTube videos.
Here are screenshots from CelebNumbers' internet marketing forum post, detailing exactly how Twitter spam lists are made (all it takes is a $9.99 tool):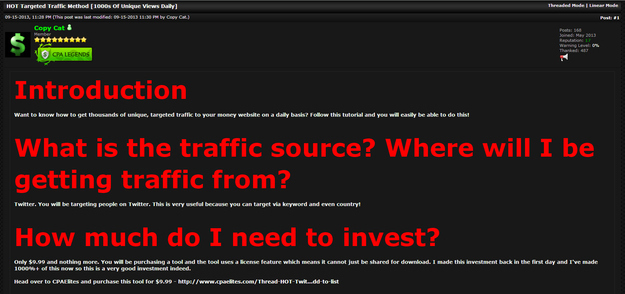 According to the spammer, @CelebPhoneNo has attracted thousands of unique visitors each day for two weeks.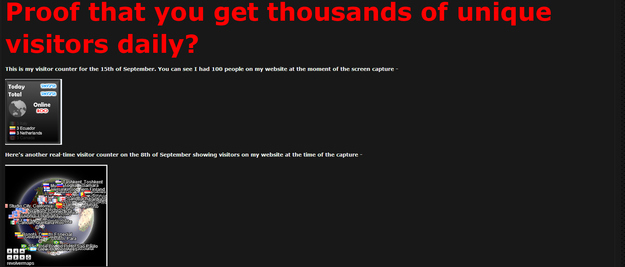 First, the spammer creates a quick account...
And then sets up a series of lists...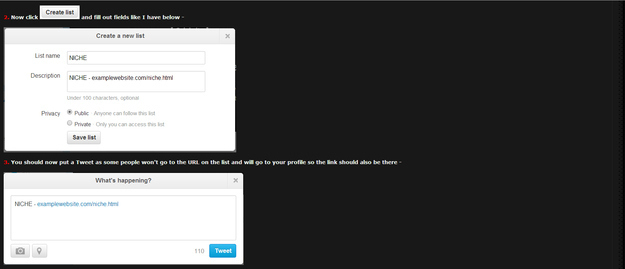 Then, using a $9.99 Twitter keyword search tool, the spammer can use the bot program to target users and add them to lists based off keywords.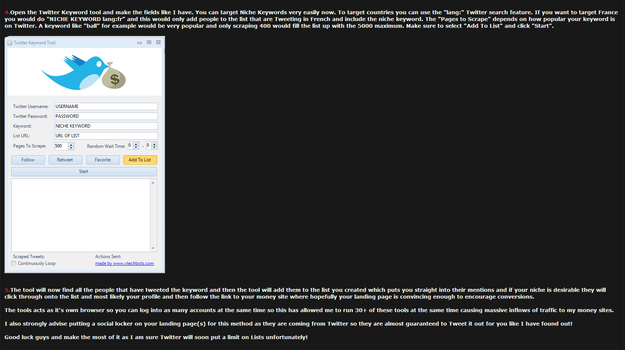 According to CelebNumbers, this screenshot "shows the popularity the thread has and is the reason why this method is becoming increasingly popular."