Google's Plan To Save The Web
And keep itself relevant in the process!
Google wants you to know that it loves the web. And this morning, at a fancy New York City smoked fish and bagel joint, the search giant held a press event to show off its attempt to retool the bloated, stagnating, and creaky-slow link ecosystem that's plaguing our mobile phones.
It's called Accelerated Mobile Pages, or AMP, and at its core it's a moderately complex technical rejiggering of code that will make browsing the non-app internet on your phones faster. Much faster, Google says.
Here's what it looks like in theory (lots of code replaced with just a little code):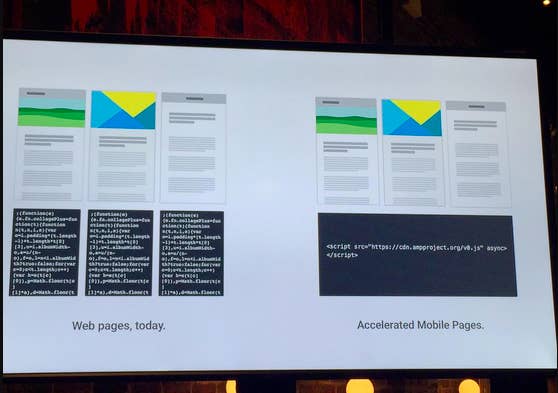 And what it looks like in practice (via a demo from the Twitter app Nuzzel):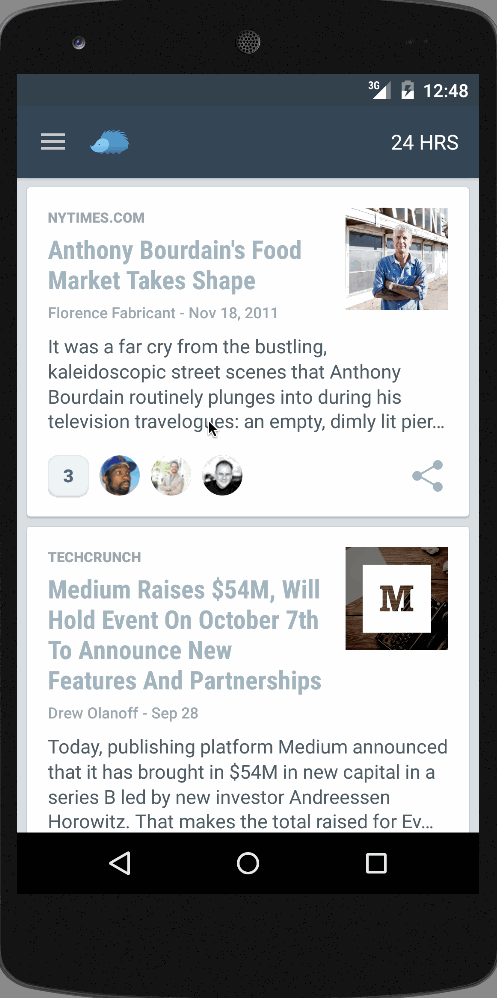 In practical terms, AMP will cut page load times from two-to-three seconds to (what Google claims is) a matter of milliseconds. And if this sounds like an eye-rolling nerd stat, know this: I was inclined to agree until I saw it in action.
AMP does make the mobile web fast — so fast that using it to search the web made me feel like I'd broken something or managed to load only a quarter of the page when, in fact, I'd loaded the whole thing. You can try it here, and I suggest you do (it only works on mobile, obviously).
Without being too dramatic, using the demo on my phone captured that kind of soothing excitement you get when you suddenly fix something that's frustratingly broken — a bit like oiling a rusty hinge. Clicking a link to a webpage and seeing it almost immediately appear in full before your eyes doesn't feel like some vision of the future come to life, but rather a return to something essential. It's really satisfying. And, for a company like Google, it may well be crucial to the future of its business.
To hear Google's head of news, Richard Gingras, sell it, this is also a boon for publishers (disclosure: BuzzFeed is an AMP partner). "Despite what any publisher says — even if they have a great native app — smartphone users spend time in only a few native apps and the chances of them having more than one content app they go to all the time are small," he told BuzzFeed News.
While Google and its AMP partners were quick to frame the endeavor as a selfless one — "we are here to make sure that the web evolves, and our entire focus is on that effort; we are here to make the web great again," Gingras told the crowd — it's also very clearly part of the search company's plan to ensure its continued relevance as it jockeys for position with formidable rivals like Facebook and Apple.
Google's ceded a great deal of its referral traffic to publishers to Facebook and the walled gardens of mobile apps (both social and not) in recent years. The company is also under potential threat from Apple, which this summer debuted a news publishing format of its own and also began supporting mobile ad blocking in third-party iPhone and iPad apps. Though Google would never explicitly say this (Gingras was noticeably defensive when asked about it this morning), AMP is clearly a response to both this and Facebook's Instant Articles program, which has the potential to eat away further at Google's share of the internet, provided it takes off.
And as such, it is a colossal tactical maneuver on the front lines of the internet's platform wars. Instant loading, if it really and truly works across the mobile web, has the ability to change browsing behaviors. If mobile webpages load faster, we'll probably use the mobile web even more than we do already. And that's obviously good for a company like Google.
"We have, right now, taught users of the mobile web to think twice before they click on a link," Gingras told BuzzFeed News. "We shift into a cognitive process that says, 'is this going to be worth the few seconds it'll take to load the page?' We hesitate. We have to kill that hesitation. An instant is the difference between browsing and discovering, and not." That hesitation, which is now baked into the brains of millions of multitasking, loyal-to-no-one mobile readers, worries Google.
Building a truly functional mobile web and potentially reclaiming chunks of it from the likes of Facebook and the app world ostensibly has positive implications for the open internet. That's probably why Google has made AMP an open-source initiative with the hope that everyone from the biggest publisher to the smallest embraces it. That said, this isn't an entirely altruistic effort: Opening AMP to everyone is also a way to ensure that the program can grow enough to compete with the likes of Facebook and others. Google won't directly collect ad revenue from this new format — unlike Apple and Facebook's instantly loading mobile article initiatives — but that doesn't mean that the company won't benefit from the potential uptick in mobile search revenue it's likely to inspire.
This is a big, complicated move for Google, but for anyone who frequents the mobile web, it's a good thing — the mobile web will soon get faster. For publishers stuck in the middle of a platform war, AMP is another way to cater to readers who are increasingly expecting a faster, uncluttered experience and perhaps to avail themselves of a new Google search carousel that appears likely to favor publishers who use the AMP standard. For Google, it's another opportunity to "make the web great again" — and to establish the foundation necessary to ensure the company's continued dominance of it as it shifts to mobile.