Facebook's Double Vision
Why "Nearby Friends" feels like a step inward for the unbundling social network.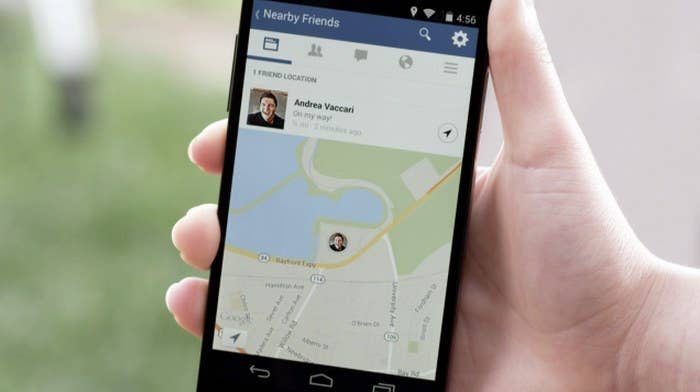 There are two visions of Facebook: the giant social network is either an app on your phone or it's your entire homescreen. It's a big part of the internet or it's the internet.
This tension between the open Facebook and the closed one runs through the history of the company, and of the web, from the early failure to build "walled gardens" to the powerful new app ecosystems.
And Facebook seems to be heading in both directions at the same time. Facebook has gotten attention recently for an "unbundling" of sorts: choosing to pluck its "second-class" services, like messenger, out of its core product to roll into standalone apps. By all accounts this feels like a move away from the thinking that led to Home, the company's failed attempt at building a new kind of Facebook-centric mobile experience.
But while unbundling has been getting all the media attention, Facebook shows signs it is simultaneously building with another possible future in mind. In particular, Facebook's newest product, Nearby Friends, feels like a step inward. Using your phone's GPS capabilities, Nearby Friends broadcasts your vague location (within half a mile) to your Facebook friends who've installed the feature. The ultimate goal of the opt-in product is to facilitate meet-ups and bring your Facebook experience offline.
Nearby Friends is a product designed for and optimized inside Facebook's alternate reality, where the company and its services sit at center of the social universe. It's a reality that, as John Herrman wrote last year, is experienced first and foremost by Facebook employees, who are "among the few truly living out the vision set forth by Mark Zuckerberg."
You can see this thinking inside Nearby Friends, which, as the New York Times reported last week, has been tested solely by employees:

Mr. Vaccari said that in Facebook's tests, two employees discovered they were both at San Francisco's airport baggage claim and ended up sharing an Uber car. Others have met up while traveling during Thanksgiving or skiing at Lake Tahoe.
Of course, if you want immersion, the real place to look may be the acquisition of Oculus Rift, a product that could quite literally immerse users users into an alternate, Facebook-centric reality. Here's TechCrunch on the purchase:

This all reveals how Oculus could be at the center of Facebook's long-term strategy to connect people as vividly as possible. A criticism frequently lobbed at Facebook is that it actually isolates people rather than brings them together. Scrolling through the News Feed is not the same as talking and laughing with a friend in person. But with Oculus, Facebook could one day make you feel like you're right next to the people you love, no matter how far away they are.
As with Nearby Friends, the goal of the product is framed by Facebook's boilerplate motto of "make the world more open and connected." This openness and connectivity is on Facebook's terms. It assumes that the world of your Facebook feed and your actual world are the same.
For some this isn't a stretch. And if any company can try to justify this kind of stretch, it's Facebook. But as The Verge's Ellis Hamburger pointed out last week, Facebook's "friend" model now feels structurally flawed: a model that creates a sprawling friend network that's far larger — and therefore far more irrelevant — than one's physical social network.
As Facebook attempts to wind its way further into our lives, this disconnect is only amplified. My Facebook social graph doesn't take into account the people I've lost touch with, nor does the service allow me to easily prune my friend list — as it stands, it's still in Facebook's best interest to connect you to as many people as possible. And so, quite naturally, a product like Nearby Friends is unappealing. Not because it feels invasive but because it's built for a reality that I don't quite inhabit. If anything, it draws attention to the gap between the Facebook graph and my living networks.
At first glance, Facebook's efforts to unbundle feel like an admission that the social network understands it can't be all things to all people (at least not in a single, unified app). Nearby Friends, however, feels like a product built by a company that sees itself as the center of the online universe.
Facebook is still big enough to justify its closed vision, but it's a path that feels less attuned to the immediate future of the web (especially with regard to mobile), as well as the company's core product. Indeed, the most exciting part of the social network's recent acquisitions and unbundling strategy is the idea that Facebook has become a company that embraces its limitations and builds around them, not one that puts up walls and tries to innovate in spite of them.