Facebook Will Now Share Data With Its Recently Purchased Fitness-Tracking App
Moves quietly changes its privacy policy 11 days after Facebook's acquisition.
Eleven days after being acquired by Facebook and promising to keep its data independent, Moves, an activity and fitness tracking app, quietly tweaked its privacy policy to allow for data sharing with third parties. The privacy changes were first noticed by developers and users and reported by the Wall Street Journal.
Less than 20 minutes after tweeting out the news of its acquisition late last month, Moves assured its concerned users it had "no plans to commingle data with Facebook."
Moves' privacy plan originally stated the company would not disclose data to third parties without legal obligation or consent. The new plan indicates that the company may now share information with Facebook to "help provide, understand, and improve" services.
Here are the two policies. The May 2nd version (left) and the current version (right).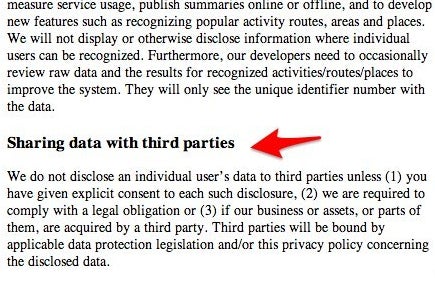 A cached version of Moves' privacy policy from May 2 states that users would be alerted to changes via email or the Moves Twitter account. As of this writing the account has not posted to clarify the update.
According to the Journal, a Facebook spokeswoman confirmed that the companies would share data, but that, as per the Moves tweet, there are still no plans to "commingle" data with Facebook.
While it's not clear exactly the distinction between sharing and commingling (the company has not yet responded to BuzzFeed's request for clarification), some users are concerned by the change: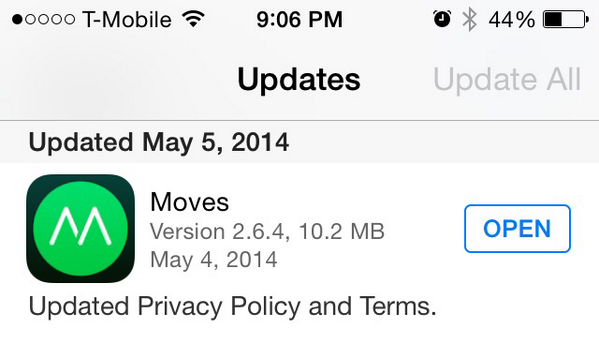 This news comes just after Facebook's F8 conference, where the social network made privacy a primary focus. The company rolled out a review process for third-party apps as well as an anonymous third-party app login system to keep user data private. The changes were a conscious effort to help users grow more comfortable with sharing in the wake of numerous high profile data breaches and reports of government surveillance.
For Facebook, data from Moves is especially precarious as the data the app collects is highly personal. Using a variety of motion sensors inside your phone like Apple's M7 motion-sensing chip (which is always on), Moves knows not only where you've been but if you walked, ran, biked, or were transported there by vehicle. When activated, the app makes full use of a smartphone's ability to comprehensively track its owner, which, to some may feel highly invasive.
Last November, Moves' CEO, Sampo Karjalainen told BuzzFeed that movement-based data collection was still in its infancy:


"There's standard location data for sure, but there are also other kinds of contextual data you can collect as well, like which communication method (text, voice, picture) you used and where, scanning calendar entries and the photos you take. You could use the phone's microphone to listen in on the outside environment while idle and change phone settings and do much more to document different elements of your life," Karjalainen said. "Collecting data from a run or a bike ride is the first step, but then there's collecting the smaller data that allows you to truly understand your habits and make real changes."

Karjalainen also told BuzzFeed that city governments had approached Moves for access to its data for planning purposes in the past but that the company had turned down those and all other requests. Today, at least with Facebook, it appears the company has changed its mind.