Facebook Takes Aim At "Like-Baiting" And Spam
Engineers announce changes to the network's powerful News Feed.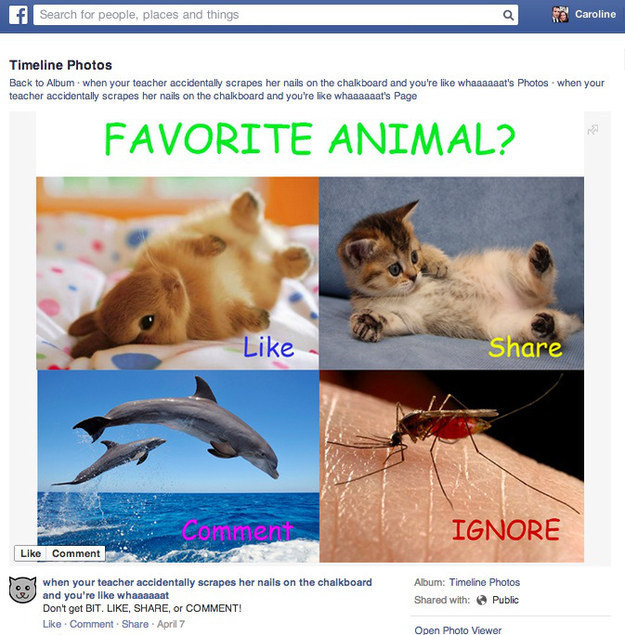 Facebook has announced another round of changes to its News Feed algorithms, which it says will be adjusted to target spam and "[p]ages that deliberately try and game News Feed to get more distribution than they normally would," according to a Facebook news release.
Specifically, the company is targeting "like-baiting" posts, that demand insincere "likes" and "comments" from users, as well as "Spammy Links," which it defines as "inaccurate language or formatting to try and trick people into clicking through to a website that contains only ads or a combination of frequently circulated content and ads." Lastly, Facebook will clamp down on what it calls "Frequently Circulated Content," or posts and articles that have have been shared by multiple users and pop up in multiple places on the News Feed.
In Facebook's own words:

People often respond to posts asking them to take an action, and this means that these posts get shown to more people, and get shown higher up in News Feed. However, when we survey people and ask them to rate the quality of these stories, they report that like-baiting stories are, on average, 15% less relevant than other stories with a comparable number of likes, comments and shares. Over time, these stories lead to a less enjoyable experience of Facebook since they drown out content from friends and Pages that people really care about.
This is just the latest battle in the war against spam for News Feed, which is one of the most powerful traffic drivers on the internet. In December, the site said it would begin purging low-quality "meme photos." Similarly, many of the new tweaks appear to be targeting bottom-of-the-barrel spam advertisers and lower-quality image hosting sites, best known for distributing homemade image macros and memes.
While Facebook says it won't target Pages "that are genuinely trying to encourage discussion among their fans," the changes will require the minds behind Facebook's algorithmically influenced News Feed to make some subjective decisions (even with the help of user feedback and data). As with December's "meme photo" tweaks, the high- and low-quality content is easy to discern; however, a fair amount of Facebook's content exists in a middle ground that's much harder to define.
As always, the changes are geared toward creating a more welcoming environment for media companies, which increasingly depend on Facebook to distribute content online. It's also the latest example of Facebook reasserting its dominance over those who have tried — and, in many cases, have succeeded — to "game" the system. It's another tacit reminder that Facebook is in complete control of its powerful product.