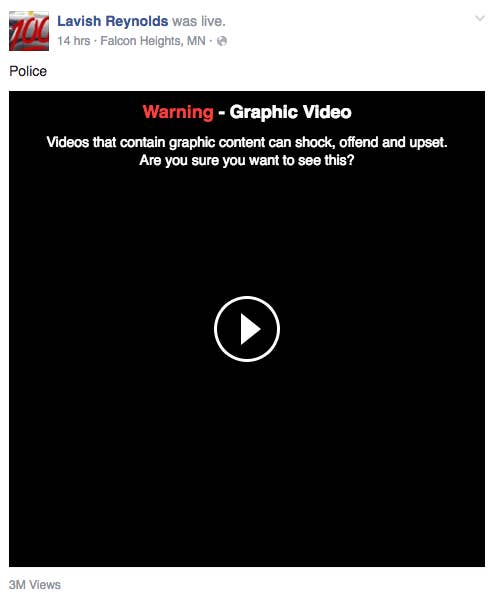 Last night, at 10:06 p.m., a woman by the name of Diamond "Lavish" Reynolds went live on Facebook for roughly 10 minutes. During that time, she chronicled the last conscious moments of her boyfriend Philando Castile's life, after he had been shot by police while allegedly attempting to provide his license and registration at a traffic stop. Though the video was "temporarily down due to a technical glitch for about an hour," according to Facebook, the disturbing footage of Castile bleeding to death while his partner helplessly narrates has been viewed over 3 million times.
The video is another solemn chapter in our endless conversation about racial injustice and excessive police force. But for Facebook, it may well be a defining moment in how the world's biggest social network handles the darker side of real-time, brought about by the company's failure to answer substantive policy questions about its handling of a gruesome but important video posted to a platform that CEO Mark Zuckerberg has publicly touted as Facebook's top priority.
"We built this big technology platform so we can go and support whatever the most personal and emotional and raw and visceral ways people want to communicate are as time goes on," Facebook CEO Mark Zuckerberg told BuzzFeed News when Live launched globally.
But when you're home to over 1 billion humans, it's never that simple. And rereading Zuckerberg's statement, certain words — "emotional and raw and visceral" — stand out from Facebook's standard rhetoric. While these adjectives might apply to many viral videos, they're more attributable to videos like Reynolds' — videos that confront us and disturb and shock. With this in mind, it seems reasonable to ask: What exactly is Facebook's definition of "emotional and raw and visceral," and does it extend to the Castile shooting video and others like it?
The questions don't end there. What does Facebook see as its role in events like last night's live-streamed shooting? Has it developed a protocol for these situations? Is the protocol simply that if it is heavily flagged, the video is momentarily taken offline for screening/evaluation and then put up again with a "disturbing image" banner? Are there standards for capturing death on Facebook live? What is the difference between a murder with a deadly weapon versus an accident (say, a car accident where somebody dies)? Who has ownership rights of a live-streamed death? What happens if, say, a family chooses to live-stream the final minutes of a loved one dying from cancer or disease for people who couldn't make it to the family member's bedside? What is the difference between capturing a shooting event that does not directly involve law enforcement (say, Orlando) versus an event where law enforcement is directly involved? What are the differences in a video being allowed to stand if it's posted by a bystander versus if it's posted by family/next of kin?
BuzzFeed News put all these questions to Facebook. But the company declined to answer them. Instead, a spokesperson proffered a statement noting that Facebook has given users a way to report Community Standards violations during live broadcasts — though Reynolds' video did not violate those standards — and that when bodily harm is reported to Facebook, the company will notify law enforcement. "We do understand and recognize that there are unique challenges when it comes to content and safety for Live videos," the spokesperson said. "It's a serious responsibility, we work hard to strike the right balance between enabling expression while providing a safe and respectful experience."
The challenges of live video aren't Facebook's alone. Periscope, a Twitter-owned live-streaming video app, drew attention this May after a teenager live-streamed her suicide on the service. Similarly, last February, a Florida man broadcast the aftermath of a club shooting in Tampa on Periscope — the man died shortly after. A spokesperson for Periscope told BuzzFeed News that the company gives users the option to report inappropriate content and provides "interstitial warnings" on Twitter to sensitive content when it is reported. The spokesperson also noted that, while "explicit graphic content is not allowed ... Periscope reserves the right to allow sensitive content when it is artistic, educational, scientific or newsworthy."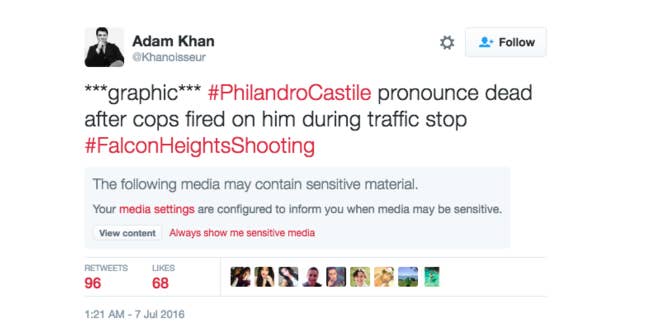 Videos of excessive use of police force aren't new — even online, YouTube videos like the 2009 clip of the fatal shooting of 22-year-old Oscar Grant, who was shot while unarmed by a BART officer, made national news and launched protests across the country — but the medium is. And at its best, Live's ability to draw on the "emotional and raw and visceral" can provide a modicum of agency to people in extraordinary situations. Graphic videos like the one that shows Philando Castile slowly dying of a police gunshot wound will not magically change perceptions on issues like policing and gun control, but they are a powerful, sharable window into a grim reality that many have the privilege to ignore. "I wanted to put it on Facebook to go viral, so that the people could see," Reynolds told reporters Thursday about her decision to post the video live. "I wanted the people to determine who was right and who was wrong. I want the people to be the testimony here."
As more and more people watch and share and discuss the the last moments of Castile's life, Facebook is confronted with an uncomfortable but crucial choice. Does it create a new set of standards for live video? Or does it moderate and restrict what we post and see, in the same way it recently censored childbirth photos in closed birthing groups or "suggestive" paintings posted by prominent American art museums?

Or does Facebook forgo that decision entirely, opting to position itself as a powerful, unobscured window into the world of those who use it? That's a choice that might conceivably shape weighty and deeply consequential national and even global conversations. As the company bets big on becoming the internet's primary destination for live video, it will have to reckon with its power to bear witness to the worst that the world has to offer. And as its 1.65 billion global users turn their cameras out to the world, Facebook now seemingly has a choice about how to process, moderate, and ultimately influence how the rest of us see what their lenses capture.
UPDATE
Following publication of this story, Facebook CEO Mark Zuckerberg posted the following: