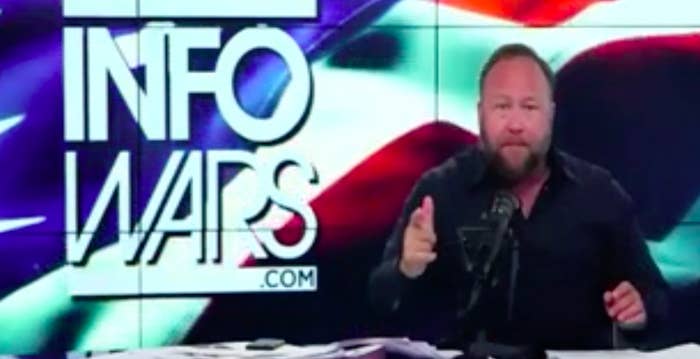 With his latest accusations of pedophilia, Alex Jones and Infowars continue to test the limits of Facebook's rules. And Facebook continues to allow it.

On his Monday afternoon show, Jones issued a prolonged rant against special counsel Robert Mueller, accusing him of raping children and overseeing their rape, and then pantomiming shooting the former FBI director. The show was streamed live on Jones' personal, verified Facebook page, which has nearly 1.7 million likes.
In the clip, Jones baselessly accused Mueller of having sex with children. "They'd let Mueller rape kids in front of people, which he did," he said on the show.
Jones also suggested that Mueller enabled pedophiles. "I mean, Mueller covered up for a decade for [Jeffrey] Epstein kidnapping kids, flying them on sex planes, some kids as young as 7 years old, reportedly, with big perverts raping them to frame people," he said. "He's even above the pedophiles, though. The word is he doesn't have sex with kids, he just controls it all."
Originally used as a straw man to discredit identity politics, the subject of pedophilia has become a favorite area of online investigation for Jones and pro-Trump media figures. In 2016, Jones and Infowars participated in the Pizzagate conspiracy, which accused the Clintons and John Podesta of being affiliated with a child sex ring in a DC pizza parlor. Last week, James Gunn was fired as the director of Guardians of the Galaxy Vol. 3 after far-right activists surfaced old tweets in which he joked about pedophilia.

Following the pedophilia accusations, Jones then pantomimed shooting Mueller "politically, at high noon" in an Old West–style shootout. "Make the move first, and then it's going to happen. It's not a joke. It's not a game. It's the real world. Politically. You're going to get it, or I'm going to die trying, bitch. Get ready."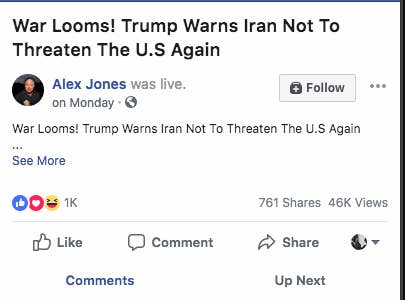 The rant was Jones' latest outlandish provocation for Facebook, which has stated recently that it would not remove Infowars from its platform for spreading false news. As the clip of Jones went viral Monday evening, multiple observers flagged it as a threat of violence, which would be a violation of Facebook's rules. But on Tuesday morning, a Facebook spokesperson told BuzzFeed News that Jones' comments do not violate the company's community standards as they are not a credible statement of intent to commit violence.
Jones' Mueller rant illustrates Facebook's difficult position in moderating content from Infowars. A veteran conspiracy theorist, Jones frequently abuts community standards without flagrantly violating written rules. For example, Jones' comments about Mueller on Monday were framed by Jones as Wild West satire, complete with spaghetti Western music, despite containing threatening language.
Facebook appears consistent in its desire to keep Jones and Infowars up on the platform. This month, the head of Facebook's News Feed told reporters that Infowars is a publisher with a "different point of view" and added that the site's history of "just being false doesn't violate the community standards." The company has since clarified that it will attempt to limit the reach of content from conspiratorial or sensational news outlets like Infowars if it is deemed misleading or false. It is unclear if Jones' Monday livestream, which had more than 46,000 views on Facebook as of Tuesday, was subject to any downranking.
Facebook's content moderation flexibility appears to be lost on Jones, who also criticized Facebook CEO Mark Zuckerberg Monday for "shadow banning" his outlet, positioning himself as the victim of a Silicon Valley censorship plot.
"If Zuckerberg thinks that little game of 'Oh, Alex Jones, he's just wrong, we don't want to ban him,'" he said on the program. "You already banned [me], shadow banned…I'm already banned."
CORRECTION
The pizza parlor at the center of the Pizzagate conspiracy theory is located in Washington, DC. An earlier version of this post misstated its location.