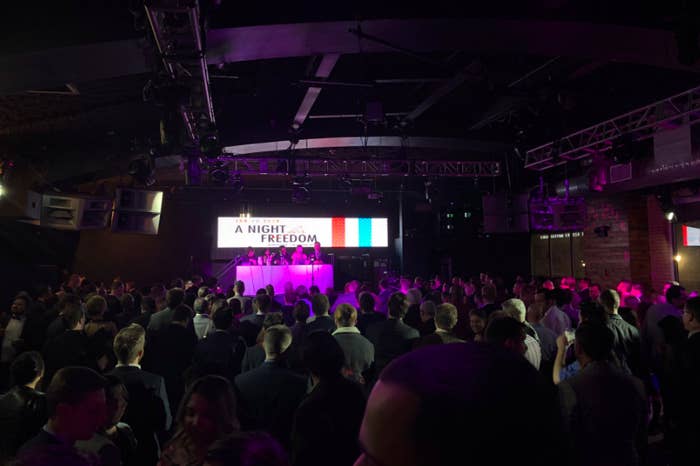 Hundreds of pro-Trump Twitter activists, far-right online media figures, and Pepe lapel pin-wearers descended on a Hell's Kitchen nightclub Saturday night for a gala celebrating the one-year anniversary of President Trump's inauguration. But despite appearances from far-right media personalities like James O'Keefe, Mike Cernovich, and Gavin McInness, the most controversial attendee of the evening was former WikiLeaks whistleblower and now US Senate candidate Chelsea Manning.
In the early hours of the party, Manning could be seen smiling and socializing with attendees, including pro-Trump Twitter personality Cassandra Fairbanks. Fairbanks, who reports for Gateway Pundit, has been a vocal supporter of WikiLeaks and has publicly exchanged messages with Manning on Twitter.
Manning left before the evening's speeches ended. Shortly after her departure, another guest told BuzzFeed News that Manning was "crashing" the gala, and suggested that the former whistleblower did not attend because of her political views.
Hours later, Manning issued a tweet that appeared to disavow the event as a "fascist/white supremacist hate brigade party." Manning did not respond to a request for comment.
Others who spoke with Manning Saturday night described her attitude towards the party differently. A source who attended and who knows Manning told BuzzFeed News that "while she was not there protesting, she was there in an effort to bridge gaps between left and right."

Cernovich, the pro-Trump media personality who hosted the event, suggested that perhaps Manning — who is running for Senate as a Democrat — showed up because of a shared philosophy that's separate from partisan politics.
"I think it's clear that she does what she wants and doesn't give a shit," Cernovich said. "And I think she knows that we're the same way."
Regardless of the reason for Manning's appearance, other guests appeared thrilled that she showed up. "I truly don't want to speak for her but I guess she respects what this is all about," pro-Trump activist Jack Posobiec said, gesturing toward the room full of attendees.

"Everyone was respectful," a different partygoer said. Another claimed that not a single person in attendance misgendered Manning, who is an openly transgender woman.
"Honestly, her being here shows what this movement is really about," one pro-Trump Twitter personality told BuzzFeed News shortly after Manning left the party. "We're not ideological, we're tribal. We don't care about the politics as much as we care about pissing people off and trolling and shaking things up. She's about liberty, we're about liberty, it's all good. No bad blood at all."