The New Twitter Detectives Want To Bring Down Trump Without Becoming Alex Jones
While the White House pushes alternative facts, anti-Trumpers and voices on the left are launching their own 140-character investigations and growing ever more conspiratorial.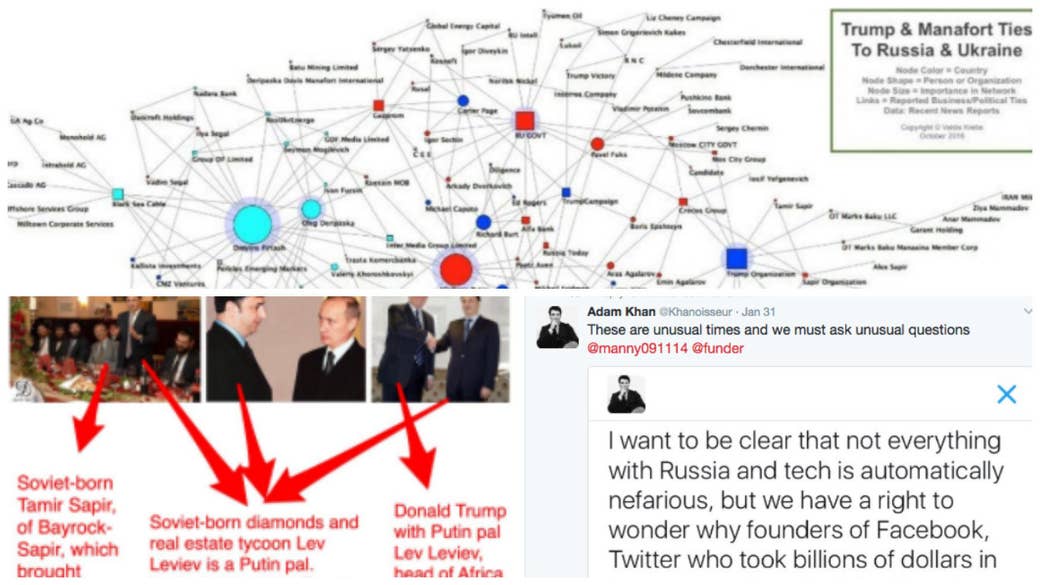 Just after 3 a.m. last Friday morning, Huffington Post contributor and progressive advocate Alex Mohajer set to work on a brief investigative project on Twitter. Pulling together red marker–circled articles, graphs, and screenshots from numerous financial websites, he rifled off 16 tweets with prosecutorial zeal and one ambitious goal: to build a compelling case linking Donald Trump to Russia's $11 billion sale of its oil giant, Rosneft.
"It's getting harder to ignore growing evidence that Trump was involved with Russian oil deal," Mohajer wrote after compiling his tweets into a longer Twitter Moments thread. "CONCLUSION? Koch-backed front cos financed climate deniers/alt-right, took control of govt while Trump diverts attn for Exxon, Koch, Rosneft," he wrote. A minute later he offered a hedge: "ALTERNATIVE CONCLUSION: I am batshit crazy and need some sleep! Good night world. I will be curious to see if others are able to confirm."