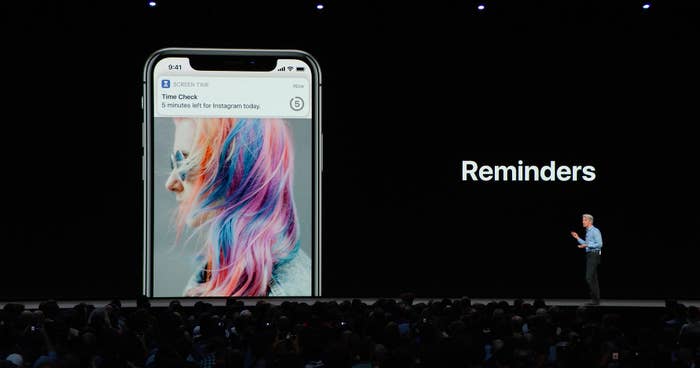 Partway through Apple's WWDC keynote, Craig Federighi, Apple's senior vice president of software engineering, took to the stage and admitted publicly what millions of smartphone users have long felt: Our phones sometimes make us feel overwhelmed, anxious, and unhealthy. He then spent the next 10 minutes unveiling a new suite of digital health tools designed to help iPhone owners avoid notification barrages, monitor device usage, and be more present outside of our screens. "We might not even recognize how distracted we have become," Federighi said soberly.
But the ode to unplugging was short-lived. Not 30 minutes later, a different Apple executive mounted a spin bike center stage and began peddling — aggressively — while using an Apple Watch to check her baby's nap schedule, make a restaurant reservation, challenge a friend to a workout competition, and book a yoga retreat. The demo — a harried, upbeat, and at times short-of-breath master class in multitasking — was an excellent example of the power of Apple's technology to keep us connected and productive. It was also a fantastic example of the distracted, hyperconnected technology ecosystem Federighi warned against.
This kind of cognitive dissonance was the prevailing subtext of Apple's 2018 keynote. And while Apple — as it did at points onstage Tuesday — argues that unplugging from our devices and innovating them aren't mutually exclusive, the company appears to have two simultaneous desires: to free us from the shackles of its meticulously designed and seductive technology while also finding new ways to weave its products deeper into our everyday lives. This delicate and awkward balance between utility and health is arguably Silicon Valley's greatest challenge as it grapples with an existential crisis over "time well spent" on our devices. And discordant moments like the Apple exercise bike demo illustrate just how hard it'll be to improve our unhealthy relationship to technology.
Apple's efforts toward digital health appear genuine and genuinely helpful. Features like "Do Not Disturb at Bedtime" will protect us from notifications that can interrupt our sleep. Other new features will allow us to mute lock screen notifications when we need a break from them. And weekly reports detailing just how much time we're spending on our apps seem to be a meaningful step in helping us come to grips with just how much time we're spending on our phones.
Still, coming from the company that quite literally invented the gadgets we just can't seem to put down, there's an awkwardness to the initiative. On Twitter during the digital health announcements, tech reporters and keynote observers oscillated between appreciation for addressing the problem and eyerolling at the thought that a few "you've used your day's allotment of Instagram time" prompts might begin to rewire our phone-addled brains.
Each successive feature Apple trotted out seemed tailor-made to undermine the company's health demo. At a time when some iPhone users are experimenting with turning their phones to grayscale to make them less alluring (a fix that Google deployed into its own digital health initiative in May), Apple introduced Memojis, a highly customizable create-your-own-live-emoji augmented reality feature that's designed to commandeer your attention. Similarly, "Do Not Disturb at Bedtime" felt undermined by a new "dark mode" for your computer, designed to make your desktop feel even more welcoming later in the evening. And Apple's decision to give users more granular control to mute and bypass notifications — a move that drew loud, whooping cheers from the audience — was offset by "Walkie Talkie," an Apple Watch feature that allows select, vetted users to pop into a person's day with short-burst voice messages.
All this technology, as Apple takes pains to note, is opt-in; its technology is only as distracting as we allow it to be. If you don't want to read email, check stocks, and carry on CB radio wrist conversations on the watch during spin class, you don't have to. In the case of the watch, Apple has even suggested in its marketing that the device is ideally meant to free you from your phone by making it easier to passively and quickly review and dismiss incoming alerts. It's worth noting that in Tuesday's keynote, Apple's messaging for the watch suggested this. No longer was it Apple's "most personal device ever" — a phrase that suggests invasiveness — but a tool to keep you active and in the moment.
Again, there is dissonance between the opt-in argument and Apple's sales pitch. Join Apple's ecosystem and you will be more productive, happier, and healthier. The more you opt in, the better it gets.
But here's the thing. That dissonance isn't just Apple's; it's ours, too. With the iPhone, Apple put a computer in our pocket. And we took it — and the other devices that followed — and wove it deep into the fabric of our daily lives. We are complicit here. This is not a simple thing to unravel or manage. It's a conundrum.
Apple and Google are in the ecosystem business — every decision, product, and marketing campaign is intended to deepen the relationship between user and device. The very health of their businesses depends on it. And the current conflict — how do you make tech more useful while helping people to use it less often — is an existential dilemma that's being framed by Apple as yet another engineering hurdle.
Amid the praise for Apple's health initiatives on Tuesday was plenty of nervous laughter. "My ass will override that thing like I hit the snooze button for all 6 of my alarms," one spectator quipped on Twitter. "Can I buy additional app usage time with in-app purchase?" another joked.
The subtext here is clear: We need guardrails, but we might not have the self-control to use them. Apple, of course, knows this. While digital health might be marketed as a detox, it's perhaps more like a gym membership — a business model that succeeds largely by appealing to aspirations and good intentions, even if its members never follow through. The growth of Apple's business depends on us buying and using its devices more. There is certainly a scenario in which we buy more iPhones because we view them as the healthier option but fail to really use the very features that make them healthier. And in the end, that doesn't particularly matter for Apple. But it matters a hell of a lot for us.