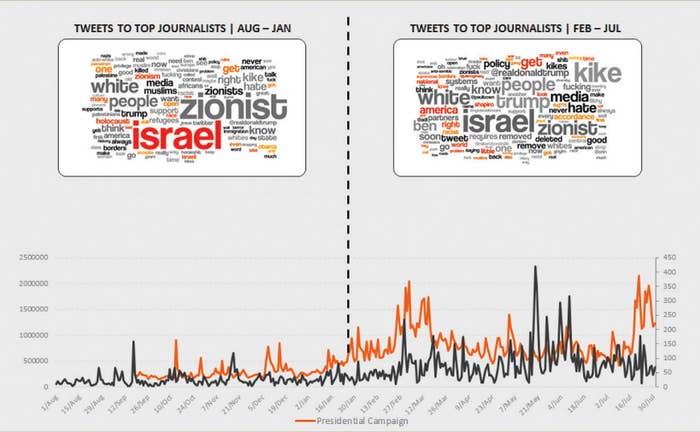 Harassment and abuse on Twitter is rampant. In recent years, the platform has become a primary destination for trolls and hate groups. And as the US election season reaches its final stretch, the social network can feel increasingly toxic to women and minority groups. Today, a recently published report by the Anti-Defamation League (ADL) offers some hard data that suggests Twitter is growing more and more anti-Semitic and increasingly hostile toward journalists.

The report — which spans nearly one year from August 2015 to July 2016 — monitored the anti-Semitic targeting of journalists throughout the current presidential race. The study found roughly 2.6 million anti-Semitic tweets, creating more than 10 billion impressions across the web. Of those tweets, 19,253 were directed at journalists.
"The words that show up most in the bios of Twitter users sending anti-Semitic tweets to journalists are 'Trump,' 'nationalist,' 'conservative,' 'American,' and 'white.'"
The report shows that during the study's time frame, at least 800 journalists were the target of an anti-Semitic tweet. Distribution was far from even, with the 10 most targeted journalists receiving 83% of the abusive, anti-Semitic tweets. According to the ADL, the harassment it charted was carried out largely by a vocal minority. The report found that just 1,600 Twitter accounts generated 68% of the anti-Semitic tweets aimed at journalists during this time period.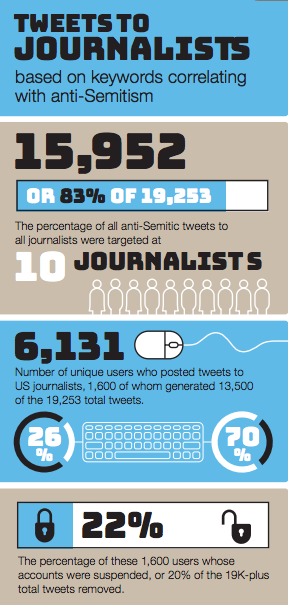 The report was commissioned by the ADL after a series of conversations with journalists who'd noted an uptick in anti-Semitic harassment on Twitter. "Historically this kind of bigotry is not tolerated in the mainstream, but we were really starting to hear a pattern from journalists about a growing hate taking place on Twitter specifically," Jonathan Greenblatt, CEO and national director of the ADL, told BuzzFeed News. "Fifty years ago, people were saying this sort of stuff while hiding behind white hoods — now they're hiding behind smartphones and keyboards."
Most concerning to the ADL is the chilling effect hate speech targeted at journalists might have on the freedom to report and investigate. "We're hearing from some journalists that they're self-censoring and not writing particular stories for fear of repercussion of harassment," Greenblatt said, noting that roughly 60% of the anti-Semitic abuse came in direct replies to journalists' tweets. "We've also heard from journalists considering leaving the profession because of the degree of invective, which they didn't see as part of their job description."
According to the report, the increase in anti-Semitic abuse toward journalists corresponds with mounting toxicity of the presidential race, and provides "evidence that a considerable number of the anti-Semitic tweets targeting journalists originate with people identifying themselves as Trump supporters, 'conservatives' or extreme right-wing elements."
The ADL's report explicitly cautions that its findings do not imply that Republican presidential nominee Donald Trump or the conservative party have endorsed hate speech. That said, a number of identifying factors suggest the current presidential election has inspired an increase in anti-Semitic abuse on Twitter. "The words that show up most in the bios of Twitter users sending anti-Semitic tweets to journalists are 'Trump,' 'nationalist,' 'conservative,' 'American' and 'white,'" the ADL says. The report shows spikes in anti-Jewish invective on Twitter during key moments in the election, like on Feb. 29, 2016, when Trump initially refused to disavow the Ku Klux Klan.
The release of the ADL report comes as criticism of the mainstream media has taken on a markedly darker tone in recent weeks. Over the weekend, Trump repeatedly accused the media of rigging the election against him. And last week, a CNN reporter expressed his anxiety after he found a sign at a Florida rally that said "MEDIA" with a swastika next to it. "We're already seeing this spread into the real world and mainstreaming in a way we've never seen in our over–100-year history as an organization," Greenblatt said.
According to the ADL, of the 1,600 Twitter accounts the group found to be most abusive, 21% were suspended during the course of its study. Greenblatt told BuzzFeed News that the ADL is in constant communication with Twitter and other big tech companies (last year it worked with Twitter and others on best practices for responding to cyber hate), and suggested that, considering journalists are doxxed, swatted, and threatened on a regular basis, there's a great deal of work to be done.
"This is not just an ADL problem or a Twitter problem," Greenblatt said. "It's everyone's problem."

The ADL plans to issue a set of recommendations for curbing anti-Semitic abuse on Twitter in November. In the meantime, Twitter will no doubt turn a closer eye to its problem with harassment; this week multiple reports suggested that both Salesforce and Disney opted not to pursue acquisition bids for Twitter, citing worries about trolls and abuse.