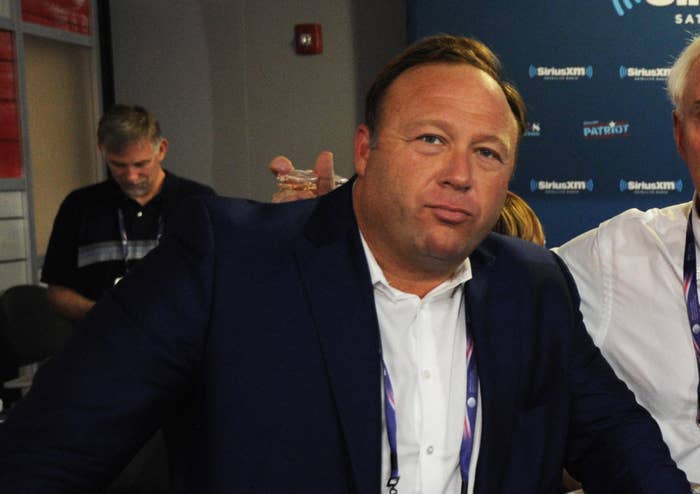 AUSTIN — Inside the Texas courtroom hearing the child custody dispute involving Alex Jones, testimony on Tuesday was twice suspended following questions surrounding the Infowars founder's alleged prolific teenage sex life.
Specifically, the question was whether the Jones family therapist knew that the popular broadcaster and conspiracy theorist claimed that he'd slept with roughly 150 women by the age of 16. The claim was made by Jones on his Infowars broadcast on Sunday, during the weekend recess of his 10-day custody trial.
The sex life allegations were brought up once again on the stand by Jones' ex-wife, Kelly Jones, during testimony as to whether Alex Jones was a suitable role model for his children.

Each time the allegation was brought up, Jones' attorney's objected and the jury was dismissed for a break.
With the jury out of the room, the discussion surrounded a contentious issue that's dominated the proceedings: should Jones' professional life be allowed as evidence?
Judge Orlinda Naranjo has repeatedly told the attorneys on both sides that Jones' political beliefs would not be on trial these two weeks. "I don't want this case tried in the press. It should be tried in here," the judge told the attorneys.

But untangling Jones' political beliefs and professional career from his personal life has been difficult. Amid the arguments between both sides, one of Alex Jones' lawyers told the court, "I know we were told that we're not going to allow this court to try Infowars."
"I don't want this case tried in the press. It should be tried in here."
However, Alex Jones' numerous daily videos — some of which are believed to be shot from his lawyers' office near the courthouse before and after the court is in session — have created problems for all parties in the trial.
Though Jones has stopped referring to the trial specifically in his dispatches, he has addressed the media circus surrounding his case, accusing the reporters in the room of "assassinating his character."
In other videos from the last week, Jones has dredged up information about the Sandy Hook children's massacre and also made the claim about his teenage sex life.
"This isn't a political matter," Kelly Jones' attorney, Robert Newman, told the court after the jury was dismissed, referring to Jones' claim he'd slept with 150 women. "The jury needs to know who this man is — the whole case he's flown under the radar. He's also making a mockery of this court's gag order."
In response, Alex Jones' attorneys asked for a mistrial, suggesting that Kelly Jones' council has defied orders to leave Jones' professional life out of the discussion. "I'm considering it," Naranjo told the attorneys.
Naranjo later denied a mistrial petition.

While the gallery has not been privy to all the discussions between Judge Naranjo and both sides' attorneys, Tuesday's proceedings shed light on another subject which has been made off limits by the court: Alex Jones' views on vaccinations.
Still, Kelly Jones' attorneys appear to be building a case that suggests Jones uses his professional talents to his advantage.
Yesterday, during a cross examination of a psychologist in the case, Newman called Jones a "master manipulator," suggesting Jones might be capable of alienating his children from Kelly Jones. Similarly, Mrs. Jones' attorneys have repeatedly made the case that Alex Jones' on-air persona extends to his family life.
During her testimony on Tuesday morning, Kelly Jones emphasized this point and accused Alex Jones of being a "violent, cruel, and abusive man who engages in hate speech at home and in public." She accused him of racist and homophobic comments, as well as frequent comments demeaning to women. "He's enraged and out of control all the time," she said, calling Infowars (which Mrs. Jones was involved with many years ago) "a portal of hate."
Jones' attorneys, however, allege that Jones is a devoted family man and that the more outlandish behavior is "political satire" or "performance art." Jones himself claimed that 95% of Infowars is hard news and that his demeanor on the show and at home is "95% kind and gentle." Jones argues that the media cherry picks the worst elements as part of its campaign to assassinate his character.
But with just three days to go — including more testimony from Kelly Jones — an essential question remains: can you separate Alex Jones' politics from his professional life?