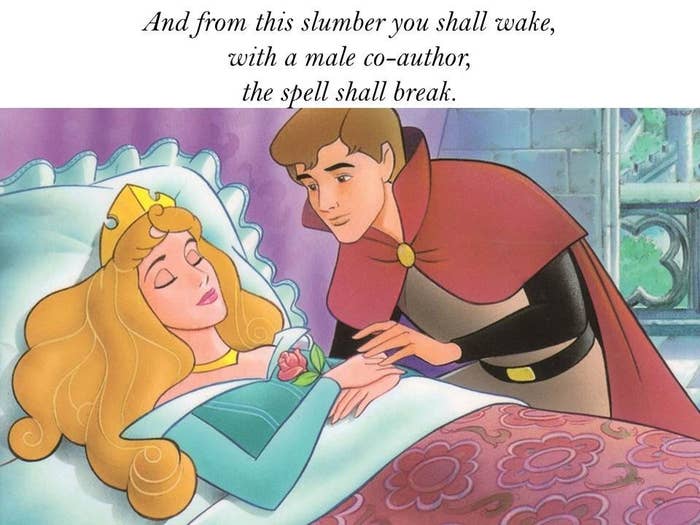 Earlier this week, Fiona Ingleby, a genetics researcher at University of Sussex in the U.K., tweeted some shocking comments one of her studies had received during peer review, the venerated process that scientists use to evaluate one another's work.
In the study, Ingleby and another woman, Megan Head, had found that male scientists graduate from Ph.D. programs with more co-authored papers, on average, than female graduates.
One particular anonymous reviewer told the women that their paper needed a man. Adding a male author to the paper, the reviewer wrote, would "serve as a possible check against interpretations that may sometimes be drifting too far away from empirical evidence into ideologically biased assumptions."
There was more. The reviewer suggested that men write better papers "simply because men, perhaps, on average work more hours per week than women, due to marginally better health and stamina."
The journal, PLOS One, apologized, originally in the comments at the Retraction Watch blog, and later in a blog post on its website. The journal also asked the editor that handled Ingleby's review to step down, and removed the unnamed reviewer from its pool. But the controversy is still hot on Twitter, spawning a hashtag (#AddMaleAuthorGate) full of frustrated women and funny memes.
It's hard to pin down exactly how, or how often, sexism happens during peer review. A 2013 report found that the same studies were rated better if the reviewers thought the author was a man than if they thought it was a woman. That's just one study, but peer review happens against a backdrop of well-documented gender disparities in the sciences.
Anecdotes don't necessarily add up to evidence. But given the lack of research, on Wednesday evening BuzzFeed News asked Twitter for more stories of sexism in science.
Over the next two days, that tweet was retweeted nearly 500 times, and a number of women reached out to share their experiences. Some of the stories involved blatant sexism; others were condescending or creepy. One woman's experience was so bad she founded her own journal to make the process better for others.
One story came from Katie Hinde, an evolutionary biologist at Harvard. On top of her work studying lactation (she has a blog called Mammals Suck), Hinde also researches how sexism affects female scientists. She was the senior author on the Survey of Academic Field Experiences, also known as the SAFE study, a groundbreaking survey that detailed the sexual harassment, and even sexual assault, experienced by trainees and young researchers at field sites, such as archaeologists at digs and zoologists studying animals in the wild.
Of the 516 women who took the SAFE survey, 26% said they had been sexually assaulted by colleagues, and 70% reported being sexually harassed, most frequently by their superiors at the sites.
In 2013, the group presented their preliminary data at an anthropology conference. Shortly afterward, Hinde got a call from an established male colleague.
"He said, 'but you should really have a male co-author so it will be taken seriously.' Then he suggested it should be himself," Hinde told BuzzFeed News. "At which point I literally pulled the phone away from my ear and just looked at it, like, are you freaking kidding me?"
This man, she added, had a reputation for inappropriately touching junior colleagues, and for standing in doorways and forcing female trainees to brush past him as they walked through.
"When that thing broke on Twitter yesterday," she said, "I was like, yep, that is dismally unfortunate and not a rare occurrence."
Hinde declined to disclose the professor's name or institution. The reticence to name and shame is both understandable and common, given the small world of academia: You never know who will end up on your hiring committee, reviewing a paper that only you could write, or otherwise be in a position to professionally harm you and people you are close to.
Networks are incredibly important to academics, said Kate Sang, who studies the sociology of the workplace at Heriot-Watt University in Scotland. She also reached out to BuzzFeed News to discuss her experience with sexist peer reviews.
One of Sang's bad experiences came from a paper in which she tracked patterns of co-authorship in a leading journal in her field over the course of 10 years. She found that white men frequently publish together, whereas female and minority scientists are more often at the periphery of these networks.
"One of the reviewers argued that the reason there are so few women and black academics in the social networks is because the research they produced just isn't good enough to get into the top journals — and the editor agreed," Sang said.
Sang and her co-authors revised the paper based on the other, constructive reviews, and resubmitted it to a different journal (she said she would not submit to the original journal again). But the paper was rejected again, receiving a different set of offensive comments. She didn't keep the emails, but remembers that the reviewer wrote that her research was biased against white men.
Another time, Sang said, she wrote a paper about feminist researchers in the U.K. One of the reviewers "said that they just didn't agree that women are marginalized in universities, and also felt that gay people are very privileged within universities — which is contrary to all the evidence," Sang said. She has now decided to submit the paper to an explicitly feminist journal, to avoid those kinds of comments.
These experiences have had such a profound effect on Sang that she founded her own journal, Interdisciplinary Perspectives on Equality and Diversity, which will publish its first issue later this year. Their guidelines for reviews are public, and attempt to foster a positive environment, especially for early career researchers. One rule, for example, states that reviews "must not use language which is sexist, racist, disabilist or otherwise perpetuates inequalities."
Sang's journal will use "double-blind" review, meaning that neither authors nor reviewers will know the others' names. PLOS One, on the other hand, is moving in a more unusual direction: open peer reviews with the reviewers clearly named.
"We are working on new features to make the review process more open and transparent, since evidence suggests that review is more constructive and civil when the reviewers' identities are known to the authors," editorial director Damian Pattinson wrote on the PLOS blog Friday.
Not all peer reviewers are overtly sexist. Some are just condescending and creepy, like the reviewer who tore apart a paper by Imperial College of London biologist Natalie Cooper and then told her to "Please consider this a light spanking." Or this one, forwarded to BuzzFeed News by a female assistant professor in the School for Environment at the University of Massachusetts Boston:

Many of the researchers speaking out study gender disparity in academia, so they're hyperaware of sexism as it comes to them. It's worth considering how many women, not already keyed into these topics, are getting sexist reviews and never talking about them — especially when, according to a report by the Center for Talent Innovation, a nonprofit D.C. think tank that focuses on diversity in the workplace, women are 45% more likely than men to leave a career in science.
Sang has some advice for researchers dealing with discriminatory peer reviews. "If you're getting those kinds of comments, you're probably doing something right," she said. "You don't want those people to agree with you anyway."