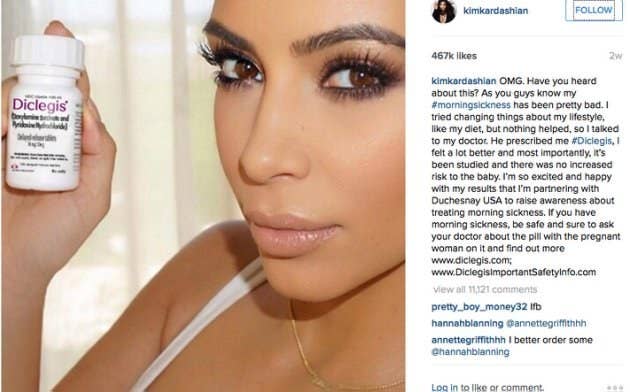 The U.S. Food and Drug Administration has sent a warning letter to the pharmaceutical company Duchesnay, the maker of morning sickness pill Diclegis, after Kim Kardashian was paid to post a selfie with the drug on Instagram, but didn't include information about possible side effects.
"I'm partnering with Duchesnay USA to raise awareness about treating morning sickness," the pregnant reality star wrote in a post two weeks ago, which has since been deleted. Although her post included a link to a site that contained the safety information, that wasn't enough for the FDA.
"The social media post is false or misleading in that it presents efficacy claims for DICLEGIS, but fails to communicate any risk information associated with its use and it omits material facts," the FDA warning letter to Duchesnay reads.
Specifically, the FDA complained the Instagram post didn't note possible side effects, nor the fact that the drug hadn't been tested in women with hyperemesis gravidarum, morning sickness vomiting that's so severe it can lead to dehydration and electrolyte imbalance.
A spokesperson for Duchesnay USA told BuzzFeed News Kardashian shared her experience with the company, which then wrote her a post that she approved and shared.
The FDA has guidance on its website for industry members seeking to advertise on social media platforms with limited characters.
"Regardless of character space constraints," a draft of the guidelines reads, "if a firm chooses to make a product benefit claim, the firm should also incorporate risk information within the same character-space-limited communication."
Diclegis has resulted in Duchesnay receiving a warning letter before, when a 2013 press release about the drug's approval also failed to include safety information.
This isn't the first time the Kardashians have raised eyebrows over a medical endorsement. In 2012, the family was sued in two separate class-action lawsuits over their endorsement of the diet pill QuickTrim.
Celebs receiving payment to Instagram products is pretty common, with Kardashian herself shilling everything from corsets to lollipops.
Duchesnay USA touted the post in a press release dated July 20, saying it was proud to help Kardashian through her morning sickness.
A representative for Kim Kardashian declined to comment on the record.
The Instagram post was written by the company in consultation with Kardashian. An earlier version of this story said Kardashian wrote the post herself.