Eddie Davison was living with his mother in a big green house in Binghamton, New York, when a voice in his head told him to start the fire.
He was 51, and a new medication for his paranoid schizophrenia wasn't working. After several months on the drugs, he had started talking about his mother, Patricia O'Leary, hanging out with Nazis. He stopped showering and started chain-smoking, going through so many packs that his brother, Frank, started buying him loose tobacco to save money. Eddie's hearing became extremely sensitive: He'd stand on the porch and scream at neighbors for closing their car doors.
Eddie started throwing away his possessions, too. Frank would come home and find things in the garbage, like Eddie's radio and beloved Christmas mementos.
Patricia asked Eddie's psychiatrist to put him back on his old medication, which his family says had kept him stable for years. But the old drug had driven up Eddie's blood sugar, and his doctor thought the risk of diabetes was too high. The new drug, though, came with other risks.
On a Wednesday evening in April 2010, Patricia went into town for her weekly trivia game. Eddie was on his bed watching TV — the Dean Martin Celebrity Roast. The word "roast" stuck in his mind, and a voice encouraged him to set a fire.
Eddie grabbed a book of matches and set his blankets alight, standing back as the flames rose. He wanted to die in the fire. But after five minutes he ran, ripping the smoke alarm from the wall on the way out. He would later tell a psychologist that he had "chickened out" after realizing he might be terribly burned but remain alive. As for destroying the smoke alarm, he told the psychologist, "I felt like it. I just felt like it."
Eddie ran outside and watched the house burn, smoking a couple of cigarettes. "I turned myself into the cops," Eddie told BuzzFeed News in June. "Usually you'd run away, [but] I thought I'd be a lot better off."
As of October 2013, Eddie had racked up charges totaling $2,090,952.31.
Eight months later, Eddie pleaded not guilty by reason of mental disease or defect to charges of arson. He was given over to the custody of the Office of Mental Health, which placed him in a state psychiatric facility. Since then, his doctors have periodically gone in front of a judge and made the case that Eddie is still dangerous, and belongs locked in a criminal ward. Each time, the judge has agreed.
This wasn't Eddie's first stint in lockup. He was first sent to a psychiatric hospital at the age of 9. In his teens and twenties, while living on the streets, he committed or attempted about a dozen burglaries and petty thefts. He was sentenced to jail or prison several times, the last one for 13 years. He was then detained in state hospitals for another six years, his paperwork falsely claiming he was a convicted sex offender.
Then, when Eddie's family sued for false imprisonment, medical malpractice, and negligence, New York state came back with a counterclaim. Even if Eddie were to win his suit, the government contended, he owed the state for every day he had been under its medical care — plus interest. As of October 2013, when the state filed a second counterclaim, Eddie had racked up charges totaling $2,090,952.31.
This is the story of a 57-year-old man who has spent nearly half of those years in state institutions. It's the story of Kafkaesque levels of incompetence, bureaucracy, and unfairness that can arise when the state treats patients like prisoners.
Eddie's troubles, according to his family, began when his mother left her abusive alcoholic husband in Buffalo and moved with her three little boys to her mother's house on Long Island.

The family struggled, emotionally and financially. Patricia waitressed and cleaned houses for $3 an hour, living off that and the $20 a week her ex-husband sent in child support. Eddie, the oldest son, was 8 years old, and didn't adjust well to his new circumstances.
"He freaked out. I mean, he wouldn't go to school," Patricia told BuzzFeed News. She remembers putting him on the school bus and watching him walk to the corner and shove people away. "At one point I think he had a pencil like, you know, get away from me or I'll jab you," she said.
Psychiatrists at Eddie's school and a local mental health clinic advised Patricia to send Eddie to Central Islip State Hospital, one of the largest psychiatric hospitals in the country and one of several major mental institutions near her mother's house in Northport, New York.
"It seems bizarre that he would be sent to a mental institution because he wouldn't go to school," Patricia said. "But there didn't seem to be anything I could do about it."
He was checked in a few days after his ninth birthday, in May 1967. That marked the beginning of Eddie's life of institutionalization. He would never progress beyond grade school, never have a job, and never have a home of his own.
According to the note taken on the day Eddie was admitted to Central Islip, he was a small, neatly dressed boy who wouldn't speak and "kicked out viciously" when the doctor tried to sit near him. When asked questions, "he hid himself completely behind a mop of long brown hair." Once he was taken into the ward, he refused to get up from a chair, chin tucked to his chest.
Eddie was withdrawn and quiet on Ward 11, where he spent his time. Sometimes he would socialize with the other children, but he rarely interacted with his adult caretakers.
Shortly after Eddie moved into Central Islip, his brother Tom, then age 7, died suddenly of lung disease. Patricia went to the hospital to give Eddie the news. "And he said, 'Well, I don't want to cry right now, I can't cry right now,'" Patricia said. "But of course he internalized it."
"Eddie was not happy to be alive."
His doctors at Central Islip prescribed a variety of strong medications to fix what they called his "personality disturbance" and "depressed state," including anti-seizure drugs, antidepressants, and antipsychotics, some of which were not approved for children.
"I think a lot of the early, heavy psychoactive substances they gave him permanently screwed him up," Frank told BuzzFeed News.
Eddie stayed at Central Islip for two years, except for short visits to his family's house. Several decades later, he told a social worker that he was sexually abused while staying at Central Islip, at age 9.
At age 11, Eddie was released, and moved back in with his mother, grandmother, and brother. But things were still difficult for him. One day around this time, he saw an old school picture of Tommy and remarked, "Ah, there's Tom — he was glad to be alive," Patricia recalled. "Eddie was not happy to be alive."
One day in 1971, when Eddie was 13, he was helping put together a swing set in the yard at his grandmother's house. He lost his cool and began screaming at his mother in frustration while holding a hammer.

The next day, Patricia took Eddie to a meeting with his clinician at the hospital. "Mrs. Davison was agitated and spoke in a high pitched voice, demanding that something be done with Eddie," the medical records note. "She stated that yesterday he attacked her with a hammer, that he has broken ten windows in the house, that he curses incessantly and is completely disobedient."
The idea that Eddie attacked his mother with a hammer has followed him throughout his life. But Patricia denies that it happened that way.
"He came running into the house crying ... he had the little hammer in his hand, but he didn't swing it at me," Patricia told BuzzFeed News. "I'm sorry that ever got into the record."
Eddie was admitted to Sagamore Children's Center, another state psychiatric hospital on Long Island, where he was put on Ritalin and Thorazine.
Over the next couple of months, he repeatedly escaped from the ward, and was ultimately transferred to a children's shelter and then a boarding school for troubled boys. He escaped from there, too.
Five years younger than Eddie, Frank says his memories of his oldest brother during that time are sparse. Eddie would occasionally come home, either on approved leave or after having escaped, but rarely spent the night. Usually he would just ask for food or money and then leave again, sleeping on the street or with friends. For a month, records state, he lived in a crawl space in the basement of a building. In 1975, at age 16, Eddie was readmitted to Central Islip for a few months, after he was arrested for stealing.
Patricia had a tough time tracking her wayward child. One time, the family found him in a cardboard box behind the bushes outside their grandmother's house, where the family still lived. His grandmother would usually call the cops or hospital when he'd escaped, so he didn't stick around long enough to get picked up.
The detectives thought he had raped a young boy.
In 1980, when Eddie was 21, he was arrested for burglary — he tried to steal a cash register from a store during business hours, according to Frank — and spent a couple of years in jail. In 1983, he broke into several businesses, stealing clothing, food, and small amounts of cash.
In the meantime, Frank dropped out of high school and eventually moved to Texas for work. Sometime around the beginning of 1983 he got homesick and came back, getting a job in an auto parts store on Long Island.
In the spring of 1983, Frank says, two detectives in an unmarked car followed him on his way to work. (Police reports confirm that they were following him and surveilling his workplace during this time.) When he arrived, he says they confronted him with questions about his brother's whereabouts. It was clear that "Crazy Eddie," as the cops referred to him in the police report, was in a lot of trouble. But Frank was shocked to find out why: The detectives thought he had raped a young boy.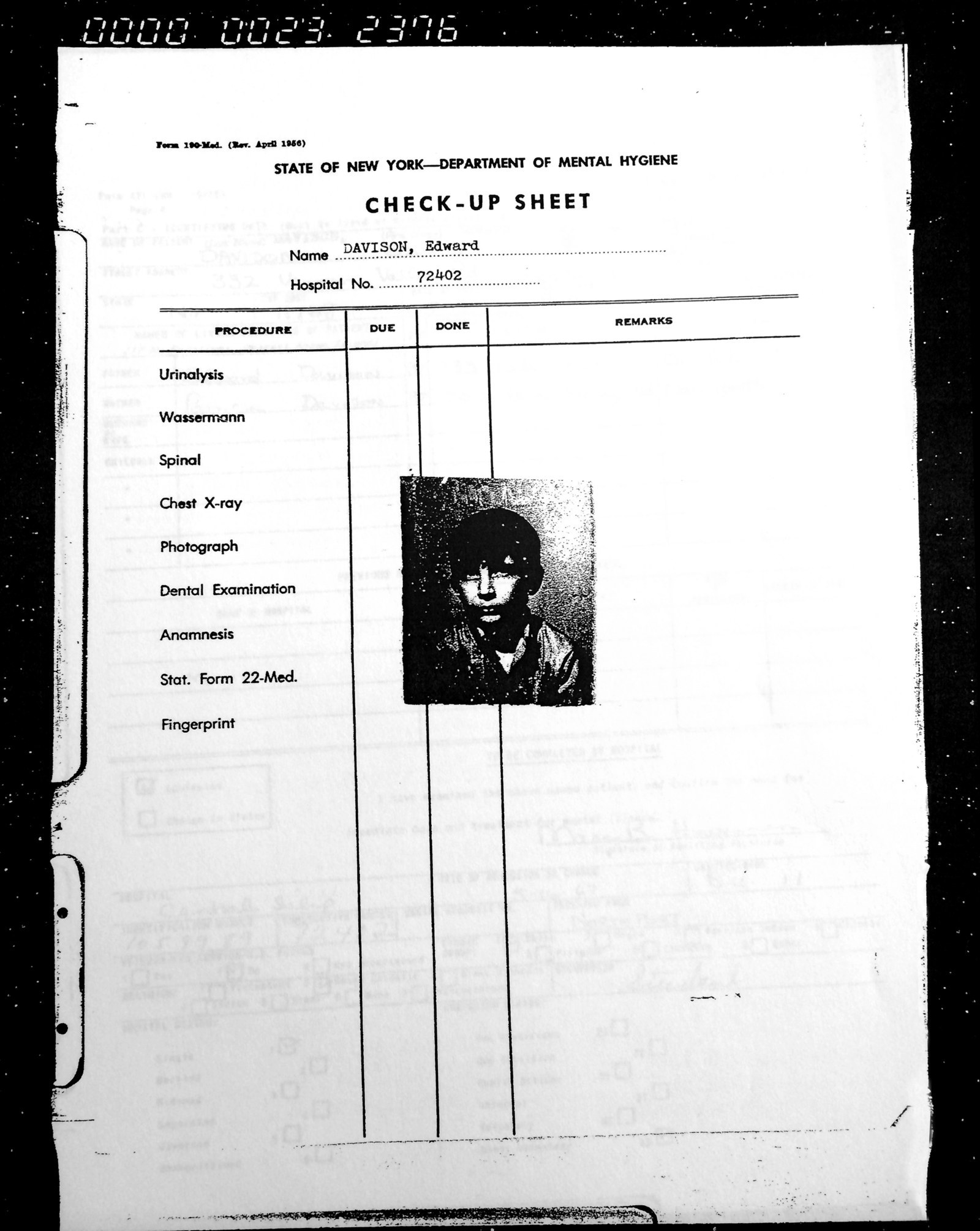 At the end of January 1983, a 12-year-old boy was raped behind a school in Port Jefferson Station, New York. Two weeks later, detectives saw Eddie, then 24 and living on the street, walking near the school. One of the officers recognized him, having arrested him in the past for burglary. And he matched the boy's description of his rapist. So they picked him up.

The boy had already identified a different suspect from a police photo array, but that man had an alibi. So the police put Eddie into a physical lineup, but the boy didn't identify him. Next the cops showed the boy a photo array that included Eddie. The boy "tentatively" ID'd him, according to the police report, but said that his rapist had been heavier.
The police then brought the boy, and the same photos, to a local hypnotist. (This approach, which many legal experts say is unreliable and misleading, was fairly common in the 1980s, and is still used in rare circumstances.) After hypnosis, the boy picked Eddie out of the collection of six headshots he'd already seen.
Someone in the Suffolk County Police Department wrote out a four-page confession in elegant script. Eddie signed it with the block lettering of a man who'd never graduated from elementary school. Eddie later told his brother that the detectives threatened to put him in the trunk of their car and shoot him if he didn't sign.
The Suffolk County Police Department did not respond to queries from BuzzFeed News.
(Six years later, in 1989, the same police department was subject to an enormous state investigation for criminal misconduct, including illegal wiretapping. The official report recounts a 1985 case in which the police mistook a 17-year-old for a rape suspect, beat him, placed a gun barrel in his mouth, and threatened to kill him. The homicide department was also criticized for its 94% confession rate, "an astonishingly high figure compared to other jurisdictions.")
Eddie was charged with sodomy and several counts of burglary. The prosecutor ultimately dropped the sodomy charges and Eddie pleaded guilty to several counts of burglary, including cracking open a cigarette machine for change and stealing an undershirt from an unlocked school.
Due to his prior felony conviction, Eddie was sentenced to between eight and sixteen years. Because of his schizophrenia diagnosis and erratic behavior, including lighting his blankets on fire, he frequently spent time in a criminal psychiatric ward affiliated with the prison.
When Eddie's prison time ended, in 1996, instead of being released, he was involuntarily committed to state psychiatric hospitals in New York. His lawyer at the time, William Brooks, told BuzzFeed News that Eddie's doctors believed he was still a danger to himself or others, the legal standard for civil commitment.
After the first hospital he was referred to closed, he landed at Pilgrim Psychiatric Center in Brentwood, New York. In the course of his transfer from prison to hospital, his doctors were informed, falsely, that Eddie was a convicted sex offender with a history of armed robbery and drug abuse.
Frank didn't visit his brother in prison, and initially he avoided the hospital, too. "I was afraid to go into that situation, with all the mentally ill people," he said. But after a few years he agreed to visit. "Finally I worked up the nerve to go in there and got over it right away."
On his first or second visit, Frank asked his brother why he was still locked up, despite his prison sentence being over. Eddie couldn't answer — he wasn't even sure what he'd been convicted of.
So Frank drove out to the Suffolk County courthouse on Long Island and looked up the files on his brother's case, reading the transcripts and indictments. He discovered that his brother had been accused, but never convicted, of the sodomy charges.
Once Frank requested his brother's medical records from the hospital, he discovered the discrepancy: On page after page, Eddie's clinicians were notified that Eddie was a convicted sex offender. And he wasn't going to get out until he admitted it.

According to testimony from his doctor at Pilgrim, Eddie was treated as a sex offender during his four years at the hospital. That meant that he was denied a variety of privileges, such as off-grounds visits, because he refused to admit to raping the young boy.

When Frank found out, he was outraged. He began visiting his older brother often, bringing him peanut butter and jelly sandwiches and Twinkies and trying to understand what had happened.
An accident at the warehouse where he worked had left Frank on disability, with a limp and chronic pain. So he had a lot of free time to dig into his brother's case, meeting with doctors and social workers, and driving out repeatedly to the county courthouse to get old records.
Frank gave Eddie's caretakers at Pilgrim the documents showing that Eddie had never been convicted of a sex offense.
The first time Frank brought the court records to the hospital, he was told to come back with certified copies. Then he was bounced around between social workers and lawyers for months.
Finally, in late 2001, a page was added to Eddie's file noting that he wasn't, in fact, a violent offender:
"H/O of only having been charged with sodomy, but no conviction," his new history reads (H/O stands for "history of"). "NO H/O ARMED ROBBERY."
In January 2001, the state held a hearing to determine if Eddie should continue to be held at the hospital. Eddie's doctor argued that he had been institutionalized for so long that it would take months to get him ready to return to the outside world, including a gradual increase in off-grounds visits and starting Eddie in a 12-step alcoholism and mental illness group.
Frank argued that Eddie had been held under false pretenses, and should be released as soon as possible.
The judge decided that Eddie had the right to work toward getting out, but that it would be up to the doctors to help him acclimate to the outside world.
Leaving the hospital is "a thing that you have a right to look forward to, but it is not a thing that is, by any means, certain," the judge told Eddie, after hearing testimony from doctors, Eddie, and Frank. "You've had a tough life. I hope better things are coming for you."
The judge granted the doctors six months to prepare Eddie for release. It took them a year. He was released in April 2002, five and a half years after entering Pilgrim, and two decades after first being locked up by New York state for stealing change and clothing.
And even then, the record wasn't straight. Eddie's discharge paperwork from Pilgrim stated: "In 1983 he was arrested and plead [sic] guilty to aggravated sexual assault a [sic] 9 year old boy."
By that point, Eddie had spent more than half of his life in state institutions, costing the state more than a million dollars in medical expenses. Little did he know, he'd soon get the bill.
While Frank was fighting his brother's incarceration at Pilgrim, he wrote letters to anyone who might be able to help, including the New York Department of Health and Human Services, the National Alliance on Mental Illness, and the New York State Commission on Quality of Care for the Mentally Disabled.

One after another, the return letters came in. None of them could help him, but the commission did refer him to the Touro College Law Center on Long Island, where William Brooks ran a (now-defunct) clinic that specialized in assisting people with mental illness.
Brooks, who now runs an immigration clinic at Touro, took up Eddie's cause. He helped the family file a lawsuit against the state of New York alleging that Eddie had been wrongfully imprisoned at Pilgrim because he had been inaccurately labeled a convicted sex offender.
The state denied all of the allegations. It also included a counterclaim, saying that it didn't matter if Eddie had been wrongfully imprisoned. He owed hundreds of dollars for every day he'd been in a state hospital. In total, according to that first counterclaim by the state, Eddie owed $1,109,598.85 for his time in state care through April 9, 2002.
After the fire, Eddie was eventually committed to Rochester Psychiatric Center, in upstate New York. A few years after that, in 2013, the state updated its claim. For Eddie's treatment between December 2010 and August 2013, the state calculated that he owed an additional $981,353.46, for a grand total of more than $2 million. And because Eddie's still in the hospital, the meter is still running.
According to the mental hygiene law, the New York State Office of Mental Health is allowed to seek repayment for services from any individual who can pay, including by filing counterclaims like this. State and federal courts have both upheld the practice.
When asked about Eddie's care and the lawsuit, the Office of Mental Health spokesperson Ben Rosen told BuzzFeed News by email that the agency was prohibited by law from identifying individuals under its care. "We also cannot comment on pending litigation," Rosen wrote.
Brooks has been working as a lawyer for people with mental illness since the early 1980s, representing plaintiffs in many lawsuits around these kinds of counterclaims. In 1991 he litigated Acevedo v. Surles, a groundbreaking decision that determined the state of New York can only charge patients who sue up to the amount that they sued for, as opposed to the full cost of their bill.
He's continued to fight the practice of counterclaims. As recently as 2013, a federal appeals court ruled against Brooks, finding that the state's counterclaim practice is legal and not intended to be retaliatory. The state, in other words, has every right to collect payment from Eddie.
In the meantime, Eddie's 2002 false imprisonment suit is still dragging on.
"I look forward at the next conference call to hear about progress being made to move this case along to completion sometime this century," a Court of Claims judge said during a status update in 2014.
New York State has a long history of these counterclaims.

In 1992, a 20-year-old woman living at South Beach Psychiatric Center in Staten Island was raped by another patient after being sedated and placed in seclusion. She sued, and won $250,000. But the judge reduced her award by $101,237, saying the state had the right to collect payment for the portion of her treatment that, in his judgment, was "unrelated to the rape."
In 1995, Paul Perry, a patient at Kingsboro Psychiatric Center in Brooklyn, was attacked by another resident and went blind in one eye. When his family brought a suit against New York, the state filed a counterclaim of more than $3 million. Perry's attorney, Ronald Burke, told BuzzFeed News that the steep counterclaim meant that not only would neither he nor Perry get any cash, but — after covering the cost of filing fees, hiring expert witnesses, and paying for other litigation expenses — they would be in a deep financial hole.
Because of the very real prospect of a counterclaim, Burke has stopped taking cases from people suing state hospitals where they'd been treated.
Bad publicity forced a slight change to the state's policy in 1999. After a patient was stabbed to death at Kingsboro Psychiatric and the state filed a counterclaim against the family's lawsuit, press coverage triggered the Office of Mental Health to send memos to its employees. The staff was instructed to be careful with some types of lawsuits, such as those for the rape or death of a patient, and to not automatically file counterclaims in those cases.
"These poor patients or residents at these state facilities, they really do not have any meaningful recourse, even in the face of gross negligence," Burke said.
"It's an injustice, clearly," he said, "but it involves such a tiny percentage of the public that there isn't a great deal of public awareness or concern."
"If the state was aware that when bullshit like this happened, it would have to pay a whole lot of money, it would be more careful about this stuff."
Brooks thinks the whole thing has a deep, chilling effect on mental health patients suing for things that went wrong during their commitments — and that, in turn, stifles the intended effect of tort law.
"If the state was aware that, if bullshit like this happened, it would have to pay a whole lot of money, it would be more careful about this stuff in the first place," Brooks said.
The state isn't only going after the Davisons for the cost of Eddie's medical bills. It has also caught the family up in a state-versus-federal battle over who pays for the care and treatment of people with disabilities who have been committed to mental institutions after committing crimes.
Although Eddie has been on Medicare and Social Security disability since about 2000, federal law prevents Medicare from providing inmates with insurance coverage, on the grounds that the prison will be covering their health care costs.
But when it comes to those remanded to a state psychiatric hospital for criminal reasons, New York State and the federal Medicare program disagree on semantics: Medicare says Eddie is incarcerated, and so it is legally bound to reject any claims. New York State, on the other hand, says Eddie is a patient, and owes every cent of the price for his imprisonment.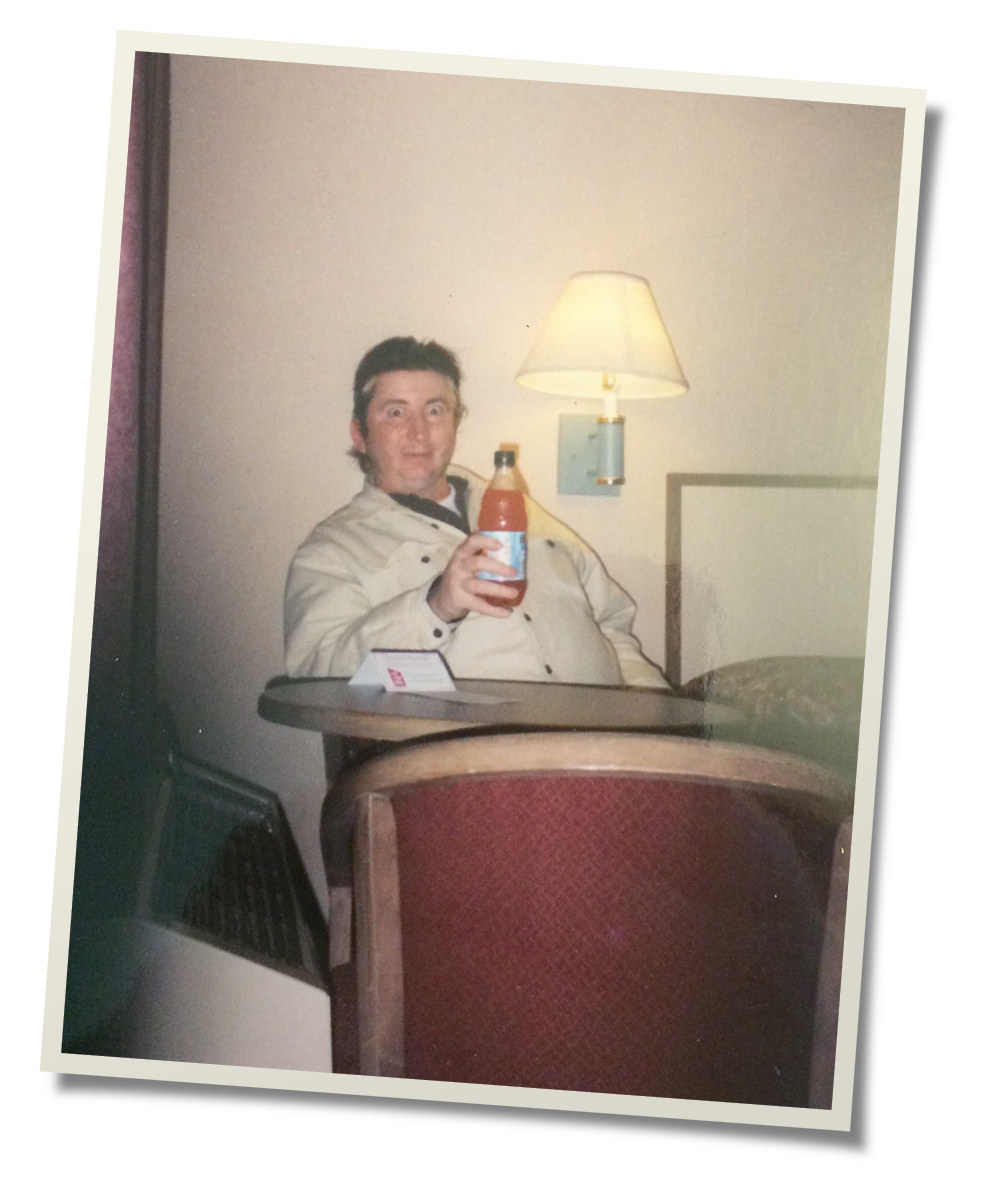 In June, Frank took me to visit Eddie at Rochester Psychiatric, an hour and a half from Frank's home outside Buffalo. The building is located on landscaped grounds, with a fenced-in green space where the forensic patients — those who, like Eddie, are there because they committed crimes — can get fresh air. Some of the noncriminal patients were visiting with family in a courtyard with benches and flowering plants.

After relinquishing our electronics, announcing ourselves to armed guards, and going through metal detectors, we sat at one of five or six Formica tables in a beige room. A small window looked out onto the grounds; a larger one looked down a long hallway that went deeper into the facility.
While we waited for Eddie, we were alone in the room with an orderly, who said that many of the forensic patients are out of options. Some, he said, are even grateful to be here, where at least they get food and a bed.
Eddie shuffled in wearing a brown corduroy jacket over a flannel shirt. He was lean, with a wispy beard and large patches of white in his otherwise dark hair. The skin on his face and hands was pale, almost translucent, stretched over blue veins. He was 57, but looked older.
When we shook hands, his were soft and limp, like baby birds. They trembled a bit as he drank the bottle of soda Frank brought him.
Rochester's forensic ward houses patients who were either found not guilty by reason of mental disease or defect — meaning they were in the throes of mental illness when the crime was committed — or who are too mentally ill to stand trial. The unit is tasked with stabilizing those patients so they can be prosecuted.
"They're all a bunch of criminals," Eddie told me, when asked why he doesn't have any friends on the ward.
Most of his answers to my questions were short, logical, and occasionally witty (he described the ward as "a nice jail," before side-eyeing his brother and laughing sharply), though a few times he got confused, like when he mixed up his lawyer and his psychiatrist.
When he didn't want to discuss a topic, like why he went to jail in the '80s, he would say "I can't remember" and then go silent, glancing between Frank and me with an open, childlike expression.
Eddie is currently on the antipsychotic Clozapine. "If you had interviewed him when he was on Zyprexa, he would have been a little bit livelier," Frank told me after our visit. "He's got like no personality left on this drug."
Eddie's next hearing, which will decide whether he is let out or transferred to a noncriminal ward, has been put off again and again. It's now scheduled for Dec. 17. He and Frank both hope that he'll be transferred to a noncriminal hospital closer to his mother and brother in Buffalo.
Everybody wants Eddie to eventually be free of the institutions that have defined so much of his life. But that future is far from certain.
"I'm a little worried about what they'll say," Eddie said about his eventual hearing. "I'm afraid they'll say, 'Son, you belong behind bars.'"
UPDATE
After this story published, on Dec. 17, a judge decided that Eddie should be transferred to a noncriminal psychiatric ward in Buffalo, close to where his mother and brother live.
CORRECTION
William Brooks runs an immigration clinic at the Touro Law Center. An earlier version of this story misstated his current role.