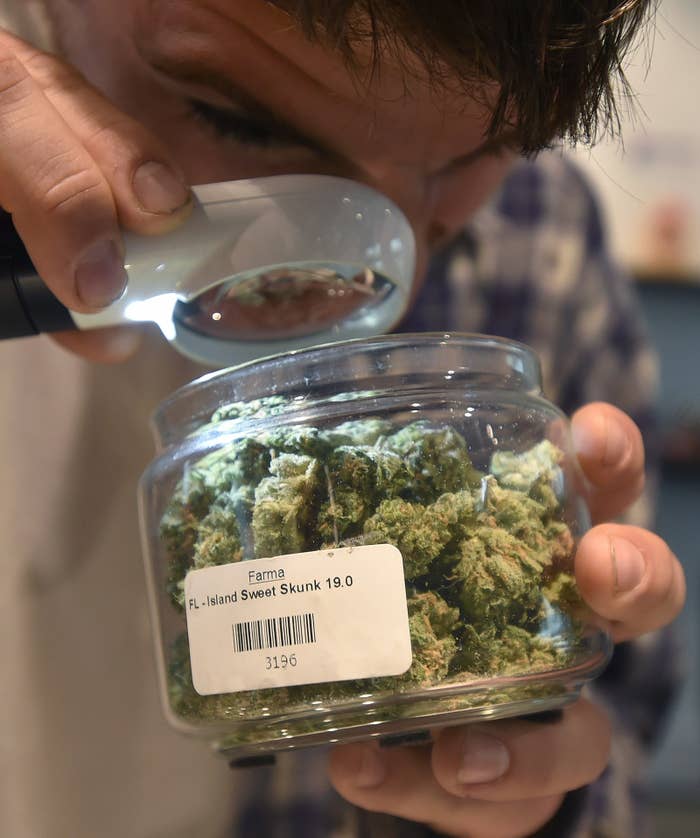 If you take a prescription pill in America, you can be fairly certain of what you're getting, thanks to strict federal regulations that mandate quality and consistency.
That's not true for marijuana, even if a doctor prescribes it. Bud can mildew or be covered in potentially dangerous pesticides; edibles can be contaminated with E. coli or mold; concentrates like butane hash oil can have high levels of solvents left over from processing.
As more states legalize medical or recreational marijuana, they're tasked with defining the kind of tests and quality controls that must be done, if any, on the edibles, bud, and concentrates sold at dispensaries and storefronts across the country. But because selling or possessing cannabis is still a federal crime, the 23 states that have legalized medical marijuana aren't getting any guidance from the EPA, FDA, or USDA, the federal agencies that set the standards for safely growing and processing plants for consumption.
"There is a vacuum of silence coming from the feds," Megan Latshaw, the director of environmental health at the Association of Public Health Laboratories, which has been helping guide cannabis testing standards, told BuzzFeed News. "Each state has done their best to address some of the challenges and what ends up happening is a very piecemeal approach."
That means everyone is learning as they go, without much data on how weed's contaminants will affect health if they're lit on fire and inhaled by medical marijuana patients, who often have compromised immune systems.
Because it's illegal to transport marijuana across state lines, most commercial cannabis products are grown and sold in the same state. Each state determines what kind of testing to require, and who should be doing it. But since it's all new, there's a steep learning curve — and plenty of people willing to take advantage of the holes in the system.
"There are some labs out there that are just taking the cannabis and printing out a report that's fake and saying 'you passed for pesticides' and never analyzing for pesticides," Shannon Swantek, a compliance specialist for the Oregon Environmental Laboratory Accreditation Program, told BuzzFeed News. "Without regulation, the fraud is really running the gamut."
Testing generally breaks down into four categories: pesticides, microbials such as bacteria or fungi, contaminants like heavy metals, and potency. Some concentrates, like butane hash oil, can be tested for residual solvents, as well.
Colorado, which allows medical and recreational use of the drug, requires testing for potency, heavy metals, and microbes like E. coli, mold, and salmonella in state-certified labs. Although the law in Colorado requires testing for pesticides, the Colorado Marijuana Enforcement Division has yet to roll out mandatory pesticide testing, according to Heather Krug, a marijuana laboratory inspection program coordinator at the Colorado Department of Health.
"The testing has been a step-wise rolling out of one category at a time," Krug told BuzzFeed News. Since October, Colorado has had more than a dozen recalls of products contaminated with potentially dangerous pesticides.
Oregon, which has had a medical marijuana law on the books since 2007, this year opened up limited sales of the drug to recreational users. But products won't have to undergo any tests until June of 2016, because the certification for laboratories will take a long time and the state doesn't want an interruption in the supply.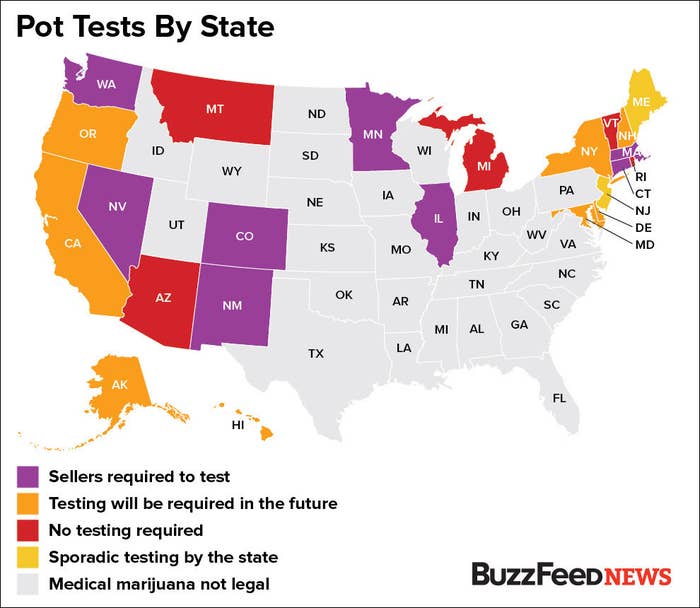 While some states are working to institute rigorous quality control, five states — Arizona, Michigan, Montana, Rhode Island, and Vermont — don't require testing for marijuana products. (In Michigan and Montana, it's not required because medical marijuana products can be grown, but not sold. And Vermont's state laboratory will test samples if it receives a complaint.)

New Jersey's and Maine's state labs have the right to do random sampling from dispensary shelves. Eight states require growers or dispensaries to do some kind of testing before selling medical marijuana, and another eight will mandate testing within the next few years.
One of the states with testing on the books, New Mexico, has had trouble meeting the demand for laboratories. A health department spokesperson told the Albuquerque Journal that they will require testing once they have enough operational labs. A department spokesperson declined to comment to BuzzFeed News on whether these laws are being enforced.
But even in states that require testing in certified labs, people will still find ways to get around the regulations, experts say.
"If someone has a $20,000 crop that mildews, they'll do what they have to to get it to market," Jim Roe, the scientific director of Steep Hill Laboratory in Washington State, which has strict testing requirements for their medical and recreational marijuana, told BuzzFeed News.
Roe says he's seen customers submit samples for testing that have clearly been cooked to sterilize them. Other customers have discretely asked whether Steep Hill will give their pot a thumbs-up no matter what test results come back.
"They don't come right out and say it, but essentially that's what they're asking — if they bring something in, can we guarantee they're going to pass."
Those customers are likely to find other labs willing to either fake results or print a passing report without doing any testing at all.
"All of these fake labs, it's really doing a disservice to the growers," Swantek of the Oregon Environmental Laboratory Accreditation Program told BuzzFeed News. "The growers do really want to learn to apply pesticides correctly and have a safe product. Without knowing actual accredited results, it's hard for them to learn that."
Some industry insiders, however, are confident these growing pains will smooth out over time. Most states that allow medical marijuana either currently require testing in certified labs, or are developing those rules now.
"It's inevitable, as the industry becomes more heavily regulated, testing has to become part of the equation," Kris Krane, the managing partner of 4Front Advisors, which helps people apply for licenses under various state marijuana laws, told BuzzFeed News. "Each state that wants to get this right is trying to build on the successive experiences of those that preceded it."
Until then, smoker beware.