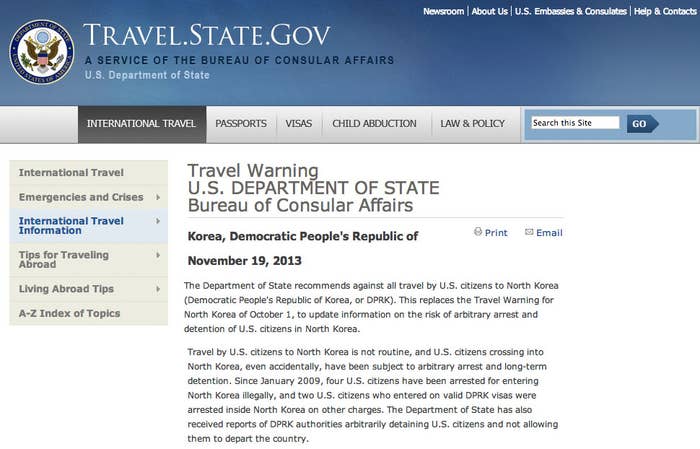 The U.S. Department of State has issued a travel warning, advising U.S. citizens against travelling to North Korea. The statement says the current warning replaces the previous travel warning issued on Oct. 1 as it's been updated "on the risk of arbitrary arrest and detention of U.S. citizens in North Korea."
The new warning comes after reports have emerged from Japan's Kyodo news service that an elderly U.S. citizen may have been detained by North Korean authorities, despite travelling with a valid tourist visa. Kyodo's information reportedly comes from an unnamed diplomatic source, and a spokesman for the US embassy in Beijing said that they are aware of the reports but "have no additional information to share at this time."
"Travelers to North Korea must enter the DPRK with a valid passport and valid DPRK visa. Foreign visitors to North Korea may be arrested, detained, or expelled for activities that would not be considered criminal outside North Korea, including involvement in unsanctioned religious and/or political activities (whether those activities took place inside or outside North Korea), unauthorized travel, or unauthorized interaction with the local population."
The travel warning explains that in North Korea it is a "criminal act" to show disrespect to the country's current leader, Kim Jong Un, as well as its former leaders, Kim Jong Il and Kim Il Sung,
It also advises that if DPRK authorities allow you to keep your cell phone when entering the country, Americans must remember that there aren't any privacy laws in North Korea, and to "assume your communications are monitored."
The Department of State advise that those who stilll plan to travel to North Korea are "strongly" encouraged to contact the U.S. Embassy in Beijing, China and enroll in the State Department's Smart Traveler Enrollment Program.