Ukraine Gets New Government, Ousted President To Reappear In Russia
Viktor Yanukovych says he's still the president of Ukraine. Ukraine's new prime minister disagrees.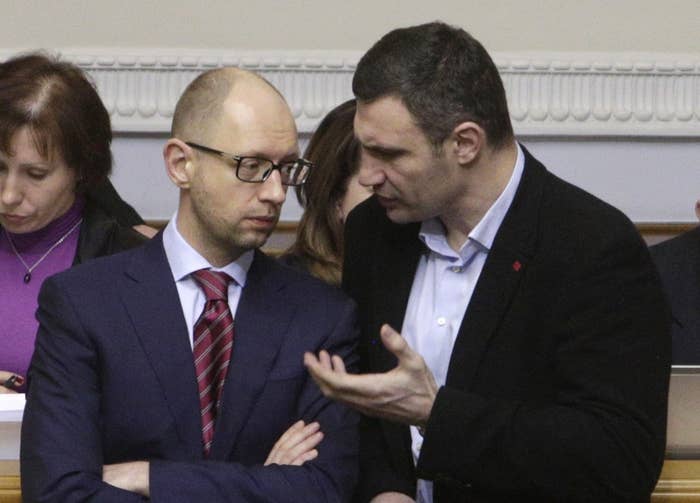 Updated — 11.29 a.m., ET:
KIEV, Ukraine — Ousted Ukrainian President Viktor Yanukovych emerged from days of hiding on Thursday to say he was still the leader of the troubled country, in apparent preparation for a hastily announced press conference tomorrow.
In a statement carried by Russian news agencies, Yanukovych said: "I still see myself as the legitimate head of the Ukrainian state." He also asked the Russian government to "provide him with personal security from the activities of extremists" he said had seized power in Ukraine.
Russian news wires later reported that Yanukovych would hold a press conference in the southern Russian city of Rostov-on-Don on Friday afternoon. The small, unassuming city lies near Russia's border with Ukraine.
Yanukovych's whereabouts have been unknown since he fled Kiev late last Friday. Various reports have placed him in cities around Ukraine, including in the troubled Crimean peninsula, as well as the United Arab Emirates, Austria, and the monastic community on Mount Athos in Greece. The Russian business daily RBK reported that he spent Wednesday in Moscow's Ukraina hotel before taking shelter in a luxury suburban estate belonging to Russian President Vladimir Putin's chief of staff. Putin's spokesman has refused to comment on whether Yanukovych is in Russia.
Arseny Yatsenyuk, a key figure in the anti-Yanukovych protest movement who was confirmed as prime minister by parliament on Thursday afternoon, denounced Yanukovych in parliament. "He's not the president anymore, he's a wanted man suspected of mass murder and committing crimes against humanity," he said.
A former foreign minister, economy minister, and speaker of parliament, Yatsenyuk, 39, inherits a poisoned chalice seen as requiring a politician willing to take unpopular decisions to manage Ukraine's raging political crisis before early presidential elections on May 25.
Ukraine desperately needs billions of dollars in loans from the International Monetary Fund to ward off an imminent default after Russia withdrew its support amid the unrest. Protesters occupying Kiev's Independence Square, the Maidan, are so volatile and distrustful of mainstream politicians that officials with the Fatherland Party, to which Yatsenyuk belongs, felt the need to present the government to them on the square Wednesday evening ahead of Thursday's parliamentary vote.
Yatsenyuk also faces saber-rattling from Russia, which announced surprise military exercises on the Ukrainian border Wednesday and has been increasingly vocal over separatist sentiment in the pro-Russian Crimea.
"Russians, don't start a war with us. We're your friends. We are partners. We belong together," Yatsenyuk said.
Yatsenyuk's government is split between Fatherland members, technocrats, and nonpartisan figures with no political experience who gained prominence organizing the occupation of the Maidan. The new culture minister, actor Yevhen Nischuk, was the master of ceremonies on the square throughout the protests. Youth and Sports Minister Dmitry Bulatov was a father of three living in a village a few months ago before he founded the Automaidan drivers' rights group, which saw him rise to become a darling of the square before he was kidnapped and tortured by unknown assailants.
Most of Ukraine's anti-Yanukovych political heavyweights chose to stay out of the government, which is expected to win few fans if, as expected, it enacts radical austerity measures in exchange for the Western loans the country desperately needs. Former boxer Vitaly Klitschko and nationalist firebrand Oleh Tyahnybok will focus on their presidential runs. Yatsenyuk's announcement Thursday that he would not run for president clears a path for Fatherland's other leader, former Prime Minister Yulia Tymoshenko, who was released Saturday after more than two years in prison on abuse of office charges widely seen as politically motivated.
Cate Sevilla is the UK managing editor for BuzzFeed and is based in London.

Got a confidential tip? Submit it here.

Max Seddon is a correspondent for BuzzFeed World based in Berlin. He has reported from Russia, Ukraine, Azerbaijan and across the ex-Soviet Union and Europe. His secure PGP fingerprint is 6642 80FB 4059 E3F7 BEBE 94A5 242A E424 92E0 7B71

Contact Max Seddon at max.seddon@buzzfeed.com.