U.C. Davis Officer Involved In Pepper Spray Incident Awarded $38,000
Former Lt. John Pike has been awarded $38,000 for "psychiatric injury" after the video of him pepper-spraying protesting students went viral.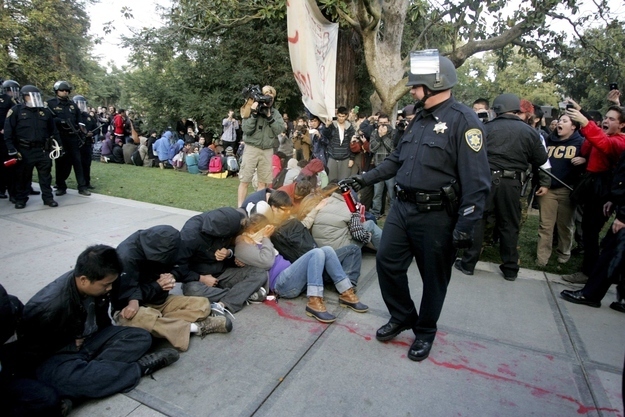 Former U.C. Davis police officer Lt. John Pike gained global notoriety after a video of him pepper-spraying students at a protest in 2011 went viral. Pike has now been awarded $38,000 by California's Division of Workers' Compensation Appeals Board for "psychiatric injury specific or due to continuous trauma from applicant's employment at U.C. Davis."
The video showed Pike spraying students protesting tuition increases with with orange pepper spray at close range. After the video went viral, Pike was suspended, but with pay. SF Gate report that, according to the police union, because of the wide circulation of the video Pike received more than 17,000 angry or threatening emails, 10,000 text messages and hundreds of letters. It is said he changed his number multiple times and left campus police in July 2012.
Earlier this year U.C. Davis settled a federal lawsuit and paid $1 million to 21 student protesters who were pepper-sprayed. The university also formally apologized and promised to "implement reforms."
People are rather surprised by Pike's compensation:

"This case has been resolved in accordance with state law and processes on workers' compensation. The final resolution is in line with permanent impairment as calculated by the state's disability evaluation unit."
Cate Sevilla is the UK managing editor for BuzzFeed and is based in London.

Got a confidential tip? Submit it here.