Updated — April 10, 6:35 a.m. ET: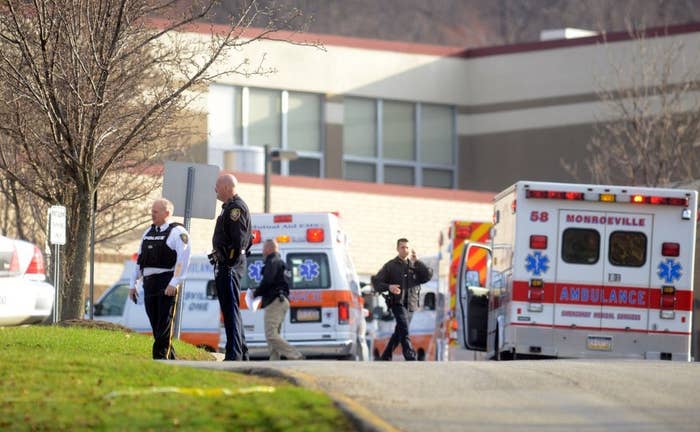 At least 20 people were injured in a stabbing at Franklin Regional High School in Murrysville, Penn., Wednesday morning.
Franklin Regional Hospital said it received seven teenagers and one adult victim from the scene with "life-threatening" stab wound injuries. Victims ranged in age from 14 to 60.
A student, 16-year-old Alex Hribal, is now in custody. Hribal allegedly "slashed and stabbed" the other students, although a Westmoreland County Emergency Management spokesman says not all of the 20 were injured with the knife. It is not yet known what triggered the attack. Local news has captured an image of Hribal as he was taken away in custody.
Hribal will be charged as an adult with four counts of attempted homicide.
Matt DeCasare, 17, a junior at Franklin Regional High School, was upstairs at his locker when he heard the fire alarm.
"I thought it was a prank or something, somebody pulled the fire alarm," DeCasare said. "So we were exiting the school and there was just more of a sense of urgency."
When DeCasare got outside he said he saw his teachers running around frantically. Students with hoodies and sweatshirts were asked to take them off by teachers so they could be wrapped around injured students.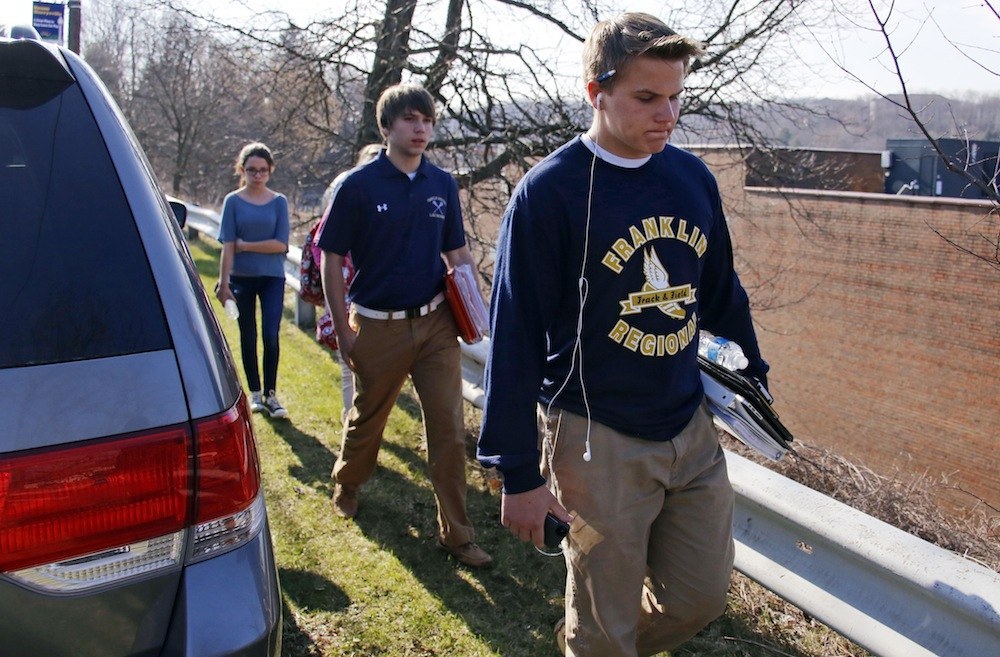 According to DeCasare, Franklin student Nate Scimio — after stepping in front of the attacker to protect a female student — pulled a fire alarm to alert officials.
"[The attacker] was coming at this one girl with a knife," DeCasare said. "Apparently Nate Scimio stepped in the way and acted heroically and was able to push the one girl away and saved her from being stabbed."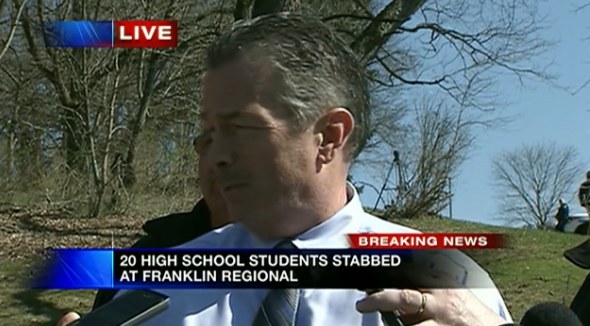 Murrysville Police confirmed 20 total injuries: 19 students and one adult security guard at Franklin high school. It is not yet known if Hribal, who was wounded during the attack, was counted as one of the 19 injured students. Local law enforcement said that the Franklin High School assistant principal, Sam King, tackled Hribal — who allegedly had two knives — and the school's resource officer handcuffed him.
Murrysville Police Chief Thomas Seefeld told reporters the fire alarm was instrumental in clearing students from the school.
"The juvenile went down the hallway and was flashing two knives around and injured the people," Seefeld said. "The fire alarm being pulled probably assisted with the evacuation of the school and that was a good thing that that was done."
Of the 20 injured, the University of Pittsburgh Medical Center received a dozen patients. Officials said two boys were in critical condition, and another two were in serious condition.
Five patients have been discharged, including three 15-year-old boys, a 16-year-old girl, and an adult.
According to classmates and local news, Nate Scimio — who took the below photo at a nearby hospital — was instrumental in preventing further violence by pulling the fire alarm to alert others of the stabbing. Scimio himself has yet to confirm his involvement in halting the attack.
White House spokesman Jay Carney told reporters that President Obama and the First Lady are sending their thoughts and prayers to the victims in Murrysville.
Here's local news station WPXI's livestream: