Deathtoll Reaches 144 After Major Earthquake In The Philippines
The death toll has risen from 85 to 144 after a 7.2 magnitude earthquake hit the central Philippines area.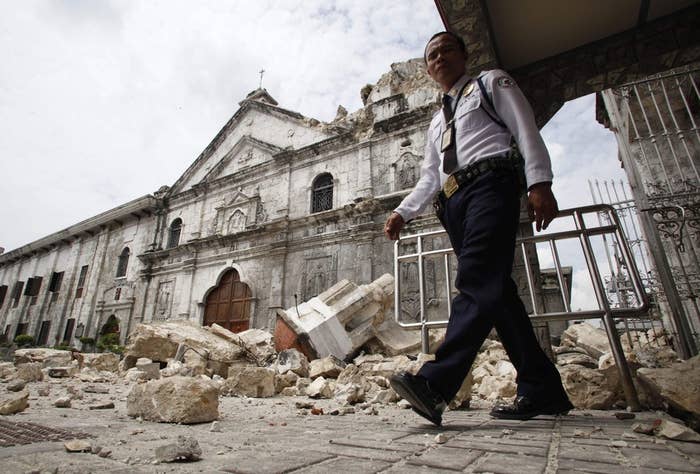 Update - Oct. 16, 9:03 a.m., EDT
A 7.2 magnitude earthquake struck the central Philippines area of Bohol on Tuesday morning. Buildings, homes, and hospitals were all damaged, but the number of casualties may have been reduced as Tuesday is a national holiday for the Muslim festival of Eid al-Adha.
Authorities initially reported there were 20 deaths, but the number quickly jumped up to 85. The official death toll has now been reported as 144, with over 300 people injured. It's reported that many of the deaths came the island of Bohol. There have also been a substantial number of casualties in the nearby province of Cebu. At least five people died when a fishing port collapsed, and a further two dying and 19 more injured when a market also collapsed in the Mandaue area of Cebu.
BBC reports that the governor of Bohol, Edgardo Chatto, has said a church and a city hall building were damaged. The head of the Cebu disaster management office, Niel Sanchez, is trying to confirm reports that a school has collapsed, adding:
"Communication lines are quite difficult here. Even the disaster risk reduction management office has been damaged. We had to move elsewhere."
Historic churches suffered the most structural damage, and the country's oldest, church, the Basilica of the Holy Child in Cebu, lost its bell tower.
Cate Sevilla is the UK managing editor for BuzzFeed and is based in London.

Got a confidential tip? Submit it here.