Fatal Blasts In Beirut Have Killed At Least 23 People
Two explosions near the Iranian embassy in the Lebanese capital of Beirut have reportedly killed 23 people and injured at least 146. Iran's cultural attaché has died in the blast.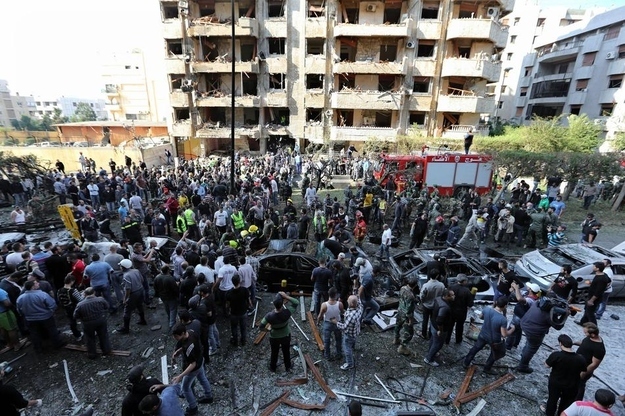 Updated – Nov. 19, 6:46 a.m. ET
Two explosions in Beirut near the Iranian embassy has killed 23 people and injured at least 146. Iran's ambassador to Lebanon has confirmed their cultural attaché, Ebrahim Ansari, has died after being wounded in the blast.
There have reportedly been two explosions, with the AP and Hezbollah TV channel al-Manar reporting the first explosion caused by a suicide bomber, and the second caused by a car bomb. The exact cause of both explosions is yet to be officially confirmed.
Several buildings are said to have been damaged, including the three story Iranian embassy which had its main gate blown out.
Lebanese state news agency NNA reports that Caretaker Prime Minister Najib Mikati has called the attack "a cowardly terrorist act" adding that the "aim of the blast is to stir up the situation in Lebanon and use the Lebanese arena to convey messages."
The area the explosions took place in has been described as a stronghold of the Hezbollah group.

The extent of the the damage to the Iranian embassy buildings:

Smoke could be seen billowing from the scene of the explosions:


Buildings in the area were damaged and cars near the blast caught on fire.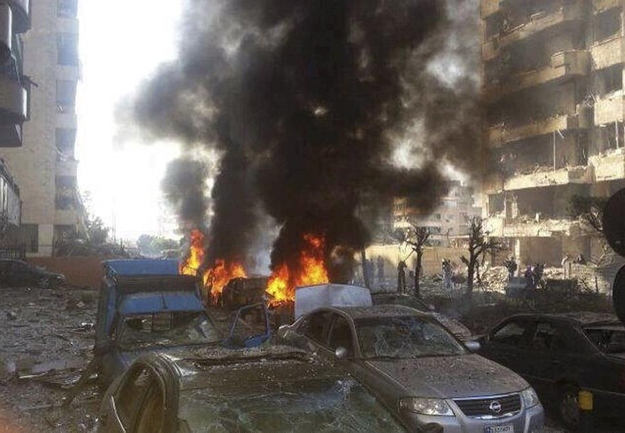 Soldiers in Beirut are now on guard in the city.
It's being reported that Iran has accused Israel of being behind the attack.
However, a group linked to al-Qaeda has said it carried out the attack:

"Operations will continue in Lebanon until two demands are met: first, withdrawing Hezbollah members from Syria; second, release our prisoners from jails of injustice in Lebanon," Sirajeddin Zreikat, a member of the group, tweeted.

The Abdullah Azzam brigades released a statement claiming responsibility for the "double martyrdom operation carried out by two heroes from the heroic Sunnis of Lebanon."
The group was formed in 2009 as a spin-off of al-Qaeda in Iraq, with a mission of hitting targets throughout the Levant and Middle East. It has claimed responsibility for rockets attacks from southern Lebanon into Israel in the past. The group rose to notoriety after claiming responsibility for a July 2010 attack on a Japanese-owned oil tanker in the Strait of Hormuz.
The State Department designated it a terrorist organization last year.