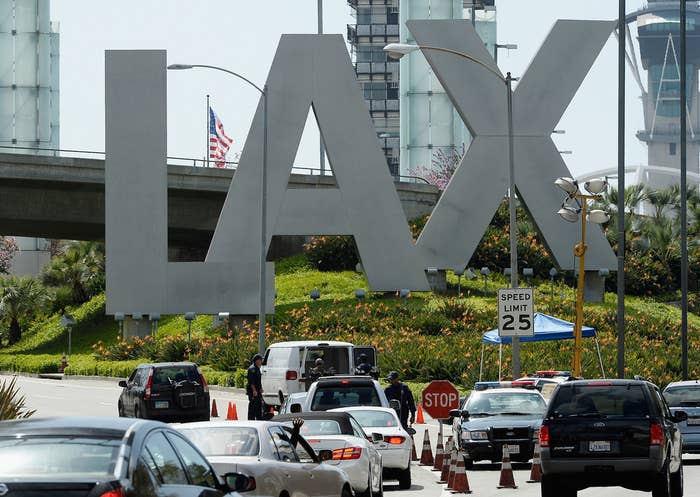 A chemical reaction caused by dry ice in a plastic bottle created an explosion Sunday at Los Angeles International Airport's Terminal 2.
FBI spokeswoman Laura Eimiller said the incident happened in a restricted area of the terminal, near gate 27, in an employee bathroom. No injuries have been reported, and authorities closed the terminal to examine the area for evidence, causing up to four flights to be delayed.
The Los Angeles Police Department's bomb squad was initially investigating the situation, but the FBI has since taken over, partnering with local authorities.
The terminal reopened shortly after 9 p.m. local time.
Update: 12:45 a.m. ET Tuesday — Another dry ice bomb explodes at LAX.
A second dry ice bomb exploded Monday night at Los Angeles International Airport, just 24 hours after the first incident. Two other similar devices that did not detonate were found in the area, the Los Angeles Times reported, citing an unnamed police source.
The small blast occurred around 8:30 p.m. PT at the Tom Bradley Terminal in an area not accessible to the public. No one was injured.
"Apparently there is no nexus to terrorism right now," Det. Gus Villanueva told the Times.
Update: 12:50 a.m ET Wednesday — LAX employee arrested in explosions.
An airport employee was arrested late Tuesday in connection with the dry ice explosions at LAX this week. The Associated Press identified the employee as 28-year-old Bennett Dicarlo, a Servisair employee.
A law enforcement official told the news agency Dicarlo allegedly took the dry ice from a plane and placed it in an employee restroom and on a tarmac outside the international terminal.
Bail for the baggage handler was set at $1 million.