Five Suspects Have Been Arrested In Tiananmen Square "Terrorist Attack"
Five suspects have been arrested in connection with a car that crashed into Tiananmen Square, killing at least five people. The incident is now being considered a terrorist attack.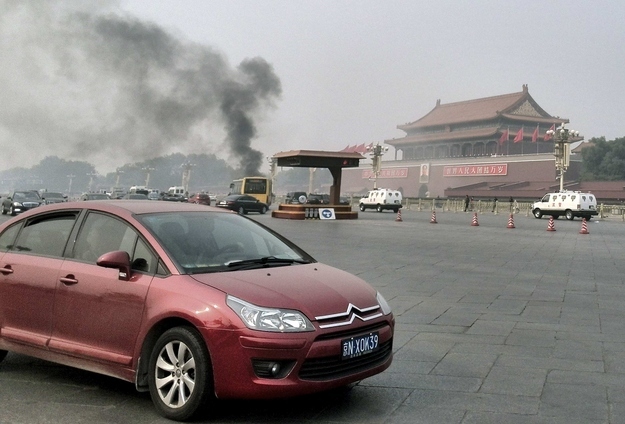 Updated — Oct. 30, 6:50 a.m. ET
Five suspects have now been arrested after an SUV crashed into a crowd in front of Beijing's Forbidden City, killing at least five people and injuring around 38 tourists and security officers.
It's reported the vehicle veered into the crowd, crashed into an ancient stone bridge leading to Tiananmen Gate, and then burst into flames. While it was previously unclear whether or not the incident was accidental, Chinese state media are now calling it a "terrorist attack."
The South China Morning Post report that broadcaster CCTV have said, "The arrests were made 10 hours after the incident, which has now been identified as a terrorist attack." CCTV also have claimed the three people in the car who died were all from the same family.
Tiananmen Square is a politically sensitive area that is usually under tight security due to its close location to key political buildings. Similar incidents have happened near the square before, which is why many believed that the car crash was not an accident.
In 2011, a man set himself on fire near a portrait of Chairman Mao at Tiananmen Square after a legal dispute, and two years prior, three people set themselves on fire in a car in a busy intersection outside the square. It was also the location of pro-democracy protests in 1989 and has been described as "the most symbolic location in China."
Streets leading to the area were apparently been blocked off after the incident and screens have been erected to stop people photographing the scene. Sky News reported at the time that two AFP journalists were detained near the scene of the crash when they tried to report on the story.

Cate Sevilla is the UK managing editor for BuzzFeed and is based in London.

Got a confidential tip? Submit it here.