A Massive Drug Smuggling Tunnel Has Been Discovered In California
The sophisticated tunnel connected San Diego and Tijuana and was installed with lighting, ventilation, and even an electric rail system.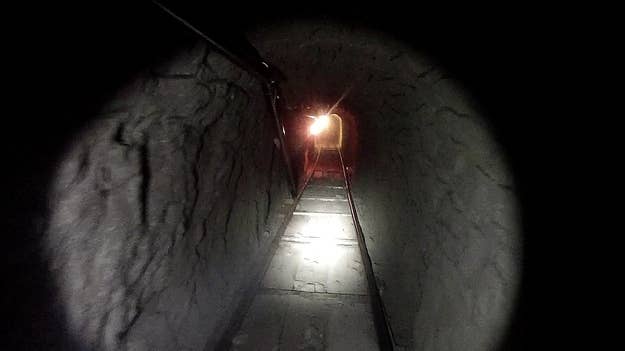 A new drug smuggling "super tunnel" has been discovered by the U.S. Immigration and Customs Enforcement Department along the U.S.-Mexico border.
The tunnel connected Tijuana and and a warehouse in San Diego's Otay Mesa industrial area, and is said to have cost millions of dollars to complete as it features ventilation, lighting and even an electric rail system.
The passageway is four feet high by approximately three feet wide, and US Attorney Laura Duffy says that it was more than likely built by architects and engineers as it is "high-tech" with "railways, push carts, ventilation systems, and hydraulically-controlled steel doors."
Derek Benner of US Immigration and Customs described the "complex" tunnel saying that it "zig-zags" under the border and is an average of 35 feet deep.
Authorities seized eight tons of marijuana and 325lb (147kg) of cocaine in the tunnel, and have arrested three men.
The warehouse had been under surveillance after being tipped by an informant that the operators had purchased drills and construction equipment.