Basically, the CEO of Facebook made fun of Nickelback in a new video posted to his page, and Lavigne — who is separated from the band's frontman, Chad Kroeger — called him out for it.
In the video, which is about an artificial intelligence system named "Jarvis," Zuckerberg sets up a classic Nickelback joke by asking his AI to "play us some good Nickelback songs."
To which Morgan Freeman's Jarvis voice says, "I'm sorry, Mark. I'm afraid I can't do that. There are no good Nickelback songs."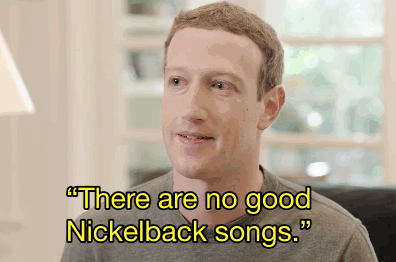 Presumably after Zuckerberg patted himself on his back for that ~sick~ burn, Lavigne took to Twitter to tell him that he "may want to consider being more responsible with promoting bullying."
And while some people were supportive of her tweet...
...other people on Twitter were not so kind.
Apparently 2016 is not the year that Nickelback jokes will end.