When the Smokey Bones restaurant in Dayton, Ohio, where Nicole Bishop waits tables introduced Ziosk tabletop tablets, she wasn't too worried about them.
Ziosks are designed to increase restaurant efficiency by allowing customers to order drinks, appetizers, and desserts, and pay their bill from the table without talking to a server. But, as Bishop soon discovered, they also prompt customers to take a satisfaction survey at the end of every meal, the results of which are turned into a score that's used to evaluate the server's performance.
One day not long after the Ziosks appeared, Bishop, a single mom who balances waitressing with raising her 6-year-old son and a second job in a legal office, went to the kitchen to check her schedule.
"I look, and I'm like, 'Where the hell are my shifts?'" she told BuzzFeed News. Her normal schedule of four days a week had been cut down to just two, a change she estimated would cost her between $200 and $400 a week. "They were like, 'Oh, well, you had a bad score.'"
"That's my car payment. That's bills," she said. Without it, "you're playing catch-up for the rest of the month and hoping nothing else pops up."
When Felecia Hearn's Ziosk scores dropped, the Illinois Smokey Bones location where she worked cut a table from her section, costing Hearn between $30 and $40 a night. For Steve Corso, a former Chili's server, a drop in scores meant getting stuck working in the kitchen, where he struggled to make San Francisco Bay Area rent on less than half what he'd made as a server.
Julia, who asked to be identified by her first name only, had been working at an Olive Garden in Wisconsin for four years when her managers, she said, simply stopped scheduling her after a string of low Ziosk scores. Alyssa, meanwhile, quit her job at a Chili's in Texas after it started giving servers with low scores "less prime shifts" — the difference between "well over $100 to walking out with 70 bucks."
Catherine, 22, works at an Olive Garden in California, where servers were recently told consistently low scores could lead to write-ups. "If we get more than three write-ups in a certain amount of time, we get terminated," Catherine said.
In addition to taking college classes two days a week to become a kindergarten teacher, Catherine is raising a 4-year-old son with the help of her family. When she goes into work every day and looks at her score, "It's cringey. It's kind of nerve-wracking."
"It makes very literal the idea that the customer is always right, to the complete disregard of the worker."
Ziosk tablets sit atop dining tables at more than 4,500 restaurants across the United States — including most Chili's and Olive Gardens, and many TGI Friday's and Red Robins. Competitor E La Carte's PrestoPrime tablets are in more than 1,800 restaurants, including most Applebee's. Tens of thousands of servers are being evaluated based on a tech-driven, data-oriented customer feedback system many say is both inaccurate and unfair. And few of the customers holding the reins are even aware their responses have any impact on how much servers earn.
Ziosk and Presto sit at the nexus of two major consumer trends: the idea that every product, service, piece of content, and interaction, whether encountered online or in real life, should be rated on a scale of one to five, and that these ratings in aggregate become an invaluable dataset, helping managers achieve growth and make money.
"It makes very literal the idea that the customer is always right, to the complete disregard of the worker," Ifeoma Ajunwa, an assistant professor at Cornell's Industrial and Labor Relations School, told BuzzFeed News.
Technologies like Ziosk are attractive to the restaurant industry, which faces a rising minimum wage, because the tablets promise to make workers more efficient, and in turn, lower labor costs. But in interviews with BuzzFeed News, more than two dozen current and former servers described Ziosk as a source of financial and emotional anxiety, a vector of discrimination and harassment in the workplace, and an added layer to the economic and psychological precariousness that already defines restaurant work.
"When they introduced them, it seemed like a good deal for the customer. But as a server, it's just the worst thing ever," said Sam Ellis, who worked as a server at a Chili's in Texas. "That's all your job depends on, is those survey scores."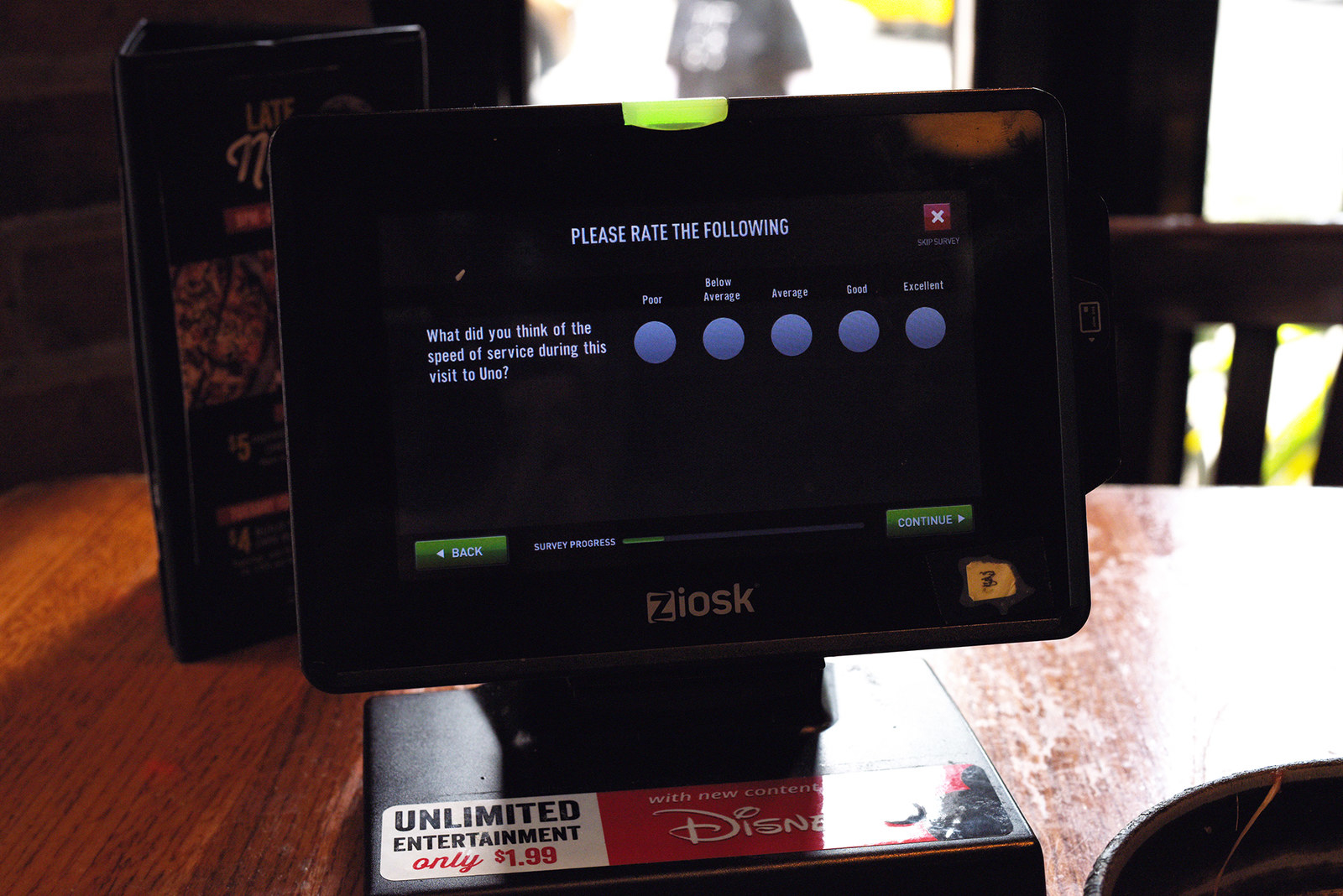 Ziosk scores are tabulated as an average out of five stars, and on the device, it says four out of five stars means "satisfied." But anything less than perfect drags a score down and has the potential to hurt the server.
"The company only counts fives as good scores," said Mathew, who works at an Uno Pizzeria & Grill in New Hampshire. "Everything else is basically a complaint."
"Satisfied should not be considered a bad score, but that drops you down 10% immediately," said Brittany Norris, an Ohio-based server who's worked at two restaurants that use Ziosk, most recently an Olive Garden.
No servers who spoke with BuzzFeed News said they were outright fired over low scores — but sometimes the scores put them in an untenable limbo. Earning less than before, and never quite sure whether hours would be cut or tables taken away, it was hard to know whether it was time to start looking for a new job.
A different server, also named Brittany, who worked at a Midwest Chili's said servers with high Ziosk scores were protected, while servers with low scores were more likely to be fired for a small mistake. "It just makes it easy for them to target you, and write you up, and get you fired," she said.
Local Chili's managers reached for comment on this story declined to comment or directed BuzzFeed News to contact Chili's corporate office. Brinker International, which owns and operates Chili's, declined to comment on this story. A local Uno Pizzeria & Grill manager directed BuzzFeed News to contact its corporate office, which also didn't respond to a request for comment.
Other restaurants, such as Applebee's, use the franchise model, and said they couldn't speak to the operational policies of franchisees.
Local Olive Garden managers directed requests for comment regarding Ziosk to Darden Restaurants, the corporation that operates Olive Garden. Darden declined to make an executive available for an interview but said in a statement that its "goal is always to deliver a flawless experience for each of our guests. Ziosk is just one tool, among many others, we use to measure how we are doing and provide feedback to our servers to enhance the overall guest experience."
Smokey Bones corporate offices didn't return a request for comment from BuzzFeed News, but a local restaurant manager who asked to remain anonymous said the way the chain uses the Ziosk system is unfair to servers, whom he said can lose shifts and eventually even be terminated for consistently low scores.
"The way the scoring system works is flawed. The only way they can get a good score is if someone puts 'highly satisfied.' Unless they get that, they don't get a good score," he said. "I think that's flawed, and it needs to be changed." Multiple requests for comment to Smokey Bones' corporate office and Sun Capital, the Miami-based private equity company that owns it, went unanswered.
One server's score was dinged because a customer wanted Fireball Cinnamon Whisky, which Chili's doesn't serve.
"Technically, they don't fire you," said Sam Ellis, who worked at Chili's with his wife, Whitney. "But they give you such bad shifts, and they start cutting back your shifts to where you don't have enough to survive."
He estimated that a "good server in the big section" who was sent home early due to low Ziosk scores would probably lose $40 to $50 a night," while a server who was bounced from working weekend nights to a Monday lunch could lose between $100 and $200. "They basically force you out," he said. A year and a half after Ellis started working at Chili's, he and his wife quit. In a Facebook post, Whitney warned friends and neighbors that the ratings they provided in a Ziosk survey could, unbeknownst to them, be "causing your server to lose shifts and ultimately their job."
Before she quit, Whitney Ellis tried to explain all of this to customers while on the job. "I would tell them that if you paid on the Ziosk, that there would be a survey at the end, and the five stars is what I really need," she told BuzzFeed News. "They were really surprised when I told them that."
Also surprising to customers is the fact that survey questions that have seemingly nothing to do with a server's duties, like how well their food was prepared, are factored into a server's overall rating. Restaurant brands, not Ziosk itself, set the questions on the device, which means they can vary widely. Some common questions across restaurants include, "How likely would you be to return to this restaurant?" "How would you rate the cleanliness of this restaurant?" and "How likely would you be to recommend this restaurant to a friend?"
"Every question on there is so impactful on the server," said Sam Ellis. "Reading the questions, you would never think you're affecting your server."
At one point, he recalled, his score was dinged because a customer wanted Fireball Cinnamon Whisky, which Chili's doesn't serve.
"I could be the best server in the world, but if my score for the quality of the food or the host aren't over 70%, I lose my shift."
"A guest could order a medium-rare burger, and if it's cooked medium, they could rate me a four," said Mathew. "That's literally not my job. I'm not a cook. I'm a server." Brittany, who serves at a Chili's in the Midwest, meanwhile, said customers have given her low Ziosk ratings because of problems with the plumbing in her restaurant. "It ... cost me a few shifts, so that was less money," she said. "I have three kids, so I need all the money I can get."
Another Chili's server, who asked to remain anonymous when discussing her employer, said customers who take the Ziosk survey at her restaurant are asked how likely they are to return to the restaurant, and managers use that answer to set server schedules.
"I've actually had people who have given me all five's on my service, but because of the food quality or the poor hosts, they have given a two on the intent to return. You can give great service all day long, but if somewhere doesn't have great food, the person probably isn't going to come back," she said via Twitter DM. "It is frustrating that our money is effected [sic] and we're judged on our quality based on areas out of our control."
Brittany Norris, the server from Ohio, said the Ziosk threshold set by the Smokey Bones where she worked seemed arbitrary. "When Ziosk came into play, the corporate office told our management team, 'If your servers aren't getting 70% or higher, you're going to cut their shifts,'" she said. "I could be the best server in the world, but if my score for the quality of the food or the host aren't over 70%, I lose my shift."
"I feel like that's not fair."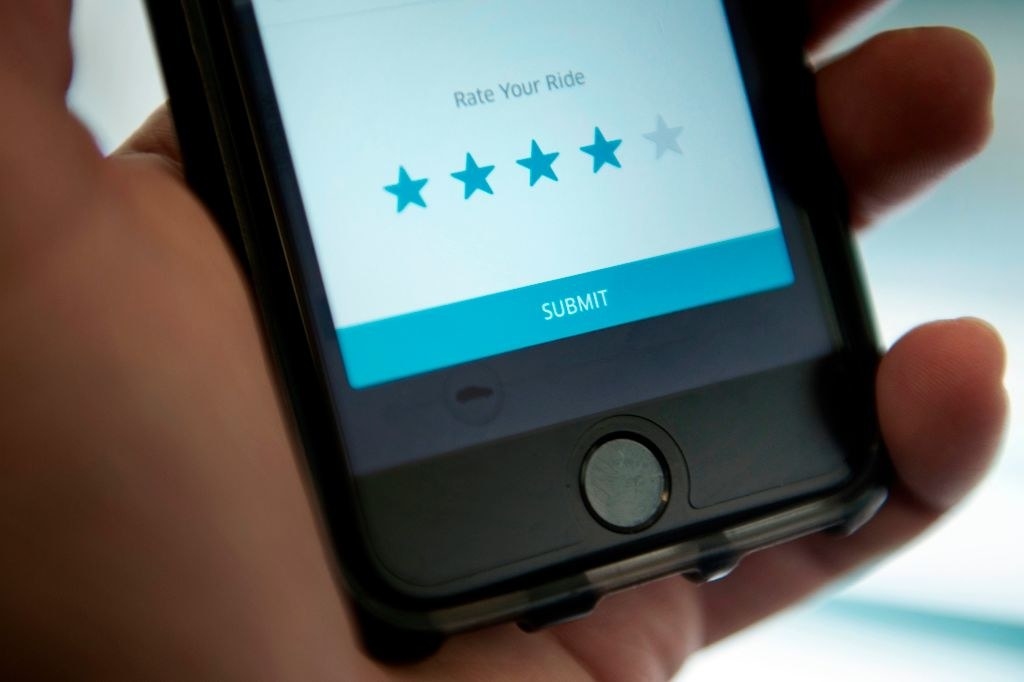 Today, consumers rate individual workers all the time. They dole out stars to TaskRabbits, to Lyft and Uber drivers, to Postmates and DoorDashers; they rate their teachers and their doctors and their lawyers. And as of this spring, they've been able to rate more of their servers than ever: Ziosk expanded its technology beyond chain restaurants, with a new model better fitted to independent restaurants.
Systems like Ziosk and Presto allow customers to channel frustrations that would otherwise end up on public platforms like Yelp — which can make or break a restaurant — into a closed system that the restaurant controls. This protects the business and gives them access to valuable data, but it also effectively puts the customer in the position of evaluating and effectively managing their servers.
Making consumers the boss has its drawbacks.
One diner at Chili's used Ziosk to comment, "our waitress has small boobs."
"Customers who might discriminate against a certain class or group of workers can use the system to leave negative comments that would affect the workers," said Cornell's Ajunwa. She compared the restaurant system to student evaluations of professors, which determine the trajectory of their careers, and tend to be biased against women.
And Ziosk could be a roundabout way for employers to discriminate against employees. Employers are legally restricted from evaluating employees based gender, age, race, or appearance, according to Karen Levy, an assistant professor in the Department of Information Science at Cornell University — but nothing is stopping Ziosk users from doing that, even though those ratings can affect a worker's pay or employment. "If you outsource that job to a consumer, you may be able to escape that," she said.
Having low scores posted for all coworkers to see was "very embarrassing," said Steph Buja, who recently left her job as a server at a Chili's in Massachusetts. But that's not the only way customers — perhaps inadvertently — use the tablets to humiliate waitstaff. One diner at Buja's Chili's used Ziosk to comment, "our waitress has small boobs."
According to other servers working in Ziosk environments, this isn't a rare occurrence.
Justin, the Olive Garden server who tweeted that "everyone was laughing at [him]" when someone sent him their phone number via Ziosk, said management does little to filter out comments that are inappropriate or unwanted.
"These one dudes I remember pretty well; they called me 'handsome' and 'cutie,' which at the time was pretty unwelcomed because I was in a relationship," he said via DM. "When you're waiting tables, it's not like you can just brush off comments like that because you're at work, and you're people-pleasing for your money. You're performing."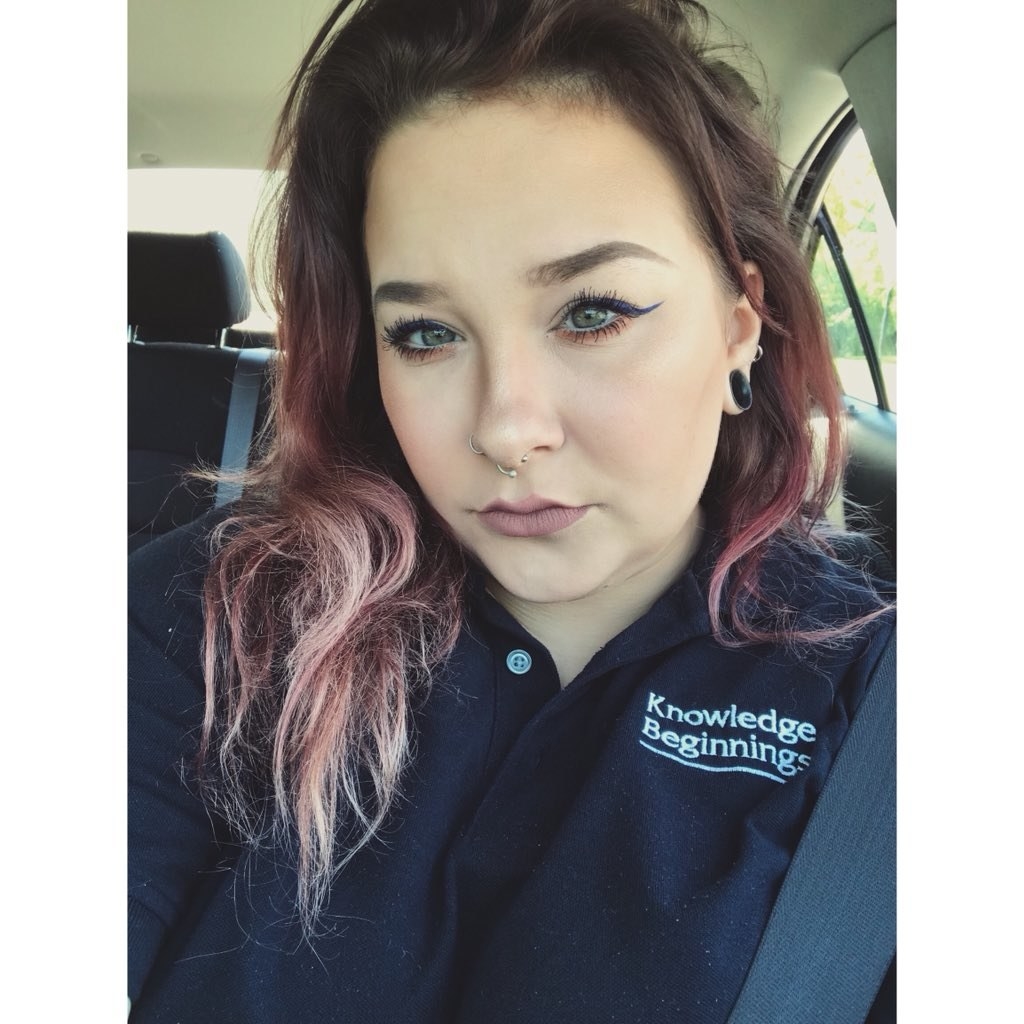 When a woman named Anna worked at a Midwest outpost of Smokey Bones — a chain restaurant that requires women servers to wear low-cut T-shirts, preferably with makeup and longer hair — she often saw "comments on boobs — nice boobs," she said.
When her managers printed out Ziosk scores and comments each week, they would also highlight the positive comments — including the ones that mentioned servers' bodies and appearance. "They were considered a positive response to service," she said. "It's uncomfortable to read those kinds of things about coworkers, but I just kind of tolerated [it]."
A server who worked with Anna saw the same thing happening. "There'll be some off-the-wall comment like, 'She was sexy and had a great attitude,' and they'll highlight that," she said. "It should be about the service, not how you look, but they praise those kinds of comments."

Sun Capital, which owns Smokey Bones, didn't respond to repeated requests for comment on this story. A local Smokey Bones manager who asked to remain anonymous said he personally censors comments he feels are inappropriate but said it's possible other managers don't.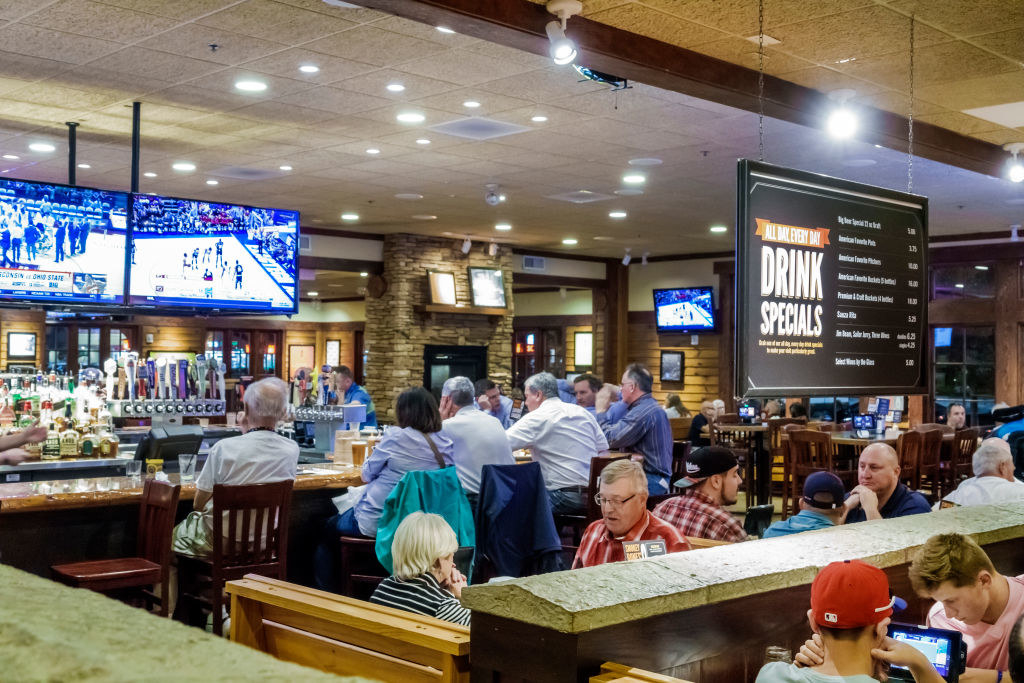 Ziosk CEO Jack Baum, who took over the position in October 2017, said this kind of behavior is frowned upon — but probably inevitable.
"Do I think anonymous feedback gives them the ability to say someone's fat without having to own up to the fact that they said it?" he told BuzzFeed News. "Yeah. But we're in a social media universe today. We're in a universe that people can make anonymous comments, people can do evil and terrible things. I don't think it's appropriate. I would hope the manager would use their discretion. We try to filter out curses. But there's only so much we can filter out."
While Ziosk sells the tablets and designs the software that makes the Ziosk system run, it doesn't tell restaurants how to use it. Ziosk says it's not responsible for how restaurant chains choose to use its software, and the restaurant brands say individual restaurants, as franchisees, are free to manage their businesses independently. Brands design their own survey questions, upload their own menus, decide which desserts and appetizers to advertise, and set their own goals for waitstaff in terms of what scores to hit and how important it is to use the devices.
Baum said that if he owned a restaurant chain (which he did, for 18 years), he wouldn't use Ziosk scores as a disciplinary tool. "The restaurant has control over how they use it," he said. "My only request is they use it as a carrot and not a stick."
"We think there could be a server leaderboard in the back of house that ranks the servers in real time."
He said he wasn't aware that some restaurants threaten to cut shifts of servers with lower ratings, and isn't "a huge fan of using station or scheduling as preference for people getting great scores."
But he maintains that Ziosk surveys provide accurate data on how well workers are performing, saying it's "an independent and fair way to figure out where your weak points are, and who the strong servers are."
Rajat Suri, CEO of the California-based Ziosk competitor Presto, is even more bullish than Baum about the technology: He imagines a future in which tabletop devices deliver customer feedback data to management constantly and instantaneously.
"We think there could be a server leaderboard in the back of house that ranks the servers in real time, based on guest surveys," he said. "I agree it's going to increase stress. But it will put the emphasis more on performance."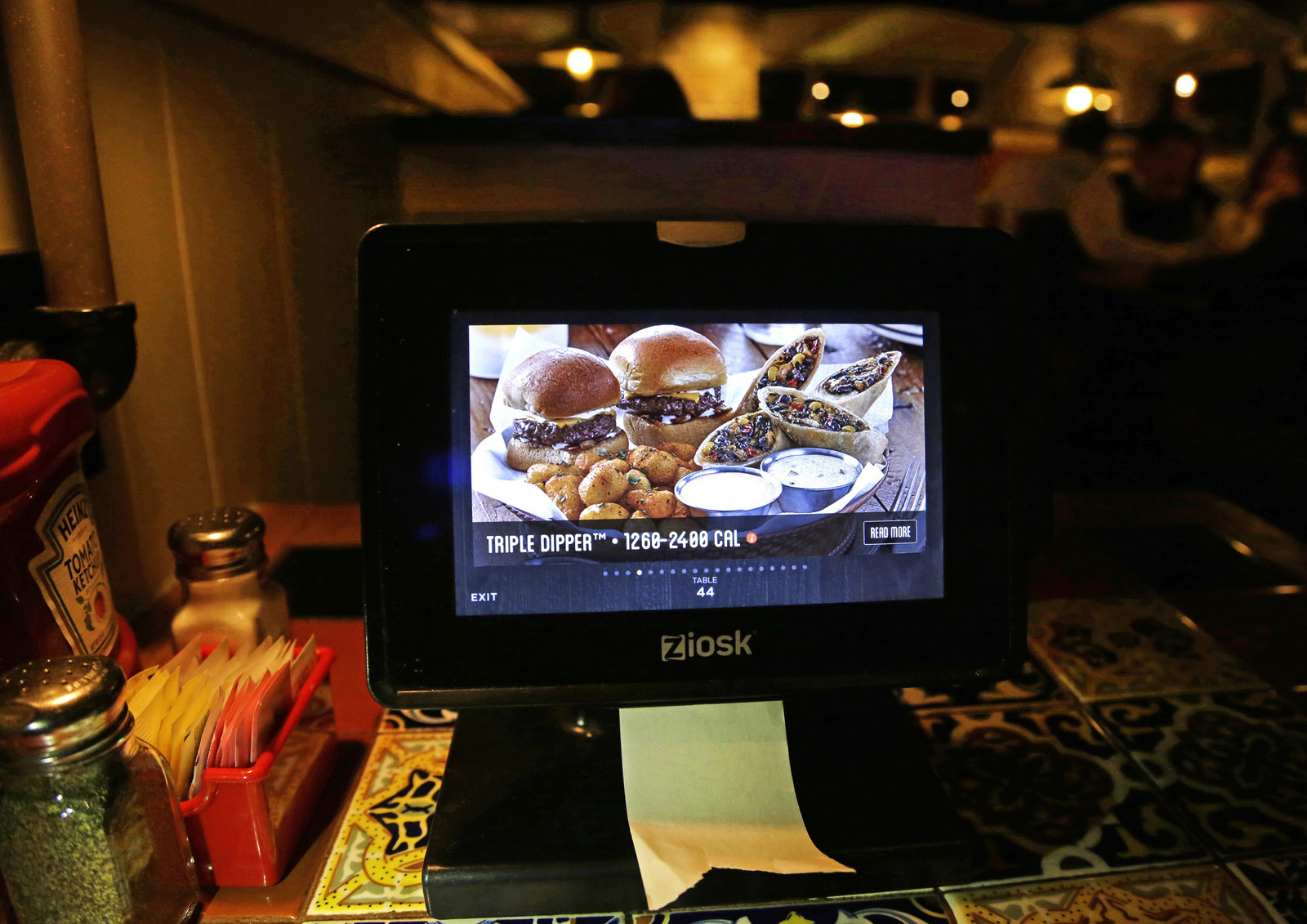 If restaurant chains and franchise managers make the rules for how Ziosk will be deployed, it's up to individual managers to make sure their locations are performing up to standards — and that means good Ziosk scores across the board.
In addition to setting expectations for servers, some of the restaurants also set Ziosk goals for shift and regional managers, who can also be penalized if a restaurant's overall scores aren't high enough — which is why managers put pressure on servers to meet certain thresholds.
One shift manager told Anna, the server who worked at Smokey Bones, that his "job depended on our scores."
"Everybody's employment is based on these Ziosk scores," she said. "It was so pressed upon the managers by upper management … that sometimes our managers would just tell us to fill out the survey ourselves, or flat-out ask for a five-star review from the customer."
Though the temptation was real, Anna said she could never bring herself to ask for a rating. "You're already serving them," she said. "You don't want to beg them, 'Please help me keep my job.'"
Experiences like Anna's remind Cornell's Professor Levy of an economic concept known as Goodhart's Law: "When a measure becomes a target, it ceases to be a good measure." In other words, pushing people to reach a specific goal tends to corrupt the system, rendering it ineffective.
Levy, in fact, questions the very notion that Ziosk feedback is an accurate or useful way for a business to evaluate performance. "To say this was a four-star experience, or an eight out of 10, who the hell knows what that means?" she said.
When Ziosk first came to an Olive Garden in Arkansas in 2015, "We were told it would make our jobs easier," said a server who asked to remain anonymous.
But it hasn't made the job easier — "I think it's made it kind of more difficult," he said — and now, it's about to get even more strict. According to a "new directive" from corporate, Olive Garden managers are now instructed to email servers' Ziosk scores to district managers once a week.
"If our score is below what is considered acceptable, they put us down to a two- to one-table section, then after that we move to write-ups, including termination," the server said. (Darden denied that such a policy exists.)
After nine years at Olive Garden, he said he feels like "a pretty darn good server." But the Ziosk makes him feel like an automaton that "could be replaced" at any time.
"It's very unnerving," he said. "I do what I can to make their visit enjoyable, but it's almost like that doesn't even count anymore. It's just a number — our whole job is based on numbers." ●