Yet Another Startup Has Given Up On Cheap Contract Labor
Sprig is the latest company to start hiring on-demand delivery drivers as employees. This time, they're also getting stock options.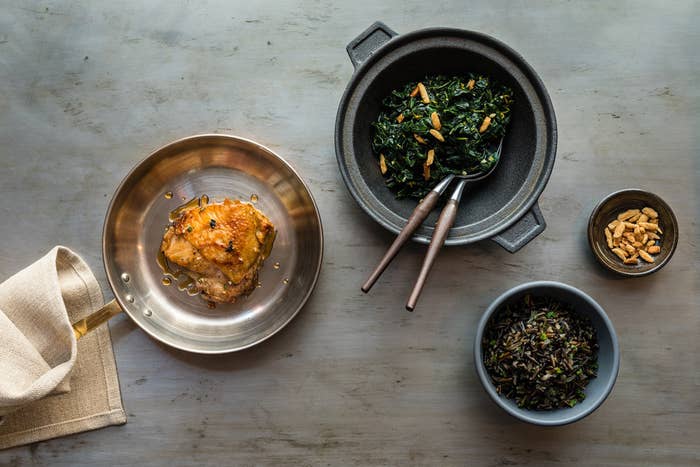 Search "Sprig" on Twitter and, in addition to pictures of food and complaints from hungry customers, you'll find a number of jobs on offer:
"Server" is the (somewhat euphemistic) name the company gives on-demand drivers who wait around with bags full of pre-cooked Sprig meals waiting to be summoned (in just three taps of a smartphone!) by hungry San Franciscans and, as of June, Chicagoans. Those jobs, according to Sprig CEO Gagan Biyani, are about to get a whole lot better.
Thursday, Sprig announced a plan to begin transitioning its fleet of drivers from contract workers to full employees, a move that comes at no small cost (upwards of 20% labor cost increase) to any company. As a result, Biyani told BuzzFeed News, it's possible that Sprig wages — currently advertised as being between $16 and $25 per hour — might see a small dip. But the added benefits of full employment should more than make up for the wage difference, he said. In addition, the company announced that full-time employees will now be eligible for a Sprig stock option plan — a not-insignificant amount of money for a company that was, as of April, said to be valued at more than $150 million.
At this point, it's hard not to see reclassification of workers by on-demand companies as a reactionary move in the wake of a spate of lawsuits arguing that on-demand companies such as Uber and Lyft have misclassified their employees. Instacart and Shyp have recently moved away from contract labor, and last month, Re/code reported that Luxe and Zirx are also considering making that shift as well. Luxe made that change official last week.
When Homejoy shut down a few weeks ago, founder Adora Chung said misclassification lawsuits against the company were to blame. While a number of interested parties have since contested that claim, arguing that poor business sense is what did the cleaning startup in, there's nonetheless a pervasive sense that the combined forces of litigation and regulation are finally starting to have an impact on how work is structured in Silicon Valley.
But according to Biyani, who told BuzzFeed News he broadly finds employment law outdated and "unclear" when it comes to on-demand startups, the motivation for the change isn't to preempt a potential lawsuit, but to improve customer service. If Sprig servers become employees, it will be possible to provide them with more training, support, and information about Sprig's mission. "We plan to start training them on how to speak the language of Sprig," Biyani told BuzzFeed News.
Sprig has been called "the Lyft for food," in no small part because Biyani previously worked as interim head of growth for the ride-hail company. The two companies also share an adviser in Simon Rothman of Greylock Ventures, long a financial backer of the on-demand industry and advocate for new laws around worker classification.
But more than that, the two brands are similar in that they are both in particularly good standing in the court of public opinion. Lyft has the advantage of being not Uber. Sprig, meanwhile, has carefully cultivated a reputation for being mission-driven, delivering healthy, responsibly sourced meals — a reputation it helped cement Thursday with a redesigned app that will show diners which farms their food is coming from, ingredient by ingredient, holding the company to its promise of sourcing from only organic, non-GMO farms.
Of course, building a local, organic supply chain will undoubtedly make it harder for Sprig to scale at the rate of competitors like, say, Munchery, which is already available in New York, Los Angeles, and Seattle, in addition to San Francisco. But publicly announcing an intention to treat workers better is a great PR move — something Munchery has recognized from the beginning.
While the majority of Sprig's current workforce will be eligible for employee status, according to Biyani, it's possible that some will choose to leave the company. Sprig did survey employees and conclude that the change would be something most employees were happy about, but, Biyani said, "I do think there will be people who won't be satisfied with this."
Sprig's move aside, it's far from clear how labor will — or even should — be regulated in the on-demand economy. The majority of the lawsuits that kicked off this domino effect of reclassification haven't even been tried yet. Uber, the bellwether company for the issue, continues to fight tooth and nail against allegations that its drivers should be classified as employees, and will in all likelihood continue to do so. But smaller companies, especially fresh-faced ones like Sprig, clearly can't afford that fight, and are, probably wisely, getting out of dodge. While there's no doubt that work in the United States has become more flexible and that the contingent workforce is growing — and will probably continue to grow as a result of the Affordable Care Act — it's starting to look like the cheap, independent, self-employed, mobile workforce of the future was more of a blip than a new reality after all.