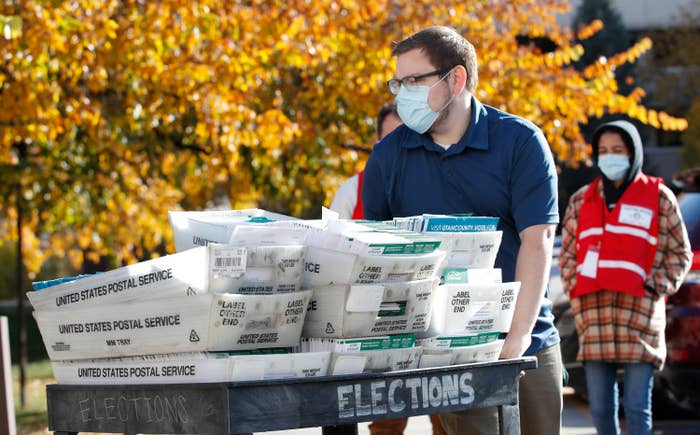 Today is exactly one week before Election Day on Nov. 3, which in many states means it is the deadline by which the US Postal Service has recommended that voters put their ballots in the mail.
As a result, everyone from former US attorney general Eric Holder to John Legend is urging people not to vote by mail after today.
That advice, however, can be somewhat confusing. In some states, such as Massachusetts, the deadline for requesting a mail-in ballot hasn't even passed yet, while in others like New York, votes postmarked as late as Nov. 3 and received by Nov. 10 are supposed to be counted. (The secretary of state in New York still suggests dropping your ballot in the mail by today.)
Postal workers say they will be checking home mailboxes for ballots to pick up and deliver throughout the next week, according to two such workers who spoke to BuzzFeed News after receiving those instructions from their superiors.
But with the USPS reporting mail delays in some regions, and the Supreme Court ruling Monday that Wisconsin ballots arriving after Election Day won't be counted due to that state's laws, voting advocates and officials are now urging people to prioritize using an official drop box or to bring their mail ballots to the polls to vote provisionally in person on Election Day.
"We are too close to Election Day, and the right to vote is too important, to rely on the Postal Service to deliver absentee ballots on time," Michigan Secretary of State Jocelyn Benson said on Tuesday.
Colorado Gov. Jared Polis also tweeted Tuesday that it is "too late to put your ballot in the regular mail" and suggested that people now use drop boxes.
Bob Shrum, who directs the Center for the Political Future at the University of Southern California, said many voters are already finding alternative ways to get their ballot in, concerned about postal delays. "I think people are worried, especially after the Kavanaugh decision, which upheld a rule in Wisconsin that ballots had to be received by the close of polls on Election Day. So people are saying, OK, I'm going to worry about what the courts might do, so I'm going to walk my ballot to a drop box or into a polling place."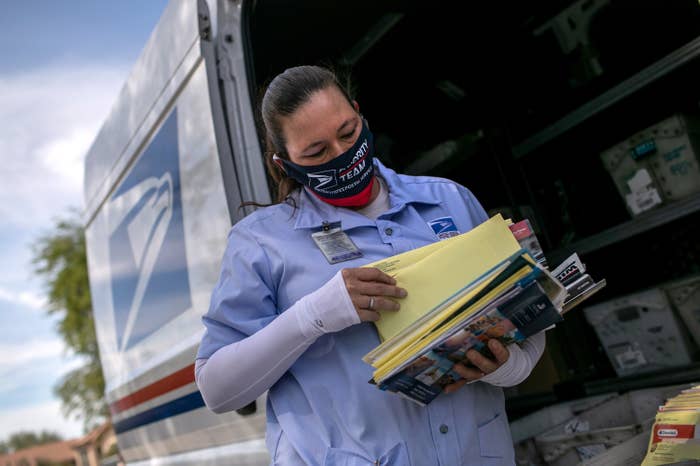 The rules for voting by mail are different in every state, which makes blanket advice difficult. "It does vary state by state and sometimes the courts have intervened in this election cycle to change certain deadlines," said Trey Hood, a political science professor at the University of Georgia. "It's really contingent on the voter to do a little checking and figure out what's what in their state."
"There are states where the postmark is what matters," said John Fortier, director of governmental studies at the Bipartisan Policy Center. "It varies … If you need to get it in by three days, you may still want to think, Oh, that's 10 days, it's more likely it will get there. But it still might be pushing it."
The USPS, which warned of possible election mail delays earlier this year after a tumultuous summer under President Donald Trump's new Postmaster General Louis DeJoy, has been urging people to vote as early as possible. But a spokesperson told BuzzFeed News that their "number one priority between now and the November election is the secure, timely delivery of the nation's Election Mail."
In Pennsylvania, the deadline by which mail ballots would be counted was extended from Nov. 3 to Nov. 6 last month, which Republicans are now asking the Supreme Court to review once more. Shrum, the Center for the Political Future director, said he believes new Justice Amy Coney Barrett might be the key vote that could swing the decision to the GOP. "That's why I think people who hold the ballots now should walk into a voting center or a polling place or put them in a drop box," he said. "If you mail them, make sure you put first-class stamps on them if you can't do anything else."
One mail carrier in Pennsylvania — who, like others in this story, requested anonymity because he is not authorized to speak to the press — said he's delivered a lot of ballots in the last few weeks, as well as political mailers, which have made the workload heavy.
People in Pennsylvania technically had until Oct. 27 to request mail-in ballots, and mail carriers there have been instructed to look for returned ballots in home mailboxes through this week. But this postal worker said at this point that could be pushing the limits. "They will still be processed as normal," he said. "[It's] just not as guaranteed to arrive back at the county seat to be counted."
For mail votes to be counted in Massachusetts, ballots have to be postmarked by Nov. 3. One mail carrier there still advised, "The faster everyone can get them in, the better, so they're more likely to be counted."
The last few weeks have also been stressful for mail carriers as the USPS is dealing with ongoing staffing challenges, due to both long-term issues and to some related to COVID-19, as well as an influx of parcels due to Amazon Prime Day sales and the approaching holiday season. That exacerbates the additional workload created by ballots and political flyers which, as election mail, both require extra work for postal workers.
As a result, on-time delivery for mail is down in some regions, USPS reported on Friday, and carriers in some places say they've been working past 10 or even 11 p.m. to get all the day's mail delivered.
"You can tell there's way more early voting than before. I feel like every house on my route got a ballot this year," said an Arizona-based mail carrier who has been working as late as 10 p.m.
For months now, President Trump has been fanning concerns that voting by mail is not reliable, claiming without evidence that widespread voter fraud is likely to take place and encouraging his supporters to vote in person. While mass intentional tampering with mail ballots is highly unlikely, any mail delays or issues with voting by mail could add to the confusion.
Some postal workers have personally been feeling the effects of Trump's rhetoric about the mail. "I've had customers recently ask me about ballots in a very worried tone," said the Arizona-based postal worker. "[The] same customers I've seen for two years, no problems with the 2018 mail-in ballots, but now they are asking aggressively how am I going to protect their ballots when they show up? Trump has made us look bad."