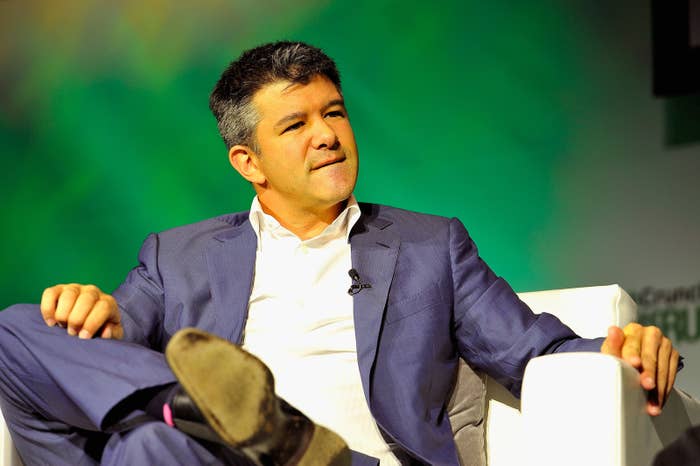 Embattled former Uber CEO Travis Kalanick's deposition regarding Google's lawsuit against the ride-hail startup was unsealed for the first time late on Friday.

In a more than six-hour interview, Kalanick answered a range of questions from Google's lawyers, including when he first learned that former Google employee Anthony Levandowski had downloaded thousands of business documents onto his personal computer before becoming an Uber employee, and what actions Kalanick took after becoming aware of that fact.
The partially redacted deposition was unsealed voluntarily by Uber. The interview reveals no major new facts about the case, but does include some illuminating tidbits about both the lawsuit and Kalanick himself, who apparently watched YouTube videos to pass the time during breaks in the questioning.
Google's Waymo first filed a lawsuit against Uber — which, per his deposition, Kalanick has not read — in February. The lawsuit alleges that Levandowski, who worked for Waymo, downloaded thousands of files containing information about Google's self-driving car technology to his personal computer, and that he used this information to help build Uber's self-driving car project after Uber acquired his trucking startup, Otto.
In his deposition, Kalanick said he asked Levandowski whether the files he downloaded while at Google were used to build Uber's technology, and that Levandowski replied "absolutely not." Kalanick also said that, after he learned the files existed, he made it clear that Levandowski should take every precaution to ensure the files weren't used at Uber.
The lawyers also asked Kalanick why he didn't immediately fire Levandowksi when he first learned he had taken documents from Google. Kalanick responded by pointing out that he did later fire Levandowski, but that his primary concern at the time was conducting an internal investigation to ensure the files weren't used at Uber.
"You know, I just -- I felt that he had done something that was F'ing stupid," Kalanick said. "I — I didn't feel like he had stolen anything. I knew that it hadn't gotten over to Uber. I felt a little bullied by Google generally with how the initial complaint was and where it — where the facts actually were. You know, if I were to do it over again, I probably would have immediately. It took a little more time, but I eventually got there."


Kalanick also suggested that lawsuits aren't entirely unusual at Uber. "Oh, well, look, at Uber we have — you know, we see a number of allegations and complaints," he said. "And the way we think about that is, when we see an allegation, we take it really seriously."
Why Levandowksi downloaded those files in the first place is a central question in the case — one that is difficult to answer given that Levandowski is pleading the Fifth, meaning that he won't answer questions about the lawsuit. In his deposition, Kalanick said Levandowski originally told him he downloaded the files to his personal computer in order to work from home, but later changed his story, saying he actually planned to use them to ensure that Google paid him a large bonus.
Exactly how these files could have been used to convince Google to pay Levandowski a bonus isn't clear, and it's obvious from his deposition how Kalanick felt about that maneuver when Levandowski first told him about it.
Google's lawyer: What do you remember saying?

Kalanick: I remember insulting his intelligence.

Google's lawyer: Okay. So you said something like, that's stupid, or what did you say?

Kalanick: That's pretty F'ing dumb.

Google's lawyer Okay. I appreciate you editing yourself there.

Kalanick: Yeah, I -- I was trying to find the way to do that.

Google's lawyer You were pretty pissed off?

Kalanick: I was more just disappointed.

Google's lawyer: What did he say. You okay?

Kalanick: . Yeah, I'm okay.

Google's lawyer: You want to take a break?

Kalanick: No, no, let's keep going.

Google's lawyer: You need some more water or anything?

Kalanick: No. It's okay. I was just disappointed, as you can imagine.
The full transcript of Kalanick's deposition takes up hundreds of pages. As was the case when Uber's lawyer interviewed Google cofounder Larry Page, there were a lot of things Kalanick said he couldn't remember, and a lot of objections and arguing between lawyers on both sides.
But Kalanick did make some comments about Uber that were interesting even outside the context of the case. For example, when discussing whether Levandowski used his personal laptop at work, Google's lawyer asked Kalanick if it is a common practice for Uber employees to do work at home "all the way up past midnight."
"I take pride in our work ethic," Kalanick responded.
"So it is pretty routine," the lawyer clarified.
"I mean, for some people yes, for some people no," Kalanick replied. "As an owner in the business, I would like it to be more routine."
In a statement to BuzzFeed News, a spokesperson for Waymo said that the deposition appeared to back up several of the company's claims regarding its former employee.
"This deposition confirms a number of points Waymo has been making since we filed this case, including not only that Mr. Levandowski improperly downloaded files from Waymo but that he had ample opportunity to inject Waymo's trade secrets into Uber's technology, given he actively advised Uber engineers on LiDAR design even well before he ran Uber's autonomous driving program," the statement said. "Waymo has significant and direct evidence that Uber is using stolen Waymo trade secrets and we look forward to presenting that evidence at trial."
A spokesperson for Uber said that "the deposition yet again confirms that Uber was focused on building its technology from the ground up. Uber never wanted any Google material, adnd took steps to prevent any such material from ever coming to Uber."
The whole transcript, which BuzzFeed News is still reviewing, is available online here.