In advance of a public vote this Saturday, Uber is texting customers at their personal phone numbers to encourage them to vote for a pro–ride hail proposition in Austin.
Some took to Twitter to express their displeasure.
The bill, which was authored by Lyft and Uber and is known as Prop 1, would repeal an existing city ordinance requiring ride-hail drivers to be fingerprinted as part of a background check. Uber and Lyft have spent over $8 million in Texas promoting Prop 1, according to the Austin American-Statesman.
Lyft is also leaning on its passengers to get to the polls, writing in an email that, "If Prop 1 fails, Lyft will leave Austin."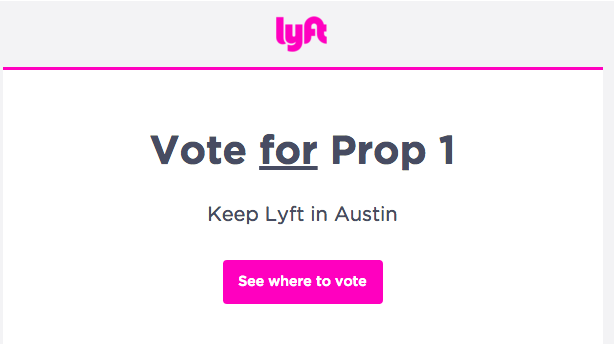 According to some tweets, ride-hail companies are also calling. emailing and distributing paper mailers.
Neither Uber nor Lyft immediately responded to request for comment.