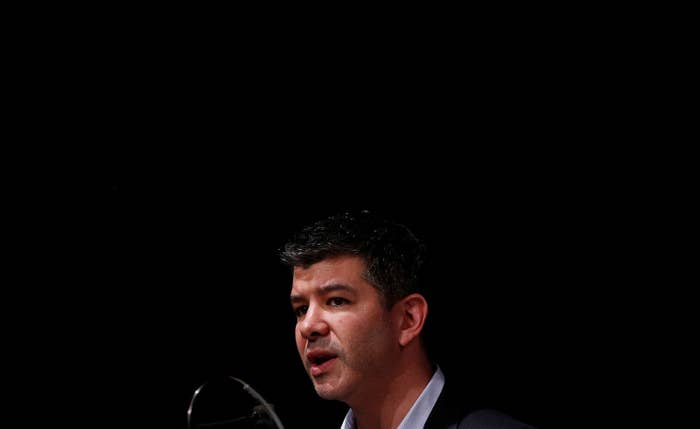 Uber told employees at an all-hands meeting on Tuesday that it has fired 20 people and investigated at least 200 claims of discrimination and harassment, among other issues, in an internal investigation into its workplace culture.

The information was shared by Uber's chief human resources officer, Liane Hornsey; CEO Travis Kalanick was not present at the meeting and is spending time with family following the death of his mother in a boating accident.
In the meeting, the company did not name the employees who were fired. An Uber spokesperson told BuzzFeed News the 215 reported claims included issues related to discrimination, sexual harassment, unprofessional behavior, bullying, harassment, retaliation, and physical security. The claims came from employees worldwide, but the majority were raised by employees in San Francisco, where Uber is headquartered. A source who declined to be named said those terminated were removed due to a variety of reasons including harassment, bullying, or discrimination.
Thirty-one employees are also in counseling and training, seven have received written warnings, and 57 cases are still open.
Of the more than 200 claims, Uber took no action in 100 cases. A source familiar with the situation told BuzzFeed News those claims were found to be unsubstantiated.
A quarter of the 215 claims were for discrimination, while 22% were regarding sexual harassment, per a tweet sent by Uber's communications team on Monday. Three claims total were for "physical security," while 33 were for bullying.

A current Uber employee who spoke with BuzzFeed News on conditions of anonymity said, in conversation, his colleagues were "not surprised about the number" of people Uber fired during the course of the investigation.
Uber launched an internal investigation into its workplace culture after a blog post by former engineer Susan Fowler Rigetti went viral in February, alleging systemic sexism.

Following Fowler Rigetti's allegations, Uber hired the law firm Perkins Coie to investigate her claims. The results of that investigation were shared with Uber employees Monday. Separately, Uber has brought on former attorney general Eric Holder to conduct an investigation into discrimination at Uber. The results of that investigation were not discussed Monday, nor was Uber board member Arianna Huffington's role in steering Kalanick's leadership following Uber's PR crisis. Perkins Coie's findings will feed into the Holder report.

An Uber spokesperson also said the company will continue running a confidential hotline for employees to report concerns, and that its employee-relations team has doubled. The team now reports to Hornsey directly, and Uber has put in place a formal system to track employee complaints.
During the meeting, which was scheduled for an hour and started around 10 a.m. in San Francisco, Fowler Rigetti tweeted a series of criticisms regarding how the investigation at Uber has been handled so far.
Uber on Monday announced that it had hired Frances Frei, a Harvard Business School professor, as senior vice president of leadership and strategy. Uber said in a blog post announcing the hire that she would "act as a partner" to Hornsey, the HR head, and called her "one of the world's most respected authorities on organizational transformation." Frei was introduced to Uber staff by Hornsey during Monday's meeting.

The company has also hired a second female executive this week, Bozoma Saint John, who previously served as Apple's head of global consumer marketing for Apple Music and iTunes, according to reports. TechCrunch and Bloomberg reported Tuesday that Saint John had joined Uber. An Uber spokesperson declined to comment but said Saint John would not be filling the role of chief operating officer, for which Uber has been interviewing candidates for several months.