Housing Protestors Made A Scene At Airbnb Headquarters Today
In the final hours leading up to San Francisco's vote on Prop F — a ballot measure that would regulate short-term renting in the city and that Airbnb opposes — supporters of the legislation are causing trouble in the company's headquarters.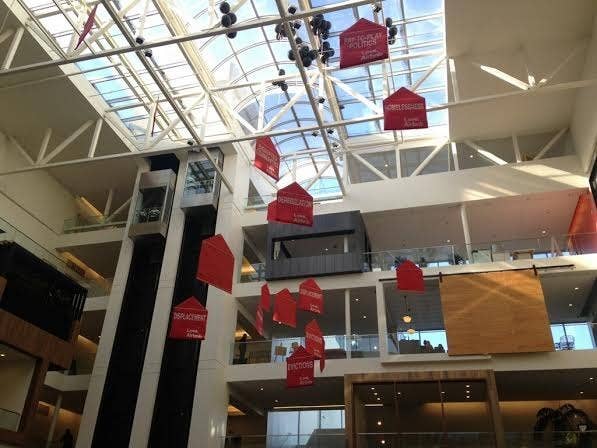 The day before San Franciscans are set to vote on new citywide Airbnb regulations, local organizers for the anti-home sharing campaign in the city have infiltrated the company's headquarters. Bearing megaphones and signs, city residents who think the company is running amok in San Francisco are causing a ruckus in the atrium of Airbnb's building.
They also appear to have brought a number of musical instruments along with them.
Using balloons, protest organizers managed to string up signs high from the upper levels of the building. The signs, which say things like "ENTITLEMENT Love, Airbnb" and "EVICTIONS Love, Airbnb", and seem to intentionally mock ads put up around the city last week that drew significant backlash.
That controversy came after a long summer of fighting between ShareBetter SF — a group funded by hotel unions and largely composed of anti-homelessness and affordable housing activists who believe that Proposition F and its attendant limitations on home-sharing will help lessen San Francisco's affordability crisis — and SF for Everyone, an Airbnb-funded group dedicated to defeating the ballot measure.
Recent poll numbers suggest that the ballot measure will likely fail. The New York Times reported today that even members of the Yes on F campaign think it's unlikely that they'll win.
This rally, though, suggests that, win or lose, the campaign against Airbnb is taking advantage of every last second of the spotlight before tomorrow's election.
Airbnb has declined to comment at this time, but a security guard told BuzzFeed News that it took about an hour and a half to get the protestors out of the building.