August 26, 2015, was, by all accounts, a stressful day at Blue Apron's facility in Richmond, California.
As the sun rose over what would be an unusually warm Wednesday, a 21-year-old employee made a phone call to a supervisor at the $2 billion food startup's Bay Area fulfillment center, where tens of thousands of meal kits are packed into cardboard containers and shipped across the continental United States. The supervisor didn't pick up the phone that morning, so he left a message.
In it, he said he planned to quit his job at Blue Apron later that day. He also said he planned to bring a gun to the warehouse and shoot his manager, as well as other people at the facility. In two messages, he named three people specifically who he wanted to put bullets into when he got there. Around 8:30, en route to work, the supervisor called the police.
Police apprehended the man, who did not have a gun, later that morning. But at Blue Apron, the day was just getting started.
While company security and a Richmond police officer on patrol monitored threats outside the warehouse, inside, Blue Apron management was meeting with representatives from California's Division of Occupational Safety and Health at the conclusion of a two-week inspection by the agency that would result in nine violations and proposed penalties totaling $11,695 for unsafe conditions that put workers at risk for fractured bones, chemical burns, and more. This penalty came on top of $13,050 following a forklift accident earlier in the year, giving Blue Apron the most OSHA violations in the fast-growing, $5 billion meal-kit startup industry, and among the most in perishable prepared-food manufacturing in California. (Like many companies, Blue Apron appealed these findings, and had some of its violation classifications downgraded to "general" or "other." One of its cases is still open.)
Just after 4 p.m. on the same day, the police were back at Blue Apron for the third time, following a noontime patrol. They were prompted by yet another call from a security guard, concerned that "a weapon might be brought."
This time the problem was a 26-year-old man who, after being fired earlier in the day for groping a female co-worker, had then threatened the person who let him go. He was later arrested for sexual assault, as well as for violating his parole on an earlier robbery charge.
"I definitely remember that day," said David Reifschneider, who was general manager of the facility at the time. "It's not what happens on a typical day in a typical warehouse."
He's right. This wasn't a typical day, nor was it a typical old-fashioned warehouse, but the thrumming hub of a fast-growing, well-funded, hugely ambitious food startup. Founded in New York City in 2012, Blue Apron now operates fulfillment centers in Richmond, where the vast majority of the workers interviewed for this article worked, as well as Jersey City and Arlington, Texas. Between them and the company's corporate headquarters in New York City, Blue Apron employs more than 4,000 people and delivers around 8 million meals every month all over the continental United States. It has raised $193.8 million in venture capital, and in 2015 it was valued at $2 billion; if the Silicon Valley rumor mill can be believed, the company could go public in the next year, with an additional billion dollars tacked on to that valuation. The Richmond facility alone grew from fewer than 50 employees in 2014 to over 1,000 today, making Blue Apron one of the largest employers in the city.
But scaling a manufacturing facility in a historically crime-dogged city like Richmond as fast as if it were a downtown San Francisco software firm hasn't been easy for Blue Apron. The company has set out to upend the entrenched industrial food system and disrupt the dinner table by changing the way Americans buy, receive, and prepare food, reducing food waste and increasing distribution and delivery efficiencies in the process. To do that, it had to rapidly hire a massive unskilled workforce, bringing jobs to a part of the Bay Area that has been largely left behind by Silicon Valley's boom times. Yet documents and interviews suggest that it was unprepared to properly manage and care for those workers, and as a result has suffered a rash of health and safety violations.
In the 38 months since Blue Apron's facility opened, the Richmond Police Department has received calls from there twice because of weapons, three times for bomb threats, and seven times because of assault. Police captains have met twice with Blue Apron to discuss the frequency of calls to the police. At least four arrests have been made due to violence on the premises, or threats of it. Employees have reported being punched in the face, choked, groped, pushed, pulled, and even bitten by each other on the job, according to police reports. Employees recalled bomb scares, brandished kitchen knives, and talk of guns.

All told, interviews with 14 former employees describe a chaotic, stressful environment where employees work long days for wages starting at $12 an hour bagging cilantro or assembling boxes in a warehouse kept at a temperature below 40 degrees.
"You put honey in a small container. We would put small peppers in little small bags," said Glenn Lovely, who worked as a temp in the Richmond facility for three months. "And it was cold — cold as hell."
Scaling a manufacturing facility in a historically crime-dogged city like Richmond as fast as if it were a downtown San Francisco software firm hasn't been easy for Blue Apron.
To combat the cold temperatures required by food safety laws, Blue Apron provides each employee with a jacket, thermals, a hat, and a neck warmer. Some people said this was sufficient, but others struggled to adjust. "Your fingers would start to get numb and start to hurt from using them," said former warehouse lead Andrew Driskell.
One person said Blue Apron was the worst job she'd ever had. Others said it wasn't so bad. But every one of them — even those who mostly liked the job — recalled violence or threats of violence, visits from the police, injuries, high turnover, unfair treatment, or a combination of the above.
"I enjoy jobs where things are on fire more than ones where I'm sitting around," said one former team lead of his experience at Blue Apron. "But there were times when it was just horrible."
Blue Apron declined to make an executive available for an interview. In a statement to BuzzFeed News, the company stressed its commitment to "creating the best possible workplace experience for all of our employees. We are proud of our corporate culture and the good work that our employees do every day, bringing families across the country together over delicious, home-cooked meals."

The idea, on its surface, is simple. Once a week, customers receive a box in the mail with recipe cards and all the pre-portioned, farm-fresh ingredients — down to tablespoonfuls of vinegar and sprigs of oregano — needed to make two, three, or four wholesome, healthy, Instagram-ready, home-cooked meals. The cost per plate is just under $10, and each meal takes an average of 35 minutes to prepare (or so the recipe cards claim). As the sales pitch goes, it's healthier than takeout, easier than cooking from scratch, and cheaper than a private chef or meal delivery service. Blue Apron's product is, essentially, hired help in the kitchen at a fraction of the cost — a way for busy professionals and rural foodies to whip up meals like skokichi squash ragù and mafalda pasta with mushrooms, garlic chives, and rosemary or crispy catfish with kale-farro salad and warm grape relish in less than an hour, without setting foot in a grocery store or planning a meal. Its popularity has made the company a rising star among a new class of Silicon Valley disruptors whose product is not software, but real-world products, delivered to your door frictionlessly, quickly, efficiently, and sometimes inexpensively, with just a few clicks of a mouse or taps of an app.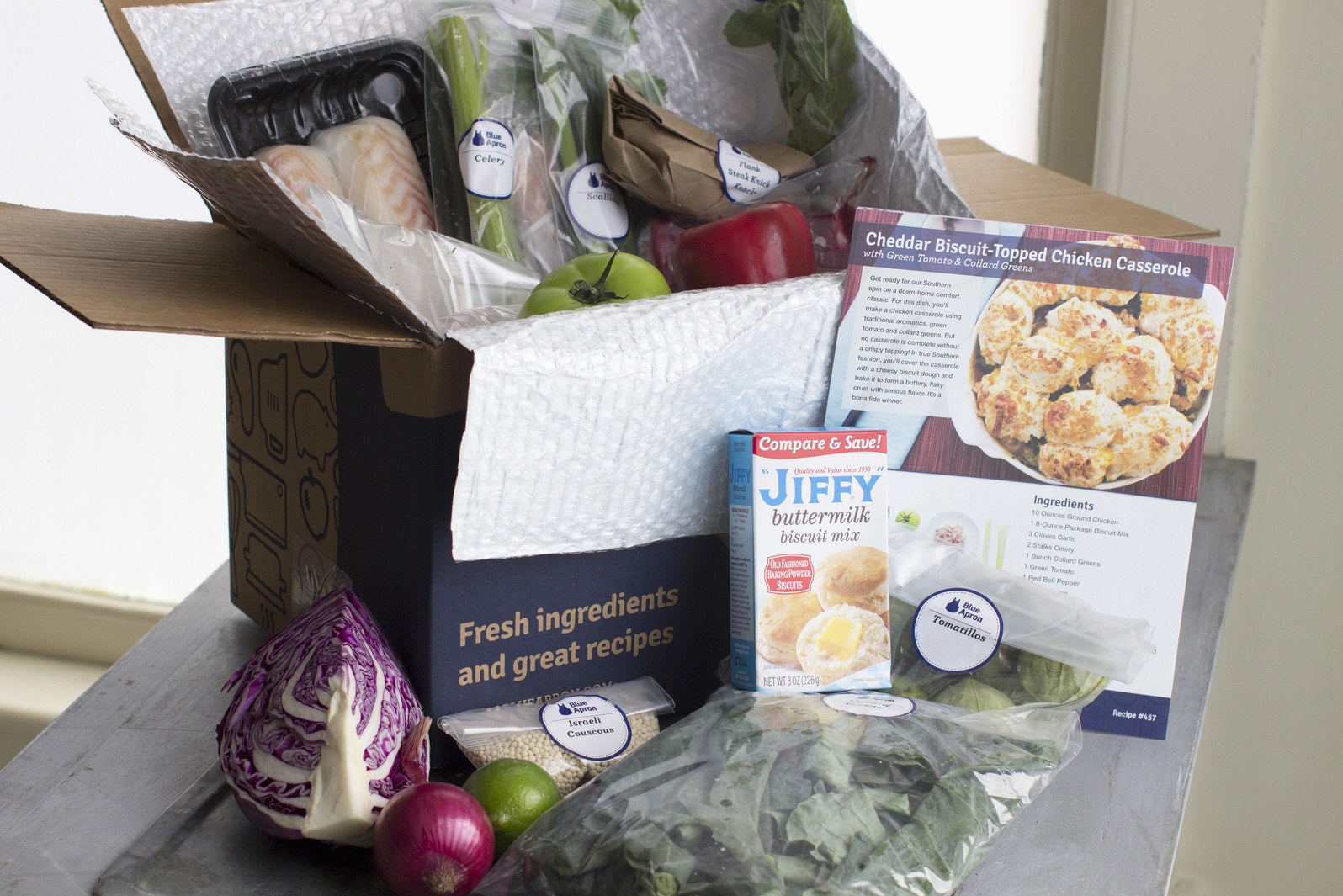 "I think that there is a great opportunity today to create, through technology, a leaner food system that cuts out the various steps between the consumer and supplier," company co-founder Matt Wadiak said in an August Q&A with the nonprofit Food Tank. Words like "sustainable" and "responsible" pepper the company's website, which features high-resolution photos of happy cheesemakers and sun-baked farms.
But between farm and front door is the massive, mostly invisible process by which all those ingredients are measured, cut, prepped, bagged, packed, palletized, and shipped. For all its outward simplicity, Blue Apron's business model is predicated on a hugely complicated feat of precision logistics, executed at an enormous volume. Each week, the company has to develop 10 original, relatively healthy, widely appealing, geographically and seasonally appropriate recipes that can be prepared easily and quickly, with ingredients that are affordable and available at scale. It has to source correct quantities of produce, meat, cheese, bread, spices, and staples from "artisanal purveyors and hundreds of family-run farms" across the country. And then it has to precisely portion and package each of those ingredients — 10 to 12 per meal in this week's boxes — and send them out to hundreds of thousands of people, ideally without breakage, spoiling, lost packages, or missing ingredients. While the USDA estimates that 10% of food produced in the US is wasted at the retail level, Blue Apron aims to waste just 3% of the food it purchases. If it's successful, Blue Apron will have done something no one else has, and save a boatload of money in the process.

Blue Apron's Richmond facility opened in August 2013. In June 2014, the company posted that it was hiring 400 people there; the next 18 months would see a period of rapid growth. David Reifschneider, who has worked for Walmart, Amazon, and Zulily, was hired in May 2015 to be the general manager of the Richmond warehouse. That same month, Blue Apron announced the opening of its Texas facility. In June, the company raised $135 million to strengthen its supply chain. In the months leading up the chaos of August 26, 2015, it expanded its original 30,000-square-foot Richmond facility into an adjacent warehouse space. In a statement, the company attributed this period of expansion to "exceptionally high, unanticipated demand for our product."

"When I interviewed with Blue Apron, they were doing 6,500 boxes a week," said Sara Custer, who became head of West Coast operations in May 2014. "When I started, three weeks later, they were doing 9,000 a week. When I left, they were doing easily 20,000 out of the Richmond facility alone."
Rita Childs worked for a year and a half on the Blue Apron assembly line in the pack-out division, where boxes are filled with ice packs, recipe cards, and the appropriate ingredients for every meal. Those ingredients are prepped by kitchen associates, who weigh out and perfectly portion bulk ingredients from Blue Apron's suppliers into small plastic bottles and bags: tablespoons of soy sauce poured into tiny bottles, for example, or carefully counted fingerling potatoes put into boxes. And after the boxes are assembled, the shipping department loads them onto pallets and, ultimately, trucks.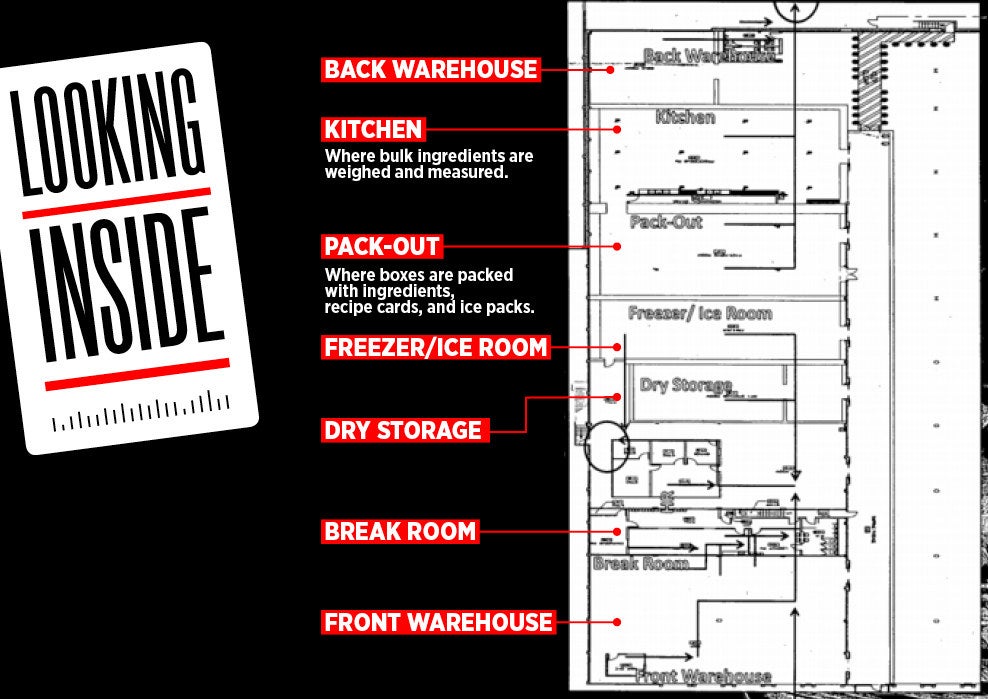 By the time Childs left Blue Apron in August 2015, she said, the number of boxes being shipped per week had shot up to 34,000. "Everything that goes in the box had to be prepped 34,000 times." When the prepping and packing was done — sometimes with the help of automated sealing and bagging equipment — shipping associates would palletize the boxes and load them onto trucks.

Flexibility and convenience are central to the Blue Apron pitch: Boxes can be canceled or modified up to about a week before the delivery day. That's a boon for the customer, but it makes sourcing difficult, especially for a company mission-driven to reduce waste. With hundreds of thousands of people expecting dinner to be delivered on time, there's little margin for error. "There were plenty of times where the kitchen would say we had 2,000 celery, but we actually had zero," one former team lead told BuzzFeed News. "So we'd run around like chickens with our heads cut off looking for celery."
Purchasers described scrambling to find more of a certain ingredient when supply was unexpectedly low.
"I would get sent to Whole Foods and buy things if we really needed an ingredient and we didn't have it in the building," said the former team lead. Blue Apron told BuzzFeed News that while during early days it sourced some of its product from local stores, the company's shipments have been too large to make grocery store shopping feasible "for years now."
Still, two years later, former employees recall a hectic pace. "One day in pack-out could be worse than an entire Black Friday at Best Buy, as far as stress goes," the team lead added. Another said it wasn't uncommon to see someone quit on their first day.
"It was crazy. You felt like you were running all the time. Your hair's on fire and you can't keep up," said Custer.
"There were plenty of times where the kitchen would say we had 2,000 celery, but we actually had zero. So we'd run around like chickens with our heads cut off looking for celery."
As the company raced to keep up with demand, the hiring process wasn't as stringent as it should have been, according to two former employees. "An email would go out asking managers to help interview people. When they first started, most of management and supervisors would show up," said the former team lead. "But later, it would just turn into one person in HR. It's hard to interview 30 people when you're two people in a short period of time. It's not enough time to interview people appropriately. Anyone can look like a good employee for 30 or 45 minutes putting beans in a bag."
Blue Apron came to rely on temporary hourly employees, hired through various local staffing agencies, who could be called in as needed to build boxes or move pallets on busy days. Though permanent employees are required to undergo background checks, the company said it allowed the staffing agencies to vet temp workers independently, and admitted that it "experienced challenges with several temporary staffing agencies whose workers did not meet our performance standards and that sometimes provided workers who did not always abide by our policies and procedures or share our values."
Blue Apron said it continues to "rely on temporary workers from time to time as business needs arise." One staffing agency used by Blue Apron didn't immediately respond to request for comment; two others declined to participate in this story.
During this time, employees reported working 12-hour days, sometimes even longer. One recalled fielding phone calls as late as 2 a.m. about missing shipments. "I was usually there five or six days a week," said Driskell. "I was scheduled for nine hours, but I would usually go on to 10-, 11-, or 12-hour shifts, depending on what we had to get done." (Hourly Blue Apron employees receive overtime pay, in keeping with California law.)
"It's a pretty aggressive work environment," said Reifschneider. "There are high expectations as far as performance."
In 2014, the company instituted a points-based discipline system. "Clock in a minute late, that's two points," said Rita Childs, then a pack-out associate. "After four points, you got suspended, and after that, one more point for any reason, you got fired." Childs said she was suspended for a day without pay as a result of this system. (The system has been discontinued.)
"Blue Apron has learned from the operational challenges during its early days in Richmond, is proud of the culture, processes, and workplace that exist there today, as well as throughout the country, and is always working to improve its workplace environment for all of its employees," the company's statement to BuzzFeed News read.
Part of that learning process, according to a review of public documents, included repeated encounters with California's workplace safety regulators.

On April 6, 2015, Toiya Adams, who had been working as a warehouse associate for seven months, was crossing the yard on a forklift carrying a broken metal table when the machine she was operating rolled on its side, pinning her left leg between the floor and the broken side mirror of the forklift.

Adams was taken to the hospital, where she was told she had "sustained a deep laceration on the lower left leg, split left ankle and pressured heel," according to Cal/OSHA reports. (BuzzFeed News was unable to reach Adams.)
Blue Apron's initial report claimed that the "primary cause" of the accident was "speeding/reckless driving," not workplace hazards. Health and safety inspectors disagreed. To start, they found a depression in the cement yard that Blue Apron had failed to repair, and which video footage confirmed had been a contributing factor in Adams' accident. Notes from the inspection also say that the tires on the forklift were bald and worn out.
But the bigger problem was that Adams wasn't certified to use the forklift in question: She'd been trained on other warehouse equipment, but not this one. If she had been properly trained, she might not have been carrying an unbalanced load above eye level — two factors that contributed to her fall, according to inspectors. Cal/OSHA initially proposed $13,050 in penalties for Blue Apron for violations the agency said could have resulted in head trauma or even death. (Two of the violations associated with the accident initially classified as "serious" were later downgraded after Blue Apron appealed and provided new evidence to the appeals board.)
"Blue Apron trains our employees in an effort to prevent workplace accidents from occurring," the company wrote in a statement. "However, like any workplace, injuries do occur from time to time."
For all its outward simplicity, Blue Apron's business model is predicated on a hugely complicated feat of precision logistics, executed at enormous volume.
Four months after Adams' forklift accident, prompted by an anonymous complaint, health and safety inspectors returned to the facility. This time, they interviewed around half a dozen workers, asking questions about asbestos in the building, a limited number of bathrooms, and crowded hallways shared by humans and heavy machinery. They also noted icy floors in the freezer, among other things. On the same late-August day that the police were summoned twice to its facility, the inspector met with Blue Apron to go over her findings; penalties were ultimately proposed for nine additional violations, including failing to install an eyewash station near a battery charger, a "serious" oversight Cal/OSHA said could have resulted in "death, blindness, chemical burns, thermal burns, and lacerations." The eight other violations included improper storage of cleaning supplies, which could have resulted in "chemical burns, respiratory illness, mucous membrane burns or corneal injuries," and shoddy wiring, which could have caused electric shock. The proposed penalties from Cal/OSHA totaled $11,695.

In a statement to BuzzFeed News, Blue Apron said it appealed some of these violations and the case has "yet to be fully resolved."
Blue Apron isn't the only food processing facility in Richmond, nor is it the only meal-kit business bringing the on-demand model and venture-backed expectations to warehouses and food processing plants. But it is the only major player with such a history of health and safety problems. HelloFresh, which is one of Blue Apron's biggest competitors, opened a 100,000-square-foot facility in Richmond in 2015. That facility, which currently has a staff of over 250, has so far received zero citations from Cal/OSHA (although an inspection at the company's call center in New Jersey did lead to $4,420 in penalties following an appeal). Neither have Blue Apron's other, smaller neighbors, including the Delmonte Fresh warehouse that neighbors Blue Apron's facility, the nearby Grace Baking facility, the Richmond Wholesale Meat warehouse, and the Costco Wholesale facility, which in 2014-2015 had slightly more employees than Blue Apron. Safeway Bread, which abuts Blue Apron's facility, does have some violations on its record dating to 2012, but fewer than Blue Apron. Blue Apron's other competitors in the meal-box space — Chef'd, Plated, Purple Carrot, and the like — are smaller and slower-growing, but none have a workplace accident in the federal government's database. Only one other leading meal-kit delivery service — Gobble, which promises a meal in 10 minutes — has had a food processing facility cited for workplace safety violations.
"In the few instances when OSHA has visited our Richmond facility, as they do with thousands of other workplaces each year," Blue Apron wrote in a statement, "they identified routine improvements for us to make, all of which were welcomed and promptly addressed."
Just a few weeks after Cal/OSHA officially issued fines to Blue Apron in December 2015, a routine health inspection by the Contra Costa County Environmental Health Division resulted, according to its website and confirmed by Director of Environmental Health Marilyn Underwood, in nine health violations, including one "major violation" regarding the sanitization of food surfaces. Facilities with one major violation can still pass their inspections. Blue Apron, which disputes the classification of these violations, states that it "has passed every single health inspection it has ever had, in every single facility."
And on September 16 of this year, a new complaint regarding Blue Apron's Richmond warehouse was filed with Cal/OSHA.

Blue Apron workers also faced harm — threatened and in some cases actual — from one another.

Since it opened, the Richmond facility has received threats of bombs or explosives at least four times. Once, it was a handwritten letter in the bathroom. On the 4th of July, it was graffiti — "Bombs 4 Forth July" — also found in the bathroom. The facility was evacuated twice, but no evidence of real danger was ever found.
In the parking lot, where employees said workers would sneak pot and alcohol during breaks, fights would break out. In May 2015, a Blue Apron HR worker called the police and reported that, following an argument in the parking lot between two female employees, one threatened to come back with a gun and, per the call log, "shoot the place up." Half an hour later, the Richmond Police Department received another call regarding Blue Apron, this time about a woman who yanked her co-worker's arm so hard she sprained it, according to a police call log.
"It made an impression
on me: I could get assaulted
at my job."
In July 2015, a female employee called the police because a 24-year-old co-worker who was also her boyfriend started choking and hitting her, because she "wasn't talking to him at work." According to the incident report, the police dispatcher could "hear her yelling at someone to let her go." The man was later arrested. In February of that year, yet another man who worked at Blue Apron was accused of attacking a woman he worked with there. According to the police report, he "punched the victim several times in the head and bit her finger."
And then there was that day in August 2015 when a temp was arrested for groping a female co-worker. One kitchen associate told BuzzFeed News that the incident made her "want to get a new job as soon as possible."
"It made an impression on me," she said. "I could get assaulted at my job."

Richmond, an industrial city perched at the northeastern edge of the San Francisco Bay, is a popular site for warehouses and production facilities thanks to its relatively cheap industrial real estate, access to ports and highways, and large blue-collar workforce. It is also an easy drive from California's vast Central Valley, where more than a quarter of the nation's food is grown. But it is also, as Richmond Police Captain Louie Tirona put it, "a challenged town" with a "fairly high crime rate" and a history of gang violence.

Glenn Lovely, as well as others who spoke with BuzzFeed News, said that these tensions contributed to the sometimes violent atmosphere in the warehouse and parking lot. "You got people from Richmond and Oakland who are already feuding on the streets because of the drug war, and then you got gang members from this gang and gang members from Oakland and Richmond, and they meet, and they're working together," he said. "It's going to be a problem."
Police agreed with that assessment. Both Captain Tirona and Captain Manjit Sappal toured Blue Apron's facility on separate visits to discuss security. "Whatever dynamics you see in the city itself are going to manifest themselves into another environment when you bring people together that don't always get along or have other problems in their lives," said Sappal, who is now chief of police in nearby Martinez. "It's probably a dynamic Blue Apron didn't create, they just have to find a mechanism of dealing with it. That's their responsibility."
Richmond police officers said that in its effort to staff up locally — a commendable commitment to a disadvantaged community — Blue Apron ended up hiring some ex-cons, parolees, and gang members. (Blue Apron noted in its statement that it does not "purposefully" hire employees with criminal records.) But not all Richmond employers that hire from the same population have the same problems, Sappal told BuzzFeed News.
"I think that if you've got people in the management ranks that understand the community and people and potential problems, I think they might be in a better position to de-escalate things," said Sappal, adding that Blue Apron's crime problem could have been headed off more quickly if the company had "gotten some help from managers or supervisors that were local, that could explain some of the history behind the city, and different parts of the community that may not get along."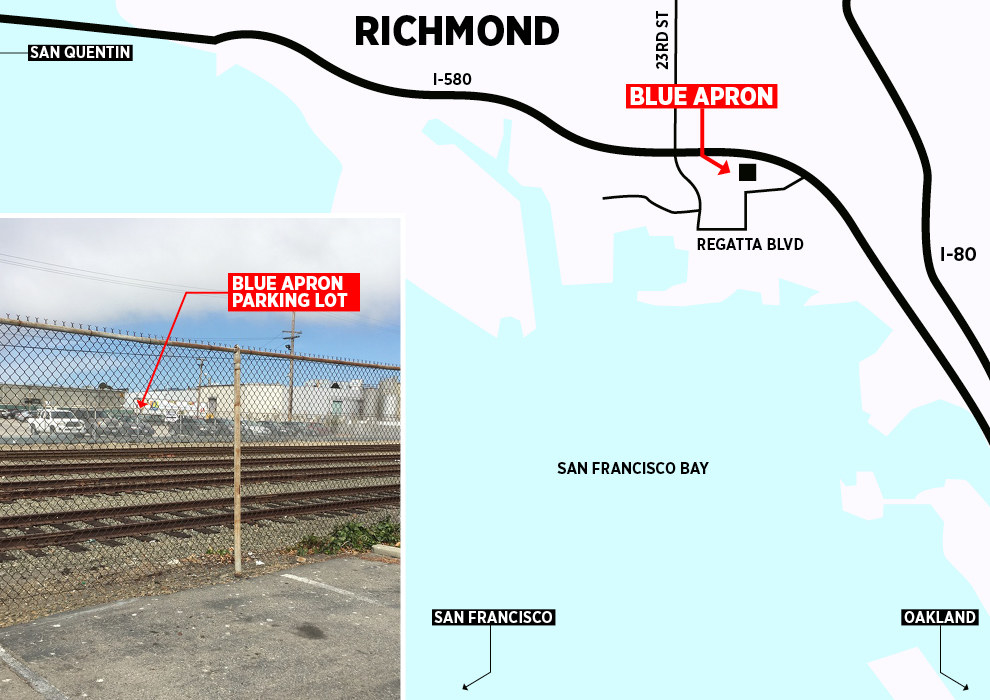 Before they opened a food processing facility there, Blue Apron's three co-founders were new to Richmond, though Wadiak had spent time cooking at a farm-to-table Italian bistro in nearby Oakland. Between them, they have experience in high-end cooking, software engineering, and business, but none with warehouse security or large-scale logistics. Wadiak, the company's chief operating officer, has worked with celebrated Bay Area chef Paul Bertolli and attended the Culinary Institute of America; he also owns a Pilates studio in lower Manhattan. A 2015 Forbes cover story described him as the company's "culinary guru."
"He's a chef by training. I think he probably struggled a little bit with understanding the fulfillment and manufacturing world," said Reifschneider. "There was probably some tough times as far as his leadership style with the company."
Driskell was more blunt. "He didn't really know how to run a warehouse," he said, describing Wadiak as "a kitchen Nazi type of dude" who "yelled a lot."
"He's a good cook and chef," Driskell continued, "but he had no business running the ground game of the business."
In interviews, half a dozen other former employees supported this characterization. Wadiak declined repeated requests to be interviewed for this article.
"I don't know if there's a business in Richmond that has a similar dynamic, where they've come in and hired a ton of people," Sappal said. "The trick is picking up on … red flags before they happen," he continued. "I don't think your average CEO and middle-level manager is looking at that. They're looking at production, quotas, profits. They're looking at employees on the assembly line, and getting things done … At the end of the day, if you're looking at it from an entirely business perspective, and not looking at the dynamics in the relationship between people, you're going to miss some things."
Blue Apron maintains that it has "proactively built a relationship with the Richmond Police Department" and that the two "frequently collaborate on issues of security and safety in the Richmond community." Eventually, Blue Apron hired a more comprehensive security outfit to patrol the parking lot. Following break-ins, and the complaints of women who were afraid to walk there alone, the parking lot got a surveillance system. Metal detectors were put at the entrances of the building.
"It's probably a dynamic Blue Apron didn't create, they just have to find a mechanism of dealing with it. That's their responsibility."
Reifschneider oversaw many of these updates, including the enclosure of a parking lot and the requirement of employee badges to enter both the lot and the building. "I wasn't super familiar with Richmond when I got there," he said. "I was a little surprised, once I realized where I was working, that there wasn't more in place."
And as trying as August 26, 2015, was, it may have been a turning point for Blue Apron. "That one day in August was kind of a boiling point in terms of employees feeling that their safety was at risk," said Tirona. "That's why ... meeting with them was a priority."
As a result, in October, Reifschneider hired a safety manager for the facility and pushed the company to slow hiring. Blue Apron said it did slow growth and "closed many shipping days to new customers, cut its marketing budget, turned off its referral program, and altered many of its email marketing programs designed to drive customer orders until appropriate staffing was able to be put in place."
The Richmond Police Department told BuzzFeed News that, in recent months, Blue Apron's police call rate has decreased and security has improved. But police logs show the problem hasn't completely gone away — since May 2016, the Richmond Police Department has received more than a dozen calls from Blue Apron, including three about theft (one regarding a stolen motor vehicle), one about burglary, one about threats, and one about weapons.

When Rita Childs landed a job at Blue Apron in May 2014, she was hopeful. She'd worked in warehouses before, but she had reason to believe this wasn't an average warehouse job: Here was a venture-backed, well-hyped startup promising to reinvent the food system and treat its workers with respect. In its pitch to prospective employees, the company had advertised the opportunity to "learn and grow in a fast-paced startup" and "become something amazing," a promise illustrated by a seedling labeled "associate" growing into a sprout labeled "team specialist," which would in turn blossom into a plant labeled "management."

She quit about 16 months later. She told BuzzFeed News her promised $1 raise had turned out to be only a quarter. To bring home a decent paycheck, Childs often worked overtime — 12-hour shifts, six days a week. At the time, she and her three children were sharing a house with her sister. "I couldn't afford to live on my own — not even in Richmond — off the wages that they paid," she said.
When Childs walked into management's offices in Richmond and told them she was leaving, she didn't have another job lined up. "I told them I'd rather take my chances than be here," she said. "When I say it was my worst employment experience, it really was — and I'm 40."
"They're just trying to crank out as much work as possible by any means," she said. "Cranking out more and more boxes was all they cared about."

Childs now works at a grocery delivery startup. Every day, she drives roughly 20 miles to work in San Francisco. The commute isn't too bad, though — at 4 a.m., she says, there's very little traffic. Within her first six months, she said, she was promoted to operations supervisor; a few months after that, she was promoted again, this time to management.●
If you have information or tips, you can contact this reporter over an encrypted chat service such as Telegram, Signal, or WhatsApp, at 732-735-1269. You can also send an encrypted email to caroline.odonovan@buzzfeed.com using the PGP key found here.