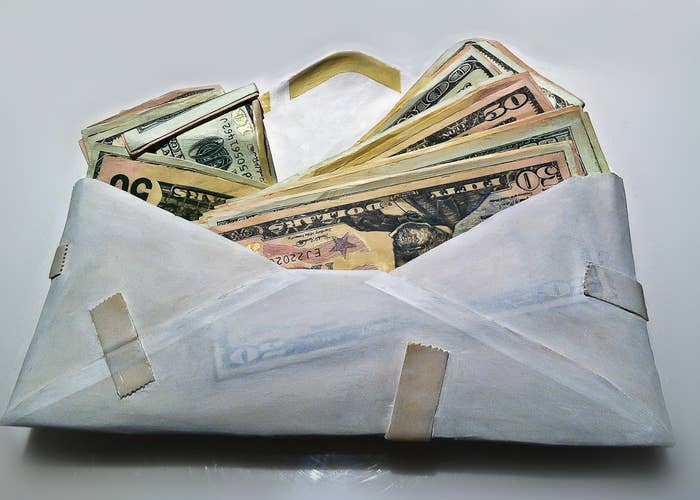 Phillip Ranglin started driving for Lyft because he wanted to be in control. He had just graduated from a PhD program in microbiology, and was facing student loans while also trying to launch his own business, Ranglin Biofeedstocks. "I wanted to have a way to get to independence without saying, 'Hey, let me borrow a lump sum' from my parents," he told BuzzFeed News.
So he bought a new car — he couldn't get approved on Lyft or Uber with his old one — and started driving. To avoid turning on the air conditioning, he works mostly at night, when it's not so hot in Atlanta. Ranglin, being from Jamaica, is used to warm weather, but his customers aren't, and he hates to waste the biofuel he manufactures himself each week on cooling down the car. "I know how much effort and time it took," he said.
Ranglin hoped that by working for ride-hail companies, the new car would pay for itself, and he was mostly right. But balancing loan payments, car payments, and a fledgling business at once wasn't easy. Between paychecks, which came once a week, "these little incidentals would come up," said Ranglin — and he wasn't always sure how he would pay for them. He did a Google search for payday loans but was turned off by the exorbitant interest rates. Then he saw a Facebook ad for Activehours.
Activehours is an app that helps employees get paid before payday. Hourly workers can send in a timecard, and Activehours will make a deposit in their account of up to $100 a day based on hours worked. When payday rolls around, Activehours automatically debits the account for the same amount. There are no fees and Activehours charges no interest; the company is fueled entirely by tips — which, yes, is somewhat counterintuitive, given that the user base is entirely made up of people struggling to make ends meet.
The goal, according to founder Ram Palaniappan, is simply to bring flexibility to the lives of those whose financial freedom is circumscribed by low wages, lots of debt, or unexpected costs like healthcare or remittances. And as of today, the company is able to offer that service to over 2 million workers from 4,000 retail, service, and hospitality companies and government offices, via new software integrations with three major timesheet companies.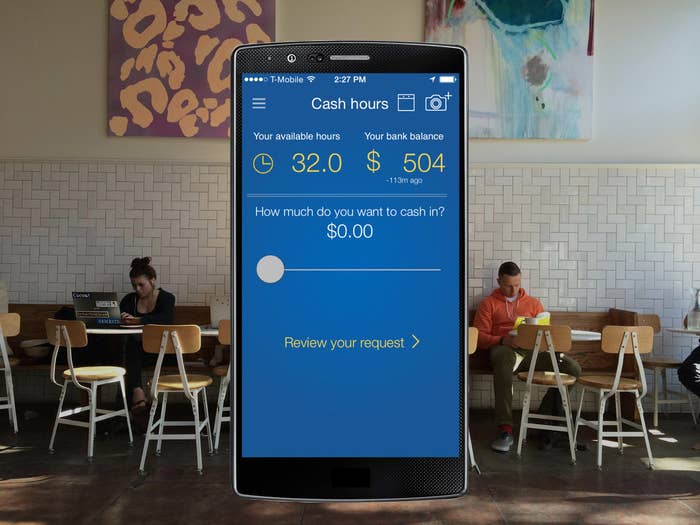 The American workforce is increasingly moving toward greater independence for workers, but, as Democratic presidential candidate Hillary Clinton recently mentioned, these flexible jobs of the future sometimes look more like an abdication of employers' responsibility to protect their employees. Payday on-demand companies, however, buck that trend, giving not just Uber drivers but hourly workers of all stripes — including Walmart, Target, and Starbucks employees — immediate access to the money they've earned, but not received. After all, trading small increments of time and effort for small increments of money — as ride-hail drivers, TaskRabbits, even Airbnb hosts, do — might make more sense if the people doing it didn't have to wait a week to get paid. (Although, for now, workers can only use Activehours with one company at a time.)
Which is why Activehours, one of few companies that leverages on-demand technology exclusively for the good of workers, seems almost too good to be true. And with a business model that runs entirely on tips, maybe it is.
Palaniappan had no intention of founding a payroll app. He was president of Rushcard, a prepaid debit card company, when realized that some of his employees were missing days of work because they couldn't afford the gas it took to drive into the office. So he set up a website through which they could get paid in advance. It wasn't until he left that company and the workers offered to pay him to keep the site going, Palaniappan told BuzzFeed News, that he realized he had a viable product on his hands.
While the idea of a cashier or salesperson getting paid for a shift the same day she works it sounds novel, Activehours isn't entirely alone in trying to disrupt payday. Last week, Square introduced a new payroll feature that has the potential to streamline the payment process for thousands of small businesses. Meanwhile, ZenPayroll, which promises "delightful, modern payroll" has raised more than $80 million in the last four years. Homebase is yet another San Francisco startup tackling payroll for local businesses. Meanwhile, larger companies and national brands tend to rely in industry veterans like ADP and Intuit which, given their command of the market, have relatively little incentive for innovation.
Activehours provides an add-on service to existing payroll companies and therefore isn't a direct competitor. But the more timesheet companies it adds to its roster (which currently includes TSheets, WebPunchClock, Brink Software, When I Work, and, as of today, Deputy, Nimble Schedule, and Processing Point Inc.) and the more workers it helps, the more Palaniappan's argument that the payroll industry is woefully backward is borne out.
A year ago, Activehours raised its first seed round to the tune of $4 million. But Palaniappan says, for him, the company is less about making money and more about making a point. Just because wage workers have to wait for payday, he argues, doesn't mean their bills do — which often means overdrafted bank accounts. The average overdraft fee in the U.S., according to Palaniappan, is $35, for a grand total of $32 billion a year. "We spend more on overdraft fees than on vegetables in this country," he said.
Compared to that expense, or to paying interest on a loan, tipping a few dollars per transaction in exchange for fast cash seems reasonable. For now, Palaniappan has no plans to change that model. But the reality of any platform is that, once a critical mass of users are on board, the rules are subject to change at any time. Though it seems unlikely, it's always possible that Activehours could introduce fees or other revenue streams to the system, especially if the tip rate decreases after the initial excitement wears off. For now, though, the company's investors seem satisfied by the growth of the user base.
"I think it's important to be able to come up with a product that people will use and find indispensable to their livelihood," said Aydin Senkut of Felicis Ventures, which participated in Activehours' seed round. "That's a lot more important than initial monetization." Another investor, Meyer Malka of Ribbit Capital, said he could see the business model evolving in a number of ways, including adding on additional features to the product, or getting employers to pay to offer it to their employees directly.
In practice, Activehours is really just a band-aid on a much gnarlier issue — low wages and rising inequality in the U.S. It doesn't change how much money you have, just when you get to have it. For some people, getting paid upfront might be even riskier than having to wait.
That said, the app has a real potential to empower workers. If the fair scheduling controversy among retail workers has proven anything, it's that stability is essential to the satisfaction and happiness of any workforce. ActiveHours affords employees more control over their personal finances which, from a morale standpoint, can be hugely important.
Even Ranglin, the Uber and Lyft driver with his own business and a PhD in microbiology, described just being able to pay his bills with a note of pride. "Knowing the money was on its way meant I could pay it on time and not worry about those awkward, embarrassing conversations," he said.