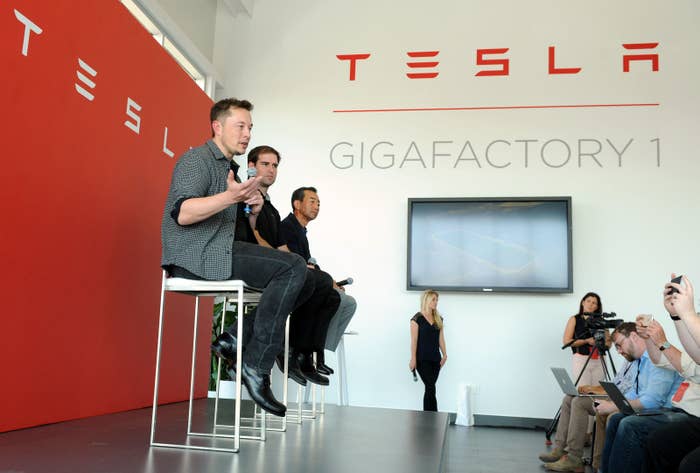 A former Tesla employee is alleging that Tesla failed to disclose an ongoing investigation by the Drug Enforcement Administration (DEA) into possible drug trafficking at its Sparks, Nevada, battery factory to the Securities and Exchange Commission (SEC). But the DEA said it wouldn't have notified Tesla of any such investigation.
"The DEA does not notify non-law enforcement entities of ongoing or pending investigations," a spokesperson said in a statement released Thursday afternoon.
The former Tesla employee, Karl Hansen, wrote a complaint to the SEC on Aug. 9, according to Jalopnik, which Hansen's lawyer made public Thursday. In it, Hansen, who worked in security for Tesla, alleges that the company was aware of an ongoing investigation into criminal drug trafficking at the factory, but failed to disclose that information to the SEC. As such, Hansen claims Tesla violated the US Securities Act of 1933. Hansen is seeking protection as a whistleblower.
Tesla, which is currently being investigated by the SEC, provided BuzzFeed News with the following comment.
"Mr. Hansen's allegations were taken very seriously when he brought them forward. Some of his claims are outright false. Others could not be corroborated, so we suggested additional investigative steps to try and validate the information he had received second-hand from a single anonymous source. Because we wanted to be sure we got this right, we made numerous attempts to engage further with Mr. Hansen to understand more about what he was claiming and the work that he did in reaching his conclusions. He rejected each of those attempts, and to date has refused to speak with the company further. It seems strange that Mr. Hansen would claim that he is concerned about something happening within the company, but then refuse to engage with the company to discuss the information that he believes he has."
In his complaint, Hansen, who was fired from Tesla in July, alleges that the company received a notification from the DEA and officials in Storey County, Nevada, (where Tesla's Gigafactory is located) regarding an employee involved in "a narcotics trafficking ring involving the sale of significant quantities of cocaine and possibly crystal methamphetamine at the Gigafactory on behalf of a Mexican drug cartel from Sonora, Mexico."
Storey County Sheriff Gerald Antinoro could not confirm or deny the existence of an ongoing investigation of drug activity connected to Tesla's Gigafactory and said his office had no record of ever having ever been contacted by Hansen.
In addition to a drug trafficking investigation, Hansen also alleges that Tesla was aware of but failed to report "thefts of copper and other raw materials from Tesla's Gigafactory valued at over $37 million dollars," the fact that it was illegally wiretapping its employees, and the hiring of former Uber employees who were under investigation by the US Attorney's Office in San Francisco as recently as December 2017.
The SEC reportedly subpoenaed Tesla earlier this week regarding CEO Elon Musk's tweet about taking the company private in order to manipulate the stock price. Tesla's board members are allegedly concerned about the billionaire's erratic behavior.
Hansen's lawyer, Stuart Meissner, also represents Martin Tripp, a former Tesla employee also claiming to be a whistleblower intent on uncovering Tesla's unsafe and unsustainable practices regarding management of scrap metal. Musk accused Tripp of being a saboteur and filed a lawsuit against him.
UPDATE
This story now includes a statement from the Storey County Sheriff's Office.