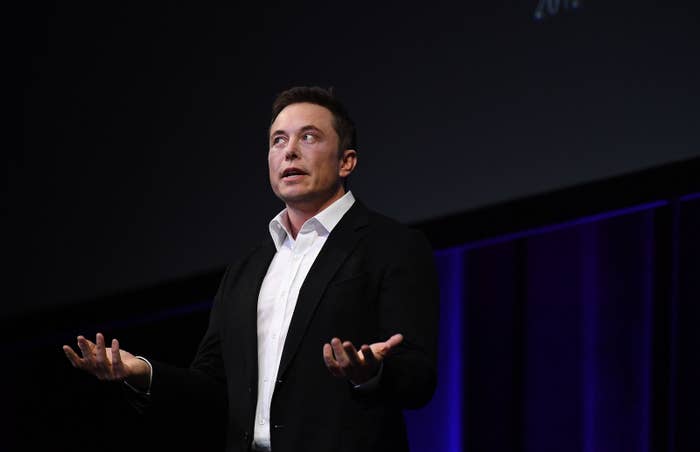 Tesla's lawyers wanted to keep CEO Elon Musk's name out of the courtroom as they defended the company on Monday at a National Labor Relations Board hearing in Oakland. Though Musk has made controversial statements about the ongoing union drive at Tesla's Fremont car factory, the company's legal team said references to Musk, who is not directly named in the NLRB's complaint, are distracting.
The NLRB filed a complaint against Tesla in August 2017 after some of the company's employees and the United Automobile Workers union alleged the electric car company was illegally intimidating workers to discourage them from attempting to unionize.
During Monday's hearing, Tesla's general counsel Mark Ross asked for a "standing objection" to "any mention of Mr. Musk," but the judge denied his request.
Musk has historically had a lot to say about the union drive at Tesla. In May, he tweeted that unionization is a losing proposition for Tesla employees. And back in February 2017, he wrote employees an email in which he expressed similar sentiments and promised to give factory workers free frozen yogurt.
Last week, Rep. Keith Ellison wrote Musk a letter warning him about possible labor law violations and encouraging him to proceed with caution.

But in court, it became clear that Tesla's legal team wants to separate Musk's statements from the allegations against the company.
Dmitri Iglitzin, a union lawyer in Seattle, described Tesla's attorney's tactic as "bizarre."
"He's trying to protect Elon Musk's brand," Iglitzin said. "The fact that the company wants to say that Elon has nothing to do with [its] labor relations is preposterous."
Workers seeking representation by UAW allege that Tesla has committed numerous violations of the National Labor Relations Act, including surveillance, coercive behavior, and wrongful termination of employees seeking to discuss working conditions and to share information about the union drive with colleagues.
Tesla has categorically denied these allegations. A spokesperson for Tesla didn't reply to multiple requests for comment regarding today's hearing.
During Monday's hearing, an attorney with the NLRB alleged that Tesla had unlawfully terminated at least one employee for his involvement in the union organizing drive, and given another employee, Jose Moran, a written warning because of his involvement with the union.
The NLRB also alleged that Tesla security guards repeatedly harassed employees handing out pro-union leaflets in the Tesla parking lot.
Ross said he plans to prove those claims are nothing more than allegations. "This entire trial is an infomercial and effort to place Mr. Musk and the company in a negative light," he said. "[When] you hear the evidence you will understand what happened."
Tesla is currently being investigated by California's Occupational Safety and Health Administration, and a report from investigative news nonprofit Reveal in April alleged the company artificially lowered its worker injury rate by concealing some injuries. Employees who've worked at the factory say poor safety practices have led to repetitive stress injuries, and recently, workers have reported fires in the factory and other safety issues.
During Monday's hearing, news broke of a lawsuit filed by a former Tesla employee; in this lawsuit, the former Tesla health and safety executive claims he was fired after sharing his concerns about improper safety practices at the Fremont factory. Tesla told news outlet Jalopnik the executive was fired following complaints about his workplace behavior, including inappropriate comments about women.
The company, which is currently struggling to meet production goals for the Model 3 and under investigation by the National Highway Traffic Safety Administration, has denied it has a safety problem.
If Tesla loses its case with the NLRB, it could be forced to reinstate wrongfully terminated employees and pay them for lost wages, to rescind any disciplinary action taken against employees involved in the unionization efforts, and/or to post a notice about the outcome of the hearing inside its factories.
Tesla's NLRB hearing will continue for the rest of the week, after which it will resume in late September. No resolution is expected until October 2018.
Related links: