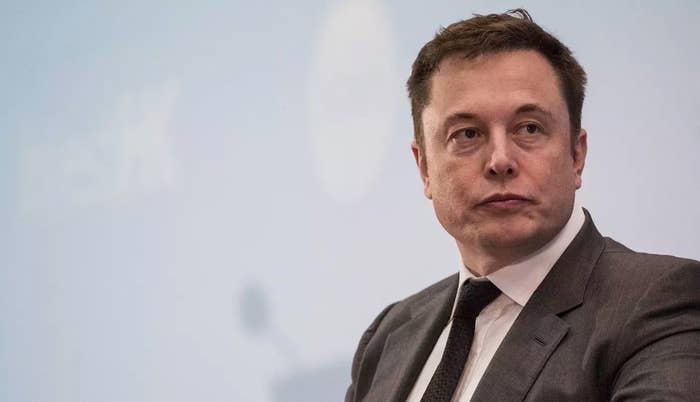 Just a few days after Tesla CEO Elon Musk said he's feeling optimistic about his ability to speed up production on the company's vehicles, the assembly line for the Model 3 in the company's Fremont, California, plant has been temporarily shut down — again.
The announcement of the four- to five-day production pause for the Model 3 came without warning, according to Tesla employees who spoke with BuzzFeed News. During the pause, workers are expected to use vacation days or stay home without pay; a small number of workers may be offered paid work elsewhere in the factory.
A Tesla spokesperson said that the assembly line is on pause in order to "improve automation."
"Humans are underrated," Musk tweeted April 13.
Tesla previously shut down the Model 3 line in late February, according to Bloomberg. At the time, Tesla said the February pause was ultimately meant to increase output, and that such pauses are "common in production ramps like this." Tesla provided BuzzFeed News with an identical statement regarding this month's pause.

Not long after the February pause, Bloomberg reported that Tesla factory workers received an email from Senior Vice President of Engineering Doug Field, asking some of them to work extra hours on the Model 3 line in order to increase output and make the Tesla's detractors ("haters") "regret ever betting against us."
Meanwhile, Tesla workers who work on the Model S and X lines have been informed by the company that those lines will be operating throughout all weekends in June, a current Tesla employee told BuzzFeed News. Other Tesla workers made similar comments on a pro-union Facebook page for Tesla employees.
Workers are paid for the extra hours, and Tesla says they volunteer for overtime shifts, but some workers say the weekend shifts are mandatory. Tesla did not respond to questions about the June schedule or mandatory overtime.
The Information reported in April that Musk was taking over responsibilities on the Model 3 line for Field, who remains with the company.
Over the last six months, Tesla's inability to meet its production goals has become a mounting problem for the company. The most recent miss came at the end of the first quarter of 2018; Musk had said the company would be manufacturing 2,500 cars a week by that date, but it was making only 2,000 per week by April 1. Now, just two weeks later, production is once again on hold.
Tesla's current goal is to manufacture 5,000 cars per week by the end of the second quarter; 5,000 per week had initially been its year-end goal for 2017.
These production problems — as well as some lackluster reviews of the new Tesla model and alleged problems with its Autopilot technology — could put Tesla in a cash crunch, CNN (and others) have reported. Musk recently responded to such speculation with an April Fools' joke in which he pretended the business, which employs more than 30,000 people, had in fact gone out of business, and that he was wandering Palo Alto drinking a fake product called Teslaquilla.
Tesla's struggle to hit ambitious production goals has been a priority for years, at times above issues like worker safety, according to workers. Tesla has denied these claims and says its factory is getting safer, though a recent investigation by the Center for Investigative Reporting suggests the company's evidence of improvement may be inaccurate. Musk himself has referred to the factory during high-stress periods as "production hell" and told CBS's Gayle King that the last few months have been "incredibly difficult and painful."