FREMONT, CALIFORNIA — Terrill Johnson was installing car trunks at Tesla's factory in Fremont, California, when he heard the sound that would define his next few years, if not the rest of his life. "It was a big, loud pop," he said. In one movement, Johnson had blown out his elbow and his shoulder. "Once the pop came, the pain came."
That was September 2015. Johnson went on leave for his injury, but on workers' compensation he earned considerably less than the roughly $1,700 he had earned every two weeks while on the job. Now, two surgeries and more than two years later, he's still waiting for his workers' compensation case to be resolved, and trying to make ends meet in one of the country's most expensive metropolitan areas with just the earnings from his workers' comp check plus Social Security disability payments from the state. He can't work out or play sports, and when he walks around, he keeps his injured hand in his pocket because otherwise it swings around and causes him pain.
"I can't even lift no more than 10 pounds with my left arm, and I'm left-handed," he told BuzzFeed News. "It took a lot from me. The arm is not going to ever get back to where it was, never." He said he doesn't know how he'll make a living in the five years before Social Security kicks in.
Tesla is the largest and highest-profile electric car company in the world. It's a $57 billion business built on a message of innovation, ambition, and social good. Its cars, the Model 3, Model S, and Model X, retail for between $35,000 and $79,500, and confer on their buyers not just financial status, but also a certain eco-futurist sheen. Tesla's founder, Elon Musk, is as famous for wanting to colonize Mars as he is for his ambitious production schedule and boundless idealism. Stenciled over the entrance to the company's Fremont factory are these words: "Our mission: to accelerate the world's transition to sustainable energy."
But while Tesla may eventually reinvent the automobile, it hasn't yet reinvented automobile manufacturing. Here in Fremont, at the only nonunion US-owned automotive plant in the country, the people who labored to build the future of transportation have done so by working long hours with lower-than-industry-average pay, according to workers, and higher-than-industry average risk of injury according to a prolabor nonprofit.
In the last year, amid a union drive and a string of negative allegations about its working conditions, Tesla has raised starting hourly rates by $2; today, it says, its production line workers are paid better than any other US autoworkers, and its injury rate is roughly equal to the national average.
"Car companies have historically built cars by relying heavily on physical activity that inevitably results in some amount of injuries. We strongly believe that this does not need to be the case."
But 15 people who worked in Tesla's factory within the last five years describe it as a backbreaking job that placed workers under tremendous pressure to produce — a result of the company's ambitious production targets — that they say led, in some cases, to lifelong injuries. Between 2012 and early 2017, 180 Tesla employees applied for compensation for partially or permanently disabling injuries, according to a database obtained via a public records request by BuzzFeed News from the California Department of Industrial Relations (DIR). In interviews, several of these injured employees described doing repetitive tasks with little opportunity to rotate positions — in violation of Tesla's own stated policy, as well as industry norms. Most of these workers were making around $17 an hour before they were injured; several said they ended up losing their homes afterward, unable to pay their rent.
"You expect Tesla to be the company that's futuristic," said Angelo Aroche, who worked at Tesla from October 2016 to October 2017. "They're talking about, they want to save the world. But they're not even worried about their employees' health." When Aroche started at Tesla, coworkers told him there wouldn't be the same rules, training, and safety expectations as at other workplaces: "I brushed it off. I thought, It can't be that bad — this is Tesla. Come to find out, everything they warned me about was true."
In a statement, a Tesla spokesperson said its employees go through a state-of-the-art, multiday training program. The spokesperson also told BuzzFeed News, "Nothing is more important to us than the safety of our employees. Car companies have historically built cars by relying heavily on physical activity that inevitably results in some amount of injuries. We strongly believe that this does not need to be the case, and we are trying to create a new way of manufacturing that will have as close to zero injuries as humanly possible. ... Our employees work very hard to help achieve a mission that all of us feel so deeply about, and they absolutely must be kept safe."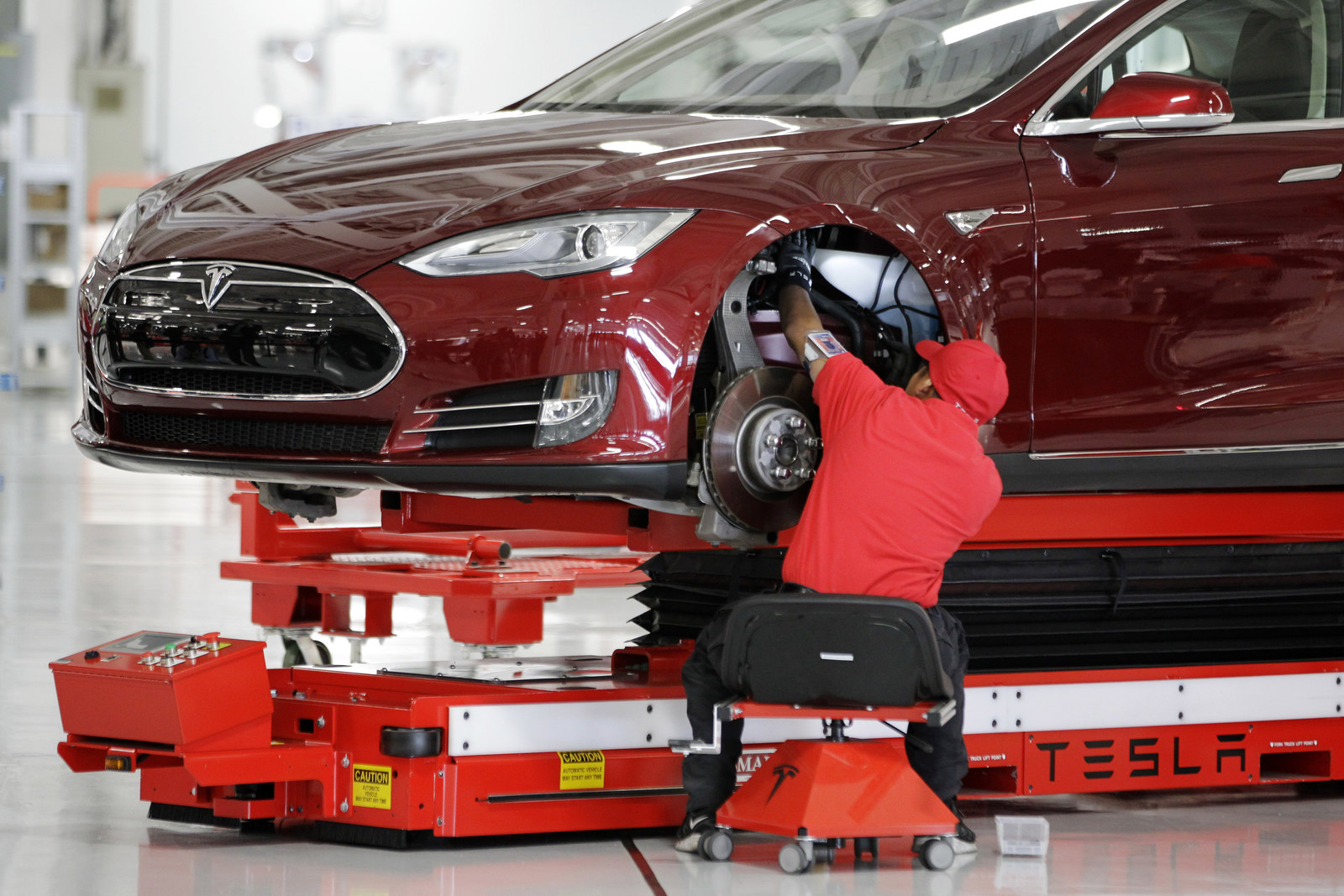 Tesla emphasized that it has policies in place aimed at keeping production workers safe. But several former employees say the company didn't always follow them.
In the year he worked there, Johnson said, Tesla consistently failed to follow its own environmental health and safety guidelines, which state that workers should rotate tasks several times a day — a manufacturing industry standard practice because it can help prevent ergonomic injuries.
"Understand this: I would never have gotten hurt if they would have rotated me like they said, every two hours in an 8- or 10-hour day," he told BuzzFeed News in June 2017. "That was their rule, every two hours, and I was never rotated."
"Understand this: I would never have gotten hurt if they would have rotated me like they said, every two hours in an 8- or 10-hour day."
According to the DIR's publicly searchable database of California workers' compensation court cases, Johnson filed an application for workers' compensation adjudication in April 2016. He told BuzzFeed News he's still waiting on the outcome of his case. (In a statement, Tesla said its "goal is the same as Mr. Johnson's — and the same as all employees who file workers' compensation claims. We want them to heal and be able to go back to work and earn a living.")
Four other people who worked at Tesla from 2012 to 2015 said their job positions on the assembly line weren't rotated. One of them, Rita Leija, told BuzzFeed News she "begged" her manager to rotate her after she started feeling shocks of pain in her right elbow. Previous employers had been happy to rotate her, she said, but her supervisor at Tesla refused to.
Johnson said Tesla even had a meeting about rotating workers more frequently when he worked there. "Elon, he was there," he said. "He made the speech. So I don't understand why I'm forgotten. I guess he don't too much care. The only thing I think he care about is getting them cars out."
In a January interview with BuzzFeed News, Tesla's vice president of environmental health and safety, Laurie Shelby — whose role was created in October 2017 — said company policy is to rotate workers every 150 minutes. The company is currently developing an automated system for rotating workers, set to roll out mid-2018, and members of its safety committee currently started auditing rotation schedules twice a week in mid-2017.
But, Shelby admitted, "we're not perfect. We're definitely working to improve in that area."
After Leija hurt her elbow, she said, she was advised to ice it by the medical professionals Tesla sent her to; when that didn't work, they suggested a warm compress, and when that didn't work, they suggested an MRI. She kept working on light duty while the doctors tried to figure out what was wrong with her, but her assignment — spot wiping cars with alcohol pads — caused her pain. "I complained to HR and other supervisors," she said. "It was like talking to a wall." She would eventually undergo four surgeries, for tendonitis in both elbows and rotator cuff tears in her shoulders.
Shelby said the company is currently hiring a medical director, and looking to increase on-site staffing of a medical doctor from three days a week to seven. The in-house clinic is currently open 24/7, staffed by a nurse practitioner or registered nurse, she said.
As is required by law, Tesla covers the medical cost of injuries incurred at work, and in some cases, its workers' compensation insurer pays a settlement to injured workers who apply for adjudication in workers' compensation court. This is a no-fault settlement, meaning the award of a settlement does not constitute wrongdoing on the part of the employer or the employee. But for many workers, the damage — physical and financial — is lifelong.
Alvin Mckinstry said that he was making $17 an hour before he left Tesla with tendonitis and a ganglion cyst. "That's peanuts considering the type of work you're doing. And then you get hurt and… Psh, you know, it's not worth it."
Tesla's factory is located in one of the most expensive housing markets in the country, where a family of four making less than $80,400 a year is considered low-income by the federal government, and where the living wage for a single adult is $16.48, per the Massachusetts Institute of Technology living wage calculator.
Tesla told BuzzFeed News it raised its starting wage by a dollar, to $19 an hour, in January. It had previously raised its starting wage, from $17 to $18, in March 2017, a month after a former employee published a blog post highlighting Tesla's pay, which he called "near the lowest in the automotive industry." Tesla said it evaluates whether its wages are fair and competitive every six months, and that it had "provided across-the-board raises for production associates twice in the past year alone (and three times over the past two years)."
Four workers who told BuzzFeed News they started at $17 per hour said they received no raises during their time at Tesla. Union workers at GM, Fiat Chrysler, and Ford start at $17 an hour, but their contracts include language promising raises every year.
Because Tesla also gives all workers equity in the company, the company says "production employees at Tesla earn more in compensation than anywhere else in the automotive industry." Tesla's hiring package for all employees includes an equity grant, which vests over a four-year period, with the first portion of the grant becoming available after one year. Employees don't have to buy these shares, though they do have to pay taxes on them; they also have the option to buy additional stock at a discount.
"Forget the stock. Give me an hourly rate."
"Unlike any other automotive company, every single Tesla employee is an owner of the company, receiving equity that has increased in value more than 10 times since 2012 and almost 20 times since our IPO in 2010," the company wrote in a statement. "Where else could a production employee in the automotive industry receive company stock on top of their hourly pay and other benefits, and where else could that stock multiply in value like it has at Tesla? Nowhere."
But for employees working overtime to support their families, the long-term value of Tesla stock, which doesn't pay for food or clothes or rent, doesn't seem immediately relevant.
Ruben, a worker who asked to be identified by his first name, said when he was hired, he was granted 250 shares of Tesla stock, portions of which he sold when he could.
"It's money, but it's not like you can reach in your pocket and use this shit when you need it. If you want to buy a soda, you can't reach in your stock and buy it with that," he said. "Let's say you wanted to wait to get the whole lump sum, that's four years. I don't think the average worker lasts four years at Tesla."
"Forget the stock," said Johnson. "Give me an hourly rate."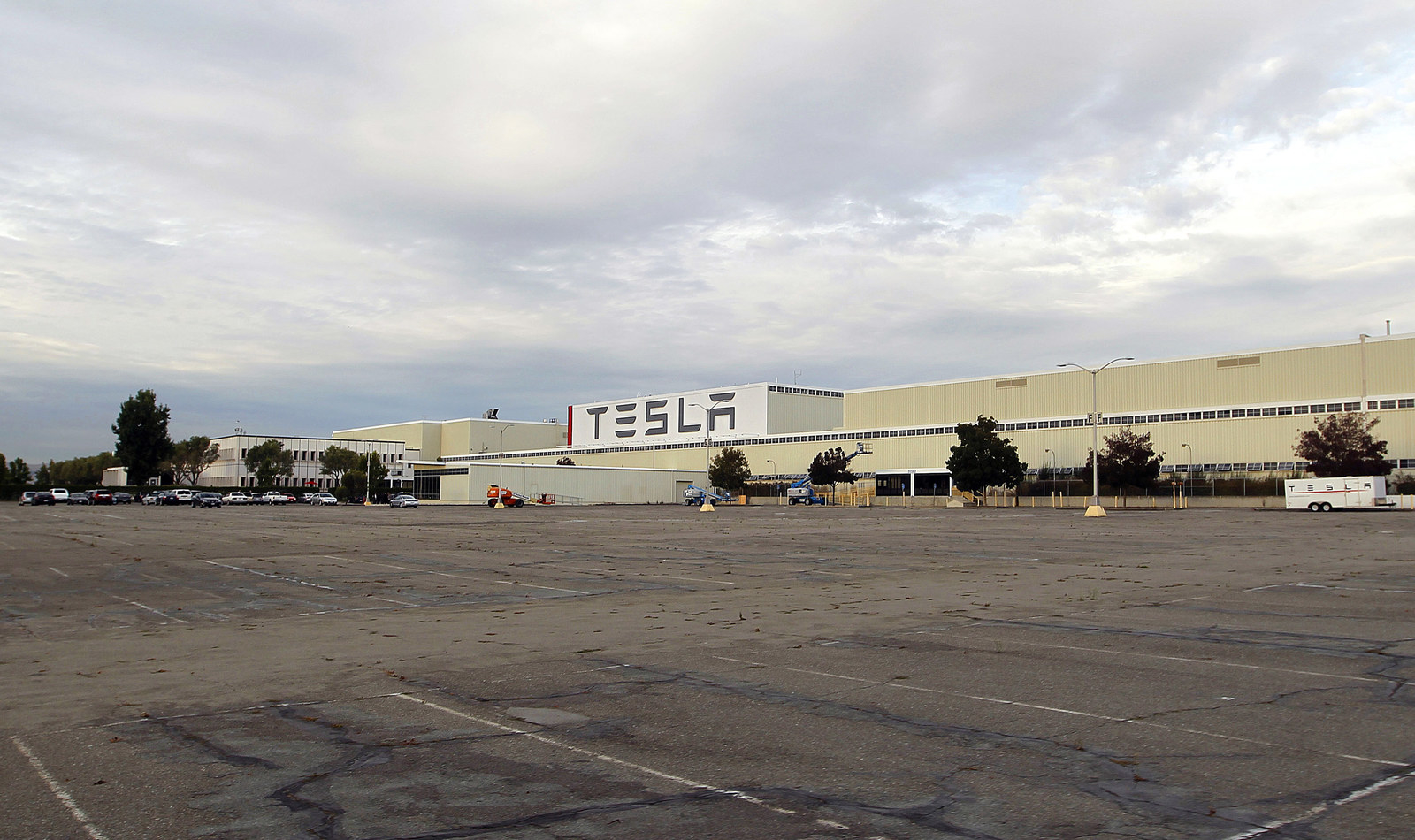 Tesla is the only car manufacturer in California, and comparable workers' compensation data from auto manufacturing states isn't available, which means it's not possible to compare the number of compensation claims at Tesla to those at other auto factories. But using occupational safety data, a prolabor organization called Worksafe published a report last May that found that in 2015, the rate of serious injury — meaning those that "result in days away from work, restricted duty, or job transfer" — at Tesla was more than double the national industry average, while the overall injury rate at Tesla was 31% higher.
Today, Tesla says it expects its injury rate for 2017 to be equal to the national average, and says its serious injury rate is below the national average. It also notes that as injuries have decreased, production has increased.
"These people are like human forklifts."
Hiring Shelby was part of a factory-wide effort to improve ergonomics, which also included modifications to the general assembly line and the implementation of robots. For example, Tesla installed a pit next to the assembly line that workers can stand in, allowing them to install parts on the lower regions of a car without bending over.
"We've been the first to acknowledge that when we first launched Model S and Model X years ago, our cars were not easy to build," Tesla said in a statement. "While we are not perfect, our goal is to be the safest factory in the world and the implication that we don't care about our people is not right and clearly contradicted by the facts."
But a current employee of the Fremont factory, who requested anonymity to avoid jeopardizing his job, said swaths of the factory still aren't ergonomically refitted, and that he regularly sees fellow employees nursing injuries.
"These people," he said, "are like human forklifts."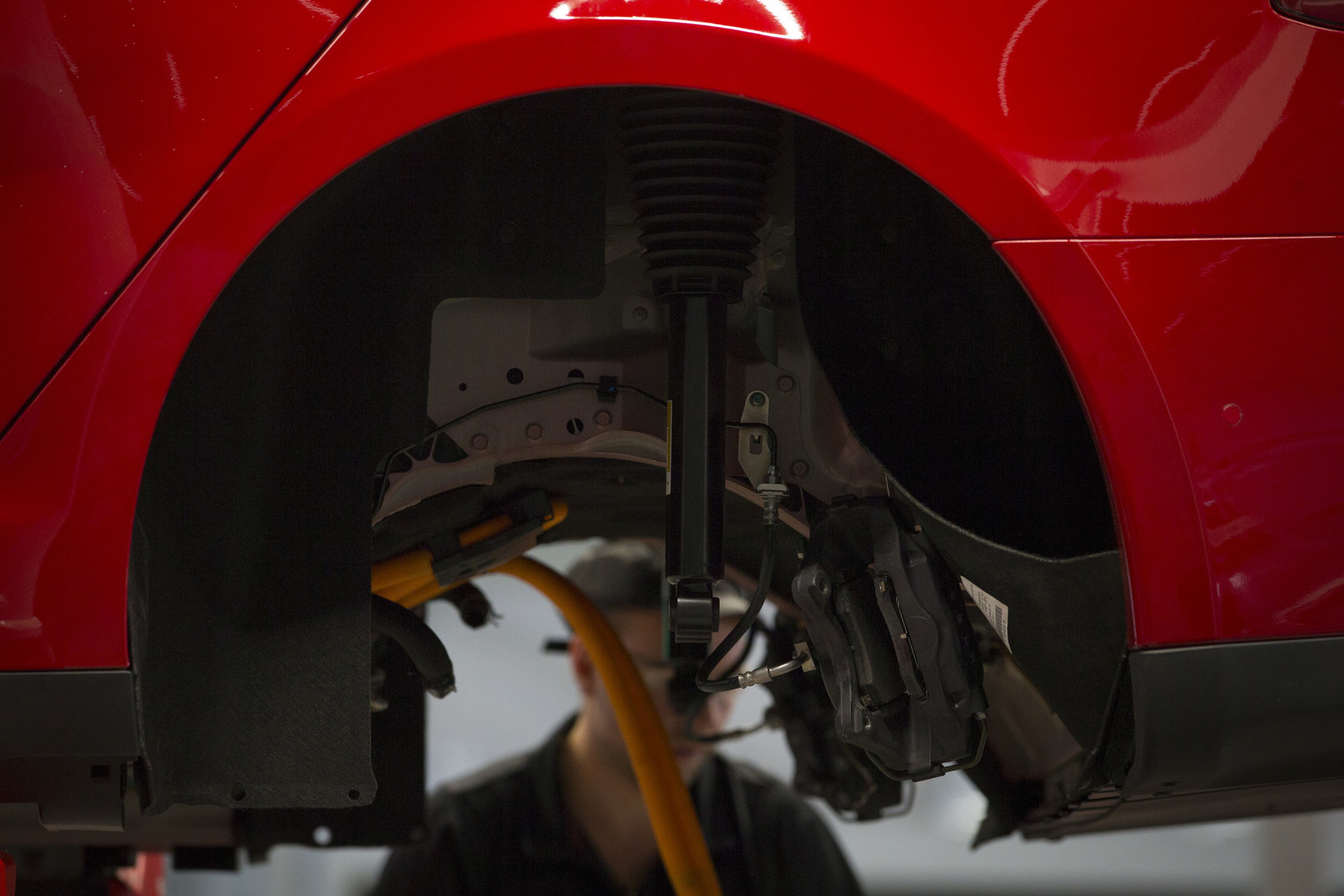 Ergonomic injuries aren't the only risk workers face. In May, the Guardian reported that "ambulances have been called more than 100 times since 2014 for workers experiencing fainting spells, dizziness, seizures, abnormal breathing and chest pains." In August, workers alleged that improper chemical training had led to "rashes, dizziness, nosebleeds and, in one case, eye damage."
Since opening in Fremont in 2010, Tesla's factory has been inspected by California's Division of Occupational Safety and Health (Cal/OSHA) 17 times; the most recent publicly available report came after an April 2017 incident in which an employee's leg was caught between a vehicle and a dolly. Cal/OSHA found three health and safety violations, for which Tesla was fined $2,250. The company was cited for one accident in 2016, and four in 2015, including one $5,000 fine for failing to report that a worker was hospitalized after a wooden pallet fell on her, trapping her against her workstation.
Tesla said it has learned from past incidents and changed its processes, and continues to work with OSHA on outstanding complaints.
"His eyes were closed. He had bleeding from the mouth and his nose. His arms were burned. His vest was melted. There was a puddle of blood under his head."
In December 2014, OSHA was called in following a particularly gruesome accident. According to publicly available documents prepared by state health and safety inspectors, a Tesla technician named Paul Lewis had been instructed to dust an electrical panel. Lewis's supervisor warned the team at lunch that the power to the panel would be turned back on, after having been off that morning, but in the noise of the break area, Lewis and his colleagues didn't hear the warning. When Lewis's feather duster touched the powered bars inside the electrical panel, it exploded, creating an arc flash that knocked him off his feet.
"He was on his back," a witness told Cal/OSHA during an investigation prompted by the accident. "His eyes were closed. He had bleeding from the mouth and his nose. His arms were burned. His vest was melted. There was a puddle of blood under his head."
Witnesses said when Lewis regained consciousness, he didn't know his own name. Tesla was ultimately charged with four serious violations for failing, among other things, to ensure "that only qualified electrical worker[s]" worked on the panels, and failing to provide adequate training and instructions. Ultimately, Tesla was required to pay $40,400 in fines to Cal/OSHA. Lewis filed an application to workers' compensation court in February 2015, which, according to a state database, still hasn't been resolved. In the meantime, he's still working for Tesla. (The company says he's an important part of the team, and that it has since corrected the issues that led to his accident.)
In Lewis's case, the serious injury resulted from Tesla's failure to adequately train workers and provide instructions, according to health and safety regulators. But in interviews with BuzzFeed News, employees attributed other accidents to long hours and overwork. "I had a lot of close calls getting injured because of fatigue," said Aroche. "When you get tired and you get fatigued and they're mandating you to work a lot of hours. … One of the main reasons I left was we weren't getting help from human resources." (Tesla said it has no record of Aroche contacting human resources.)
In 2016, Tesla added a third shift and changed schedules in an effort to make the pace of work "sustainable," according to a note to staff at the time from Musk. Shelby stressed that, while 12-hour days are not abnormal in industrial work settings, "12 hours would be the top shift. No one should ever be working over that."
Workers told BuzzFeed News conditions tend to get worse when the company is racing to meet a production deadline — as it is now, with the new Model 3, the company's most affordable product. In 2016, Musk estimated that Tesla could produce between 100,000 and 200,000 Model 3 cars by the end of 2017. By that deadline, the factory had produced only 1,770 cars. In January 2018, Musk said Tesla's current goal is to be producing 2,500 cars per week by March, down from a goal of 5,000 per week set just two months prior. But employees working in Tesla's Nevada battery factory told CNBC that, given challenges at the plant there, delays are unlikely to be resolved.
(Tesla denied that challenges at its battery factory will delay production further.)

"Our production is going up and our injuries are going down. That's a good thing."
A current Tesla employee who requested anonymity told BuzzFeed News back in September that workers on the Model 3 line have already been put on 12-hour shifts. "Even though they aren't doing any kind of volume, they want these people doing 12 hours a day."
In a statement, Tesla said workers on the Model 3 line work an average of 38.5 hours per week, though some do work 12-hour shifts, and are trained on a simulation in virtual reality. The Model 3 itself, the company said, was designed with the ergonomic health of assembly and repair workers in mind.
"You see people sleeping in the hallway. They sleep in the car, or on the floor. … They sleep in the bathrooms. It's a mess," said Aroche, who left the company in October 2017. "It's more hectic. The whole building is congested. The managers have come under real pressure to produce."
Another former employee also said he saw workers sleeping in the factory.
Tesla denies that employees sleep anywhere inside the factory other than break rooms, and Shelby said Tesla does not prioritize production over safety. "Our production is going up and our injuries are going down. That's a good thing."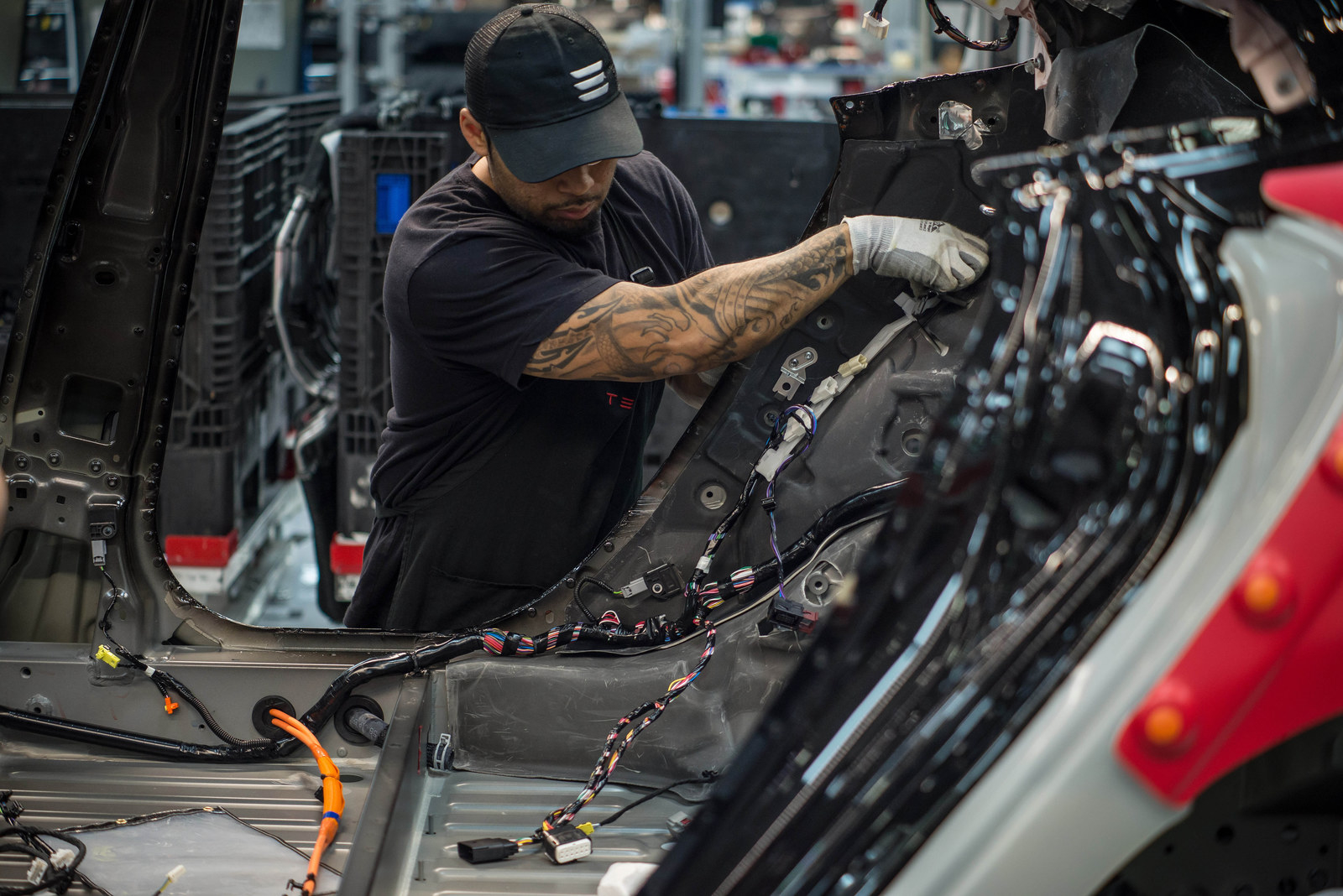 In the southeast San Francisco Bay Area — a sprawling, ethnically diverse, low- to middle-class area across the Bay from Silicon Valley's spotless office parks — a job at Tesla is often seen as a golden ticket. It's a way for people who don't have a technical background or a college degree — people who work in warehouses, or at restaurants, or in construction — to find a job in tech, and a path to a career and a living wage.
"I thought that was going to be the last job I ever had," said Ruben. But after he blew out his back, he said, "I feel like I got cheated [out of] what I thought I deserved. A better wage. A longer future there."
"In the orientation, they made it sound like you were working for Willy Wonka, and everything was going to be magically easy and simple and the future," said Mark Vasquez, who sustained a permanent back injury while working on the line at Tesla in 2015. "But once you got a little further, and started seeing how things were run… They would cut corners."
In March 2015, Vasquez was unloading parts at the end of a 12-hour shift when he dropped to his knees in pain. A vertebra in Vasquez's back was sitting on a nerve. After a six-month injury leave, Vasquez returned to work, where he was placed on "light duty" in the laundry department, folding uniforms and safety equipment, and where his pay and hours were cut, from 12-hour shifts at $17.50 an hour to eight-hour shifts at $10 an hour.
"I had to move back home," said Vasquez, who was 38 at the time. "I had to sell stuff to make ends meet — my television, my bed, my dresser drawers." For about a month, he says, he lived out of his car.
"I had to move. My rent was $1,600 a month. I moved in with my auntie — I moved in with family. I'm a grown-ass man with kids. I felt very bad about that situation."
When an injured worker can no longer perform their job function, they're either assigned to light duty or put on temporary disability, and workers' compensation covers a portion of their pay. In some cases, an employee files a claim in workers' compensation court.
If that court finds that the injury is work-related, the worker and employer may sign what's called a compromise and release agreement. The worker — who receives a lump-sum settlement in an amount determined by the court based on their injuries — may agree to resign their position, or not to sue their employer in civil court over their injuries, or to file a later workers' compensation claim for the same injuries. The worker will potentially use some of these funds to pay their lawyer, if they hired one, or to repay the state for any advances they received on their settlement during this often years-long process.
Today, Vasquez is back on leave, collecting a workers' comp check he says is too small to cover the cost of an apartment, and waiting for the resolution of his application for adjudication in workers' comp court, which was filed in July 2016, according to the state's database.
Just taking a shower is difficult for him now; so is walking for more than 20 minutes, even with a cane. He started seeing a therapist. "I have depression being like this, not knowing what my future is going to be, either my home life or my work life. How I'm going to support myself. I don't know how I'm going to do it. Finding another job is going to be very hard in the field that I know.
"Once this case settles, I don't know what I'm going to do."
Dewayne Jones went on leave after hurting his neck in a forklift accident. "This is California," he told BuzzFeed News. "I had to move. My rent was $1,600 a month. I moved in with my auntie — I moved in with family. I'm a grown-ass man with kids. I felt very bad about that situation."
Starting Jan. 1, Tesla changed its policy for workers returning after an injury. Employees will now earn the same wage they were originally paid, whether they're back at their old job, on light duty, or even volunteering in the community. In addition, Tesla also now allows injured workers to work overtime with special permission from their doctor. "We're very pleased that we're going to make this move. Because you don't want to put more stress. You want people to be able to pay rent and not fill out all that extra paperwork," Shelby said.
Shelby also said workers' compensation covers both the cost of mental health care and retraining for employees whose injuries prevent them from returning to work at Tesla.
Like Vasquez, Leija also gets depressed when she thinks about what she lost while working at Tesla. "I feel bummed out," she said. "It messed up my life. There's a lot of things I can't do that I used to do."
Some of those things are personal: blow-drying her hair for a date night, keeping her house clean. But she's also had trouble finding work that doesn't exacerbate her injury. In 2017, she finally signed a compromise and release, receiving a cash settlement that amounted to $28,865 after paying her lawyer $8,625 and repaying the $20,000 in workers' compensation advances she'd received over the years.
"I'm not the same like I was," she said. "I'm getting older. I'm very, very limited. And that's where I get depressed. I'm learning to live with it."
Tesla sells cars, but its business is the sleek, green future of transportation. The company's CEO builds rockets, once planned to power the entire island of Puerto Rico with his solar panels, and hopes to connect global cities with a series of high-speed, underground pneumatic tubes.
But in Fremont, his company faces some rather terrestrial, 20th-century problems. A string of executives left the company earlier this year. The Model 3 is still far behind schedule, which has led to shareholder lawsuits and some financial dips. When it rains, the factory's roof leaks, according to several employees: The floor becomes slippery and wet, and robots have to be wrapped in plastic. Multiple workers have filed lawsuits alleging gender and racial discrimination inside the factory. And in February 2017, Tesla factory worker Jose Moran published an op-ed lambasting his employer over issues like safety, hours, and pay, and asking his coworkers to consider joining the United Auto Workers. Those involved in the unionization campaign say Tesla has fought the union at every step, and in August, the National Labor Relations Board filed a complaint against Tesla, meaning it found reason to continue investigating claims that the company "has been interfering with, restraining and coercing employees in the exercise of their rights." Some of those who support the union drive were among the hundreds of factory workers Tesla fired without warning this fall, citing performance issues.
Tesla denied the allegations at the time; an NLRB hearing on the issue is supposed to be scheduled soon. The company also said it has repaired 90% of the factory roof since acquiring the building in 2010, and that a triage team is available to address leaks as needed; it added that employee complaints about roof leaks are infrequent.
Of course, Tesla is working hard on a solution that could mitigate its production issues: robots. The Fremont factory was always supposed to be almost fully automated, and, as Musk's Instagram account attests, there are more robots coming online at the plant every day. In November, Tesla acquired a manufacturing automation startup.
Shelby, Tesla's environmental health and safety VP, said in many cases robots are being deployed to make workers safer. But even if the goal isn't to replace the factory workers, the more automated the factory becomes, the fewer workers Tesla needs to meet its production goals — and the less Tesla needs the factory workers, the less leverage those workers will have.
"I didn't go to fucking college. My dad told me hard work would pay on its own. You know what I learned from Tesla? Hard work doesn't pay off."
One former Tesla employee who lost some functionality in her hands after five years in the factory received a workers' compensation settlement in December. As is common practice in workers' compensation cases, the agreement included a requirement that she resign her position. She has since relocated to Florida, and told BuzzFeed News that a robot is now doing the job she used to do.
Tesla says automation isn't replacing workers; in fact, the number of factory workers has only increased since the factory has become more automated. But Tesla also acknowledged that the labor hours required per vehicle has decreased. Because of the robots, it doesn't need as many people as it once would have to make as many cars as it does today.
If Tesla is successful in its mission — if it scales up Model 3 production soon, succeeds in building out a state-of-the-art, human-robot hybrid factory, manages to mass-produce cars that the average American can afford and use without consuming fossil fuels and pumping out planet-destroying emissions — it's a net win for humanity. But the people doing the repetitive and painful job that is building the automotive industry's future — the workers who hurt their backs or arms, wrists or knees, who can no longer do the work they were once capable of, or live their lives as they did before — say they will always remember that the shared goal of a greener future came with a cost.
If you have information or tips, you can contact this reporter over an encrypted chat service such as Telegram, Signal, or WhatsApp, at 732-735-1269. More information about how to contact BuzzFeed News securely at Tips.BuzzFeed.com

"I didn't go to fucking college," said Ruben. "My dad told me hard work would pay on its own. You know what I learned from Tesla? Hard work doesn't pay off."
"Tesla's everyone's sweetheart," he continued. "And I believe what they're doing is positive. We've got to go green and all that other bullshit. I believe what they're doing is cool. But it's how they're going about it that's wrong. People's lives are expendable to them. 'Oh, this guy's back is fucked up? Give him a couple thousand and shut him up, and let's get another dumbass in here.'" ●