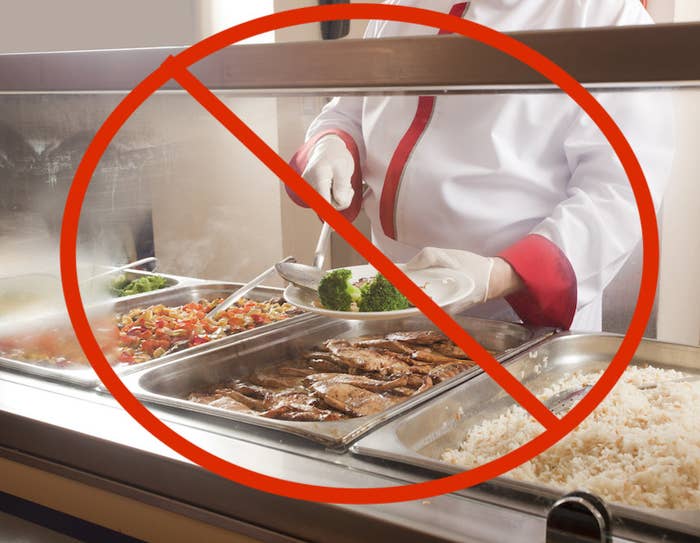 A proposed ban on corporate cafeterias in San Francisco — which follows similar legislation in nearby Mountain View, California, where Google's headquarters is located — could have unintended consequences for workers who say they rely on the low cost and convenience of employer-subsidized meals.

The purpose of the legislation is to force tech workers — whose jobs infamously come with office perks like free beer, games, and food — to leave their offices during the lunch hour and patronize local businesses. But while leaders in the restaurant industry said the proposed regulation would boost their sales, the backlash elsewhere was swift.
"I think the unintended costs are all going in the direction of hurting workers rather than helping them, whether they're in the food sector or the tech sector," said University of California, Berkeley, urban economics professor Enrico Moretti.
Big tech companies often employ large numbers of contract workers to fill lower-skilled positions, like cafeteria workers and bus drivers. But under public pressure, some firms have increasingly been offering these workers benefits and higher pay. Corporate cafeteria jobs are also more likely to be full-time, unionized positions than those in the service sector; the cafeteria ban would reduce the number of such jobs.
Cafeteria jobs are an opportunity for workers who aren't trained in computer programming to directly reap some of the economic benefits of the tech boom, an opportunity they wouldn't have as a short-order cook or cashier at the local lunch spot.
"If we're talking about wages, working conditions, and benefits, I think it's likely to make things worse for workers," said Moretti of the proposed cafeteria ban. "The fraction of workers in restaurants that are offered benefits and high wages is certainly lower than what the worker would find in the cafeteria of a large company."
At the same time, some tech companies employ low-wage workers, like customer service representatives or content moderators, who rely on free or subsidized meals at work to save money, which they need in a city like San Francisco, where rent is higher than anywhere else in the country and a deli sandwich costs $15.
"I made so little working at yelp that the only food i ate was what i got for free - a majority of that was at the yelp offices," said former Yelp employee Talia Jane on Twitter. Jane was vilified after publishing a blog post in 2016 about the economic stress she experienced while working full time for Yelp. "Food insecurity is real, and free food in lieu of better wages is often the only option," she said on Twitter.
On Twitter, Alex Cohen said his wife (who was unavailable for comment while on vacation) worked as a salesperson for Yelp, where she made around $44,000 a year. Given Bay Area rents, the money was not enough to dine out every day, and Cohen said his wife saw many of her colleagues concocting meals out of free snacks.
"She would just eat quest bars," Cohen told BuzzFeed News over Twitter DM. "But a lot of people were making like pb&j sandwiches and stuff for lunch. Also microwaveable Mac and cheese."
San Francisco's proposed ban is on industrial kitchens — operations with chefs and stove-tops, not glorified break rooms — and so wouldn't impact people who subsist on subsidized snacks. But the law would be a roadblock for employers who want to offer their workers free or subsidized meals.
John, a marketer who came to San Francisco in search of career growth, opposes the ban. Not all professionals in the city can afford to eat out, he said, and some consider free or subsidized meals an important part of their budget. "If you aren't a programmer on a fast track to become an executive, your earning potential is limited and most of your income goes to rent and simple cost of living expenses," he told BuzzFeed News.
Moretti agreed. "There's no question that it can add up," he said. "Imagine spending $10 or $15 for lunch, 20 days a month, for 11 months: That's in the thousands of dollars. So that certainly would represent a wage gap for, say, administrative staff, and the people who are working in the lower part of the wage distribution within the companies."
Though the cafeteria ban is aimed at tech companies, which often frustrate San Franciscans because of the companies' insularity, other industries rely on in-house dining just as much, if not more. Hospitals, schools, utilities, and federal government offices all have cafeterias on-site, as do other large, nontech companies. The law, if passed, would not be retroactive, which would mean that all these facilities could keep their cafeterias, but new buildings and campuses seeking zoning permits for a cafeteria might be denied.
The Golden Gate Restaurant Association is backing the legislation. Gwyneth Borden, the group's executive director, said the regulation isn't meant to target paid cafeterias, like those in hospitals, where anyone can buy food. Rather, she said, it is specifically aimed at free and subsidized cafeterias.
"Restaurants have been hurting, especially during lunch service. There's just no demand," Borden told BuzzFeed News.
Companies like Twitter, Uber, and Square were given generous tax breaks in 2013 to install headquarters in what's known as San Francisco's Mid-Market district, with the expectation that they would drive business in an economically stagnant neighborhood. But Borden said free cafeterias seem to have kept many of those workers inside. "Workers aren't going out to lunch in these areas," she said.
Borden acknowledged that cafeteria jobs can provide better work than restaurant jobs: "Do they pay better and offer better hours? Of course. Restaurants are open nights and weekends; cafeterias are not," she said.
But she argued that very few cafeteria workers work directly for tech firms, saying that of the 51 corporate cafeterias in San Francisco, many are contracted out, mostly to Bon Appetit catering.
The two supervisors who sponsored the bill, Aaron Peskin and Ahsha Safai, held a press conference to announce the bill Tuesday.
"When you locate your business in a vibrant strong local economy you should enhance and want to contribute to that economy," said Safai, according to SF Weekly.
Not everyone immediately thought the ban was a bad idea.
But whether banning companies from building cafeterias will accomplish these goals is unclear. For example, many tech companies (including BuzzFeed) provide food for employees through a catering service or other delivery options. There's an entire ecosystem of companies — Eat Club, Chewse, Zesty — that bring prepared foods right to the office but wouldn't be impacted by the proposed cafeteria ban. Often, these companies use local restaurants as vendors.
"Companies will simply cater lunches instead of prepping meals on-site," said San Francisco tech worker Kyle Grochmal. "Tech companies such as Eat Club will benefit the most from the legislation."
Nearby Mountain View, which is less densely populated than San Francisco and home to more campus-style, large tech offices, recently got an opportunity to enforce its four-year-old ban on free food at work. Facebook, which is opening an office near Google's headquarters, won't be allowed to supply free food in-house for employees, though it is allowed to subsidize the full cost of employees who want to dine out locally.
The cafeteria ban legislation in San Francisco was formally introduced on Tuesday and is expected to be put to a vote in September.