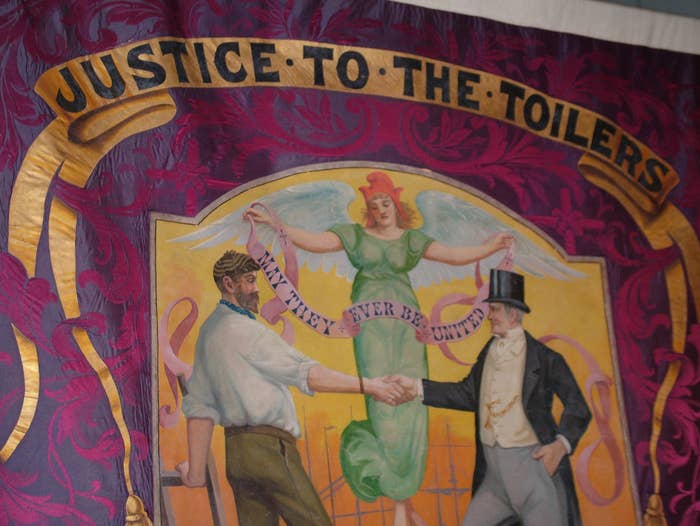 Friday was May 1 — International Workers Day — and to celebrate the occasion, Lauren Voswinkel, a Pittsburgh-based programmer, came up with a hashtag. Intended to start a public conversation around worker's rights and salary inequality in the American labor market, #talkpay encouraged anyone with a job and a salary to post both to Twitter along with the hashtag.
But while the hashtag became a trending topic on Twitter, most of the tweets using the hashtag were simply taking part in the discussion, and did not reveal actual salaries. By searching #talkpay tweets for bits of text that looked like salary information, BuzzFeed News estimates, very roughly, that around 1,950 of the #talkpay tweets contained a number that appears to be a salary figure. (That amounts to 20% of the 9,600 #talkpay tweets BuzzFeed collected through noon Pacific Time on Saturday, May 2.)
Those tweets were sent by around 1,300 individuals, some of whom tweeted their salary information more than once, or multiple salaries over time, or the anonymous salary information of others. Because the data comes from self-reported tweets, there's no way to verify the accuracy of this information.
Voswinkel hoped that mass salary disclosures would "break the taboo surrounding salaries, so that people would become more comfortable with discussing pay and engaging in a collective action." Her goal was to trigger a national movement, and create a venue for solidarity by encouraging white collar workers to join in a dialogue that low-wage workers in the fast-food industry and Fight for Fifteen protesters are already having.
Many #talkpay tweets focused on the awkwardness of disclosing private compensation information, other individuals said they feared the possible consequences of doing so.
There was also broader discussion around issues such as work-life balance, and equal pay for women and minorities.
There were also some people opposed to the broader ideas behind #talkpay.
In her original call to action, Voswinkel acknowledged there are good reasons for workers not to make their salary information public. Though the National Labor Relations Act makes it illegal to terminate an individual for discussing pay, there are plenty of professional and personal risks in doing so. Just because companies are legally prohibited from firing employees for public wage discussions doesn't mean they can't find another way to penalize them.
For Voswinkel, those risks are not theoretical. She has discussed #talkpay with her supervisor, she said, and was advised to distance her employer from the discussion. "There's a voice in the back of my head that says, You could lose your job over this," said Voswinkel. "But that fear solidifies the fact that this needs to happen."
For her, the risk is worth it. Having grown up with a father who as an active member in the Local Number 620 carpenter's union, she was always made aware of the power of collective action. But her father also understands the potential consequences for standing up against employers. "He has said that he is very proud of me," Voswinkel said "but he's also very worried for me."
The best way to protect against that risk, Voswinkel argues, is to achieve a critical mass of people talking openly about compensation. "If enough people get together to break a taboo on pay discussion … individuals aren't usually singled out," Voswinkel said. Build a coalition large enough, and it might be able to withstand any pressure from employers, she argued. The question is whether somewhere around a thousand people tweeting salary information about disparate employers creates such a coalition.
Social media can be a useful tool for amplifying a message, but experts are less certain that it's a useful tool for organizing people, or political action. Michael Bernstein, a professor and computer scientist at Stanford University who has worked on building digital platforms for workers, said that while #talkpay has succeeded in building a community, spurring that community into action will be much harder. "We've found that catalyzing this kind of energy into a focused goal and making progress toward it over a long period of time — that's really hard," he said.
Jen Schradie, a fellow at the Institute for Advanced Study at Toulouse, is similarly skeptical about the practical power of social media as a tool for social change. "Labor organizing, namely a union, is about collective efforts and the importance of actual organizations, not simply a series of social media linked individuals," she said. "While hashtag activism can support an existing, strong, local movement, it can not sustain a prolonged union battle."
But Christina Neumayer, an assistant professor IT University of Copenhagen who studies radical politics and social media, is slightly more optimistic about Twitter as a tool for coalition building, especially across disadvantaged populations such as immigrant workers. "It will be interesting to see whether employees will start new wage negotiations based on the information that went public and whether leaders will live up to their responsibility," she said.
One of the more popular criticisms of the #talkpay hashtag was that the conversation it inspired seemed largely driven by tech industry workers like Voswinkel, who some argue have little to complain about given the high salaries often associated with the profession. Voswinkel said that, while she did expect her audience to skew toward Silicon Valley types, her goal was for the discussion to include workers from a variety of industries. Salaries reported did have considerable range, from minimum wage to over $300,000.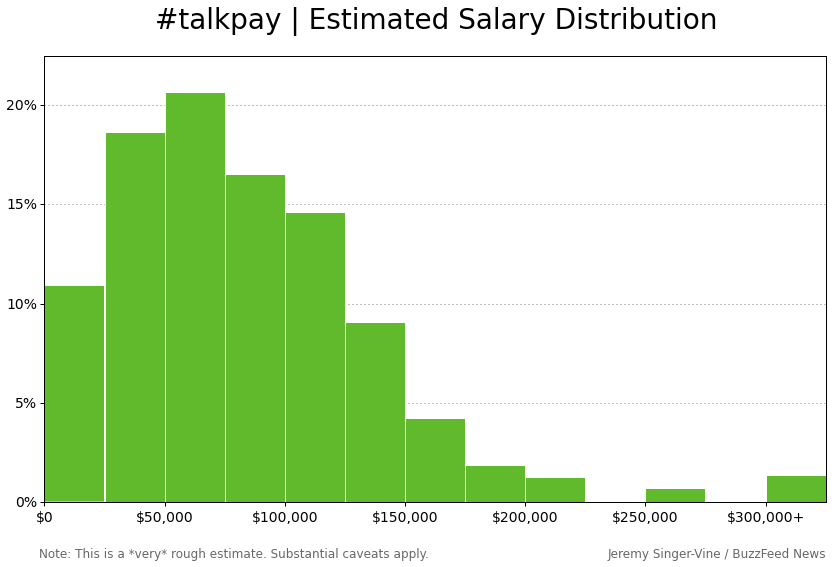 What is clear based on the numbers is that most of the people participating in #talkpay were not low wage earners who might participate in movements such as the Fight for Fifteen or a fast-food strike. But Voswinkel hopes that #talkpay did some of the work of bridging that gap and building solidarity.
"What I was hoping for was having people who aren't actively struggling to make ends meet talking about salaries and pay," she said. "If people who are supposedly well off are openly discussing this and saying they're having issues, that implies that everybody is having issues, and that everybody needs to get a raise," she says.
Considering the media attention it received, and the fact that people are still tweeting about it, #talkpay definitely succeeded in amplifying issues around workers rights and the power dynamics between employer and employee. Voswinkel has helped to shed light on the fear and discomfort around pay discussion and, for some, ripped the Band-Aid right off. But whether or not #talkpay and the 1,300 or so individuals who shared their salaries transcended a social media moment to become a radical political movement isn't at all clear.