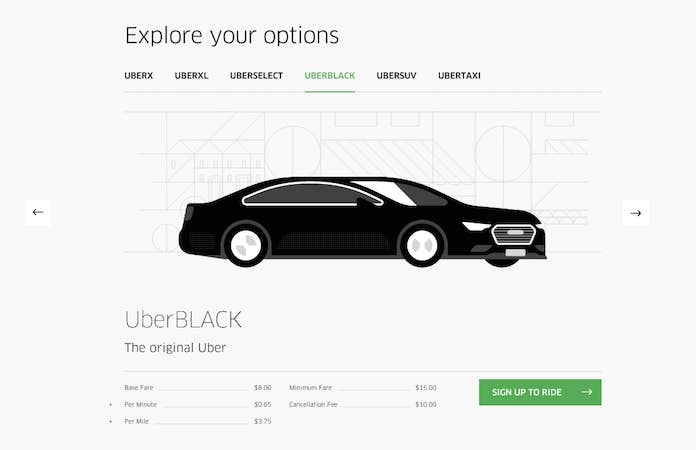 When Uber rolled into L.A. back in 2012, Sam was one of the first drivers to sign up. He'd been a professional driver for over a decade, so signing up with Uber — which at that point was exclusively a black-car service — made sense. For a while, he says, he was doing well driving his 2004 Lincoln Town Car on the platform. "The money was really good," he tells BuzzFeed News.
But things started to change in 2014, when Uber updated its standards for luxury cars and his Town Car didn't make the cut. To keep driving at premium rates, Sam — who, like many drivers quoted in this story, asked to go by his first name only — had to find a new car. At ten years old, the Lincoln had aged out of eligibility for Uber Black. So Sam financed a 2012 BMW 740Li, but when another driver ran a red light, that car was totaled. Insurance covered the accident, but Sam was left without the car he had been investing $1,000 a month in for over a year. Now he pays $700 a week to rent the same vehicle from a limo company in L.A., which he uses to drive for premium Uber platforms Uber Lux and Uber Black.
While the per-mile rate has remained roughly the same, Sam says the number of rides he books a day on Uber has dipped over the last four years. The gap between rides used to be no more than 40 minutes, but now it can take up to three hours to get a new passenger after a drop-off, he says. "The fact of the matter is, I'm not generating the income I was," Sam tells BuzzFeed News.
He's not alone. As Uber continues its aggressive shift from luxury car service to cheap, easy transportation alternative, some of its early drivers, who catered to a higher-end customer who might have otherwise reserved a town car, have felt a squeeze. Even some of those who bought into the Uber Black promise just two or three years ago are struggling to predict whether their Uber earnings will cover their expenses. "You're taking a shot in the dark," Sam says.
Uber Black draws drivers because its base fares — listed on the driver sign-up page — are significantly higher, and as a result, its clientele tends to consist of fewer barhoppers and more airport-to-hotel suits. "The clientele are far and away better," says Denise, a driver in L.A. "Even the drunk jerks are a better class of drunk jerks than in UberX."
But driving for Uber's premium platforms — including Uber Black, Uber Lux, and Uber SUV — comes with significant costs. Drivers are required to have a relatively new, high-end car; if the car they own doesn't make the cut, they can lease from a dealership, get an auto loan, or rent from a limo company. In L.A., for example, Uber Black drivers can choose from a list of six models that includes an Audi A6, a Jaguar XF or a Cadillac XTS. If the cars are not kept up to date in accordance with Uber's requirements, drivers can get bumped down to lower-earning tiers. In addition, to comply with local laws, drivers (or the companies they rent from) sometimes have to pay for special livery licenses and commercial insurance. And on top of all of that, many of the cars on Uber's approved list of premium vehicles are gas hogs.
For some, the cost is worth it. But others say they're no longer generating enough business on Uber to justify the expense. Uber says high demand for UberX isn't causing fewer people to take Uber Black. But it nonetheless encourages — and in some cases, with driver consent, requires — Uber Black drivers to pick up UberX rides. Interviews with more than a dozen drivers suggest that doing short, cheap UberX rides in a big, expensive car is simply not cost-effective.
"They created UberX to destroy the taxicab market, and to compete with Lyft," Sam says. "What they've also created is the destruction of their flagship platform, which was Uber Black. As a result, people like myself have suffered."
Uber, however, claims this is not the case overall. "Unequivocally, drivers who drive for both Uber Black and UberX make more than just Uber Black and UberX alone, because it gives them access to more customers," says Uber's general regional manager on the East Coast, Rachel Holt.

Uber began as a luxury car service — the company still calls Uber Black "the original Uber." According to CEO Travis Kalanick, most Uber drivers consider driving a side gig. But Black drivers tend to drive longer hours than UberX drivers, according to Holt. Often, the people behind the wheel of an Uber Black consider themselves professional drivers. It's not a side job, it's the job. "I don't wear jeans and tennis shoes," says L.A. driver Denise. "I wear dress slacks and makeup and I do my hair."
Denise is proud of helping build Uber into a global brand over the past three years. But lately, she says, driving has become increasingly frustrating, which she blames on Uber's shift in focus toward more affordable products. "If we hadn't busted our asses and made Uber into what it became, UberX would not exist," she says. "It seems like all that anybody cares about anymore is UberX."
Uber says this is not completely true. An Uber spokesperson says that, in the last year, the number of passengers taking Uber Black rides grew in places like L.A. and San Francisco (though not as quickly as UberX) and remained steady in New York City. But the company confirmed that, for now, the supply of Black drivers has saturated cities including San Francisco, Los Angeles, and Seattle, where hiring is paused and drivers are now added to a wait list. (Though Uber declined to share how many Black drivers there are on the platform, the company says they make up about 10% of total Uber drivers.) "A lot has changed, no question, since we launched Uber Black," Holt tells BuzzFeed News.
In New York City, this evolution has meant an erosion of the barrier between Uber Black and UberX. Drivers in New York City who signed up to drive Uber Black after late February 2015 agreed to also pick up UberX fares; the app automatically sends these Black drivers to pick up cheap rides, an Uber spokesperson confirmed to BuzzFeed News. As with all drivers on all Uber platforms, those who reject too many incoming requests can see their accounts temporarily frozen or even deactivated. (Uber says this policy keeps the service reliable for passengers.)
When Uber first tried to roll out this policy in New York, it led to driver protests. Today, Black drivers in New York who signed up before the cutoff date can still choose to do solely Black rides, but Uber says its data shows that these drivers earn less in gross fares than their counterparts who do both UberX and Uber Black rides.

The idea that more rides equals more money for drivers is the same logic Uber used to justify recent UberX fare cuts around the country. But some of the Black drivers who spoke with BuzzFeed News say UberX's low fares can't possibly cover their costs.
Zahir Chowdhury is originally from Bangladesh and now lives with his family in Flushing, Queens. He drives a Mercedes GL450, which he says he bought around two years ago for $60,000, specifically to drive for Uber Black. But Chowdhury claims that with fewer and fewer Black rides coming in, he can't afford the $800-a-month car payments, let alone insurance and gas. "I was online for five hours, and I made one trip for $15," Chowdhury says of a recent night. "It's not worth it."
But Chowdhury says doing UberX trips in his big SUV is even worse. In New York, UberX rides cost $1.75 per mile, compared to $3.75 for Uber Black, meaning his gross earnings for a Black ride are more than twice as much per mile. Chowdhury says when you're burning fuel at the rate his SUV does (less than 15 miles per gallon in the city, according to the U.S. Department of Energy), the UberX fare simply isn't worth it. "A regular car is V4. This is an eight-cylinder car," he says. Regardless of this math, he says Uber continually encourages Black drivers to pick up X passengers.
"They kept on sending emails and texting you," Chowdhury says. "'Guaranteed $40 as UberX!'"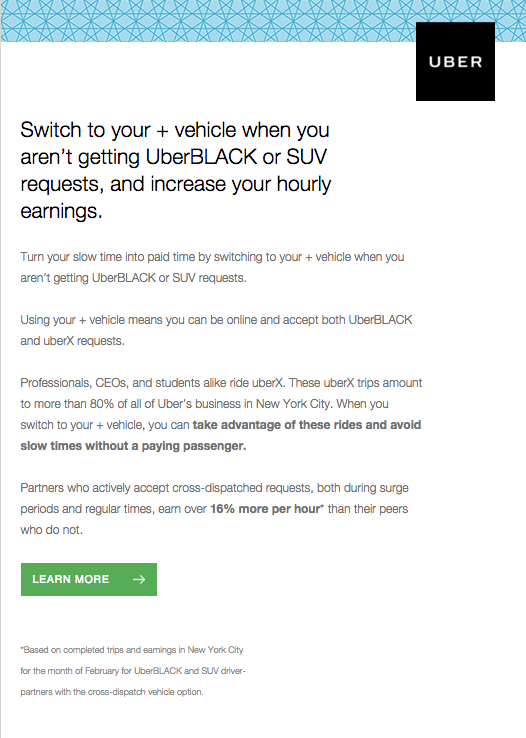 Nick lives in Greenwich, Connecticut, where he says commercial insurance costs him $5,000 a year on top of a one-time $2,000 livery license fee and car payments. He paid $30,000 in cash for his Lincoln MKT, but says he knows some Uber Black drivers who "went out and financed brand-new $60,000 Suburbans," a move he calls "very foolish."

Nick started driving for Uber Black over a year ago to supplement the income he earns from cash livery clients, but says the supply of drivers on the platform is so saturated now he rarely uses it to pick up passengers. "I used to be able to log in and get a ping within the hour," he tells BuzzFeed News. "Now I can go 4 or 5 hours at times and get nothing." He says he would "never count on [Uber Black] to make a living" and considers UberX to be an even worse deal. When Uber tried to have him pick up UberX passengers, he refused.
"The Connecticut UberX rate is $1.10/mile, and they're mostly all short rides," he tells BuzzFeed News. "I'm not going to depreciate and destroy my car to drive drunk kids around for $1.10/mile."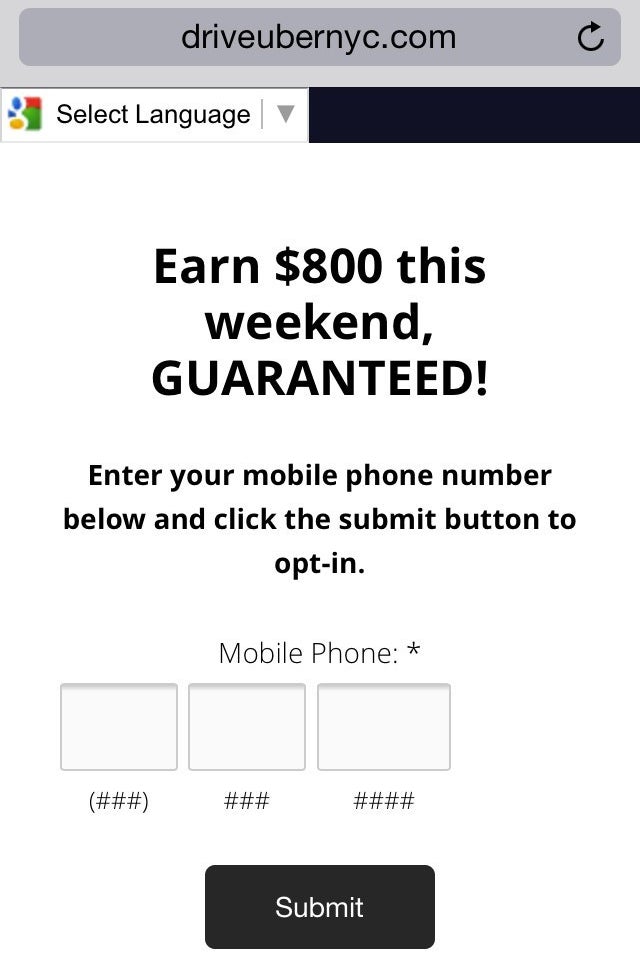 Promotions from Uber incentivizing Black car drivers to pick up UberX rides in New York City.
Drivers largely acknowledge that it's their responsibility to calculate whether or not they can afford to rent, lease, or buy an Uber Black vehicle before they sign up for the program. But Uber controls factors that can make it difficult for some drivers to predict future earnings and expenses — as the recent controversial fare cuts have proven. While Uber Black fares were not a part of those cuts, drivers do face expensive mandatory car upgrades that they have to commit to without being able to lock in future earning levels.
Sam, who drives in L.A., says that when he was told by Uber in 2014 that his 2004 Lincoln Town Car was no longer eligible for anything above UberX, he had already put considerable work into maintaining the vehicle.
"I had done so many things to renovate the car," says Sam, who claims to have spent around $4,000 to replace the floor, air conditioning system, and other parts. But Uber says that in order to keep their premium services premium, car upgrades are mandatory and older models can't be grandfathered in. Uber gave drivers a month to comply, though the cutoff was ultimately extended.
"They didn't tell us that when we signed on," says Sam, who now pays $700 a month to lease a 2012 BMW 740Li. "They never said, 'By the way, in the next year or two you're going to have to replace your cars because if they're too old, we're not going to accept them.'" When he sees friends who buy expensive BMWs to drive for Uber Lux, he warns the would-be Uber drivers that they might be "disqualified before they have a chance to pay them off."
These strict standards aren't just a problem for individual drivers. The limo companies who rent their fleets to Uber drivers also struggle with the requirements, which can mean upgrading multiple cars at a time.
With Uber now dominating the market for luxury car rentals, people like Alex Sorokin, who owns Pacific Town Car in San Francisco, felt pressured into using the platform. But Sorokin is wary of becoming too dependent on Uber. The drivers he rents to have to gross over $800 a week to cover his $600 fee and Uber's 25% commission. He says drivers who keep the app turned on 10 to 12 hours a day don't have a problem paying him, but he's had to "let go lots of people" after two weeks who either won't or can't work that much.
On top of worrying about whether his drivers will pay him, Sorokin worries about how long the cars he owns will be eligible for Uber Black. "People lose their businesses because they didn't put money to the side to buy new vehicles," he says.
Uber says the upgrades are an important part of providing customers with a reliable, high-quality service. "We try to make sure we have a long lead time on this and make sure drivers understand why it's important," says Holt, citing drivers in Washington, D.C., who were given at least six months' notice of the coming upgrades. (Uber says it continues raise the bar on service by offering Wi-Fi and chargers in premium vehicles in some markets, as well as promotions, including a gift card to high-end clothing company Trunk Club.)
Meanwhile, Sam from L.A. says it continues to get harder for him to cover his bills driving for Uber. "Last week I made the lease, but I didn't make gas from Uber," he says, "and I barely made the lease."
Johana Bhuiyan contributed to this report.